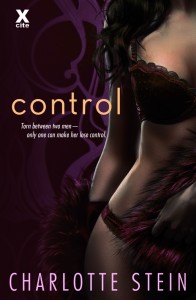 My book Control came about because I wanted to write a beta hero. I really wanted to write one, but I was afraid. I thought no one would want to read it. People don't like beta heroes! They want strong, manly, macho alphas. And so the other hero in Control was born.
It just seemed like the perfect idea. I could have my beta hero, Gabe. But playing off against him would be the much more aggressive and dominant Andy. Suddenly, everything fell into place. The scenes I'd been struggling with became clearer. The conflict sharpened and turned into something new – now my heroine didn't just have to work through the angsty ins and outs of her relationship with Gabriel.
She had to also decide between two men…and two sides of herself. One side wants control. The other wants to give it up. A simple conceit I think, but one that really helped my characters and my heroine in particular come to life.
Other elements of the book emerged because of various things. There's a street in York with all of these quaint little houses on it, but slap bang in the middle is a sex shop. That sex shop is the reason I set the book where I did, and why I gave my heroine a naughty book store.
Then there are the erotic books my heroine teases the hero with. None of the titles are real, but the books themselves represent erotica that has meant a lot to me. Stories that shaped my love of the genre and helped me become a writer of it. They are: Dreamers In Time by Sarah Copeland, Crash Course by Juliet Hastings, The Top of Her Game by Emma Holly, The Stranger by Portia Da Costa and Menage by Emma Holly. All of them are Black Lace titles, because Black Lace was so important to me as a young woman drowning in erotic books mostly written by men.
They were a revelation – one I've given to Gabe in the story.
And that's pretty much the background to my book. Thank you for having me here to talk about it and reveal some of its secrets!
http://charlottestein.net/
Buy Control at Amazon or Barnes and Noble.