Help us welcome Vanna Tessier today. She's the author of the thriller SHOOTING PICASSO.
What were you like at school?
I was a brat. I didn't mind sticking a gob of chewing gum on the teacher's desk just before class. The teacher entered and put her book just on top of the well chewed gob of gum. Can you imagine when she tried to move her book across the top of the desk? It turned out to be quite a sticky business. After that day, if something went wrong, of course it would be my fault. Who could possibly put thumbtacks on the teacher's chair next day? There was only one girl to blame, me. Try as I might, I couldn't convince the teacher that I had nothing to do with it.
Were you good at English?
I thought I was good. Once the teacher told us to write a story about our summer holiday. She added that she would give a prize to the best one. I wrote that my brother wanted to teach me how to fish in the nearby lake. My brother brought along a pail full of worms for the bait and I quickly changed my mind about fishing. The teacher didn't like the worms either and I didn't get the prize.
What are your ambitions for your writing career?
My ambition for my career is to write good books on unique topics that would attract many readers. I would like to work on entertaining books, books that could make you laugh or cry. It would be nice not to be stuck only in one genre. I'd prefer to be able to leapfrog from one genre to another.
Which writers inspire you?
Quite a few authors inspire me in a special way. Among them are:
An author like Mark Twain who offers humor with Tom Sawyer.
Charles Dickens delves into the human condition in Great Expectations.
Ernest Hemingway presents The Old Man and The Sea in his vivid style.
Among the new writers, Lee Child thrills us with the mystery in The Enemy and Isaac Hooke shocks readers with the unexpected.
Alice Munro surprises with The Progress of Love.
Give us an insight into your main character. What does he/she do that is so special?
The main character in my book Shooting Picasso is the journalist Mara who has to write about the tragedy of 9/11 in New York. Upset and emotionally drained, she must cope with the ensuing chaos. She still finds the strength to dig among the rubble with her bare hands. All this turmoil leads her to discoveries that will change her life.
What are you working on at the moment ?
I'm working at present on an environmental disaster involving a floating oil well blowout that killed several workers, beside causing irreversible pollution.
What's it about?
This oil well blowout in the Pacific Ocean is far too costly for mankind. It had a horrible impact on the marine life, including the birds and fish. What about the cost of human lives? Those men had families and children. Who cares about the dire consequences that may touch everyone for years to come? How could we attempt to repair the damage and avoid further harm?
What genre are your books?
My book Shooting Picasso is a mystery thriller. I dream of writing in different genres and I wouldn't mind trying my hand at a different kind of book, like for example a romance.
What draws you to this genre?
A mystery attracts me because it is similar to a labyrinth you explore to find a way out. There could be surprises along the way and there may even be more than one way out.
When did you decide to become a writer?
When I was in high school, the English teacher asked the class to write a short story about a life experience. We handed in our paper and the teacher picked mine to read aloud. Good or bad? I was bitten by the writing bug.
The 9/11 surprise attack on the World Trade Center creates unimaginable chaos and grief in New York City. Ruthless opportunists try to take advantage of the ensuing panic, but a promising young reporter known for her no-holds-barred story-chasing hunts them down and soon finds herself at the heart of a criminal underworld.

How deep into that underworld, and her own past, is she willing to go? And more importantly, will she have the strength to face a drastic life change?
About the Author: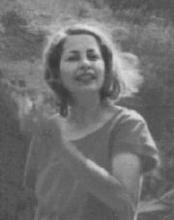 Vanna Tessier writes about the world we live in today. She believes reason and modern technology can enrich the quality of life allowing us to face changes affecting modern society.
Her fiction is at times broadcast on CBC Radio and her book reviews appear in The Edmonton Journal and The Edmonton Sun.
Gypsy Drums, her collection of short stories, was a finalist for the Howard O'Hagan Award. Another collection of short fiction, Thistle Creek, appeared before her book Sandweaver. She translated from Italian, The Last Waltz of Chopin, a novel by Gilberto Finzi.
In 2002, Peppermint Night won The Poets' Corner Award.
She examines the challenge of survival within a forever mutating environment influenced by the onerous demands of our civilization coping with the threat of terrorism.
The author agrees we could find a refuge within the realm of our imagination leading us to discover a balance between reality as is and as we would like it to be.
Buy the book at http://www.amazon.com/dp/B00CWU0420.