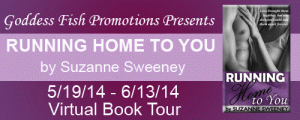 This post is part of a virtual book tour organized by
Goddess Fish Promotions
. Suzanne will be awarding a $25 Visa Gift Card to a randomly drawn commenter during the tour. Click on the tour banner to see the other stops on the tour.
Juliette Fletcher is a girl with a plan. Not one to sit back and wait for life to happen, she moves back home after graduation and begins to carve out a life for herself.

Evan McGuire is desperate for a fresh start. His career in the NFL depends on it. Years of partying and carefree living have caught up with him. After buying a beach house in need of renovations, he begins to rebuild his life and his reputation.

What Evan doesn't expect is a chance meeting with Juliette out on an early morning beach run with her dog. A strong mutual attraction draws them together, but fear of scaring her away keeps Evan from revealing his true identity. Evan finds himself in an unfamiliar situation – forced to work harder than he ever has before to prove himself worthy of her affections.

Tragic misunderstandings and unexpected obstacles threaten to derail a fragile relationship. Someone is watching, waiting, and tormenting Juliette, desperate to destroy everything. Can they find the strength to overcome jealousy, insecurity, and fear before it's too late?
Running Home to You: continues the journey of Juliette and Evan that began in "Running Back to You".

Juliette Fletcher thought she had it all – a strikingly handsome man who adores her, a new business venture with her best friends by her side, and a dream house right on the beach. But appearances can be deceiving and everything comes at a cost.

Evan McGuire has just survived a vicious attack that almost ended his professional football career. He's on the mends now, trying to piece his life back together again, and build a life with Juliette.

But Evan's erratic behavior has Juliette worried. She must figure out how to save her struggling restaurant, her fragile friendships, and her now unhealthy relationship with the man she loves. Juliette and Evan find that they've placed their trust in the wrong people and the price they pay for that mistake may ultimately cost them everything.

Running Home to You is the second book in the Running Series.
Tell us a little about how you got started as an author and how you came up with the idea for this series?
I love to read, particularly books in a series so I can watch the characters develop and grow over time. Many of my favorite books are set in places like Seattle, Seaport, and Manhattan. Thanks to some of those great writers, the setting became just as important as the characters.
As a proud resident of the Jersey Shore, I knew that my hometown would be the perfect setting for an amazing romance novel. I grew up on the beach and have often fantasized about the lives of the fortunate few who live in the beautiful beach homes that span the shore.
We have always had the occasional celebrity buy homes in our community. We are a short drive from Manhattan, Philadelphia, and Atlantic City. My mind was made up, and all that was left for me to do was to develop the characters that would live here.
Where do you get your ideas for characters? In particular, did you steal some characteristics from yourself or people you know for the main characters?
The characters you meet in the Running Series books are all very personal to me. As my first foray into the world of fiction, it was very important that I write about what I know. All my characters share something with the people in my life. Career paths, family history, and personality traits have all started with a member of my family or a close personal friend. I have a relative with a degree in Baking & Pastry Arts, my high school sweetheart was on the Varsity football team, and my husband is a part-time bartender. It doesn't get more personal than that!
The only character that is completely fictional is the hero, Evan Thomas McGuire. He is the ideal alpha male who is nearly perfect in every possible way – in other words, a unicorn or the Loch Ness Monster. Everyone has heard of its existence, but no one has actually seen one.
Every girl has experienced an infatuation with someone who is unattainable. It might be their high school or college star athlete, a musician they've admired, or a larger than life actor. Juliette is me, she's my friends, she's my neighbor, and we get to experience through her eyes what it would be like to see our dreams and fantasies come true.
Which author/authors or particular books have inspired you?
As someone who has read a wide variety of books, I can honestly say that it is not until FSOG that I delved into the world of romance. My favorite go-to authors were Michael Crichton, Dan Brown, James Patterson, and Patricia Cornwell. The connecting thread that they all share is a story of fiction based in a world of fact. Whenever I read one of their books, I knew I was going to learn something new. It might be a historical perspective I didn't otherwise know like in the DaVinci Code, or some scientific breakthroughs that spur the events in books like Jurassic Park.
When reading the Running Series books, I hope the readers notice the facts and details woven throughout. When I describe what it's like to walk through Madison Square Garden, I first did my research and found a video of someone walking through those exact hallways. Even the names of the celebrities at the basketball game are accurate – they were plucked from actual photographs taken at a Knicks game in 2013.
What were some of your favorite reads of the past year?
For the first time ever, I recently began to read some of Nicholas Sparks' books. A reviewer compared my book to his, and I must admit, I was more than a bit curious to try to see the comparison. I love how he used the rich textures of North Carolina as the settings in much the same way I painted pictures of my own community. His characters are very relatable and all seem to have flaws, which we can all identify with. I am glad to have discovered this author and plan to read many more of his novels.
For the aspiring writers out there, can you tell us something about how you develop your plot?
Plan, plan, plan. I have my tablet with me everywhere I go. When I hear a name I like, I add it to my notes. When I hear an intriguing story in the news, I write it down. There is some great inspiration that can come from television talk shows, too.
I try to identify three main conflicts to drive the plot in new and unique ways. There is a common formula known as the three-act structure. In part one, the writer introduces the character and sets the stage. The first problem is introduced here. In part two, new problems arise and the original conflict is still unresolved. In part three, as the characters attempt to find their resolution, an unexpected turn of events keeps the reader riveted until the very end.
With all that being said, I have often found that as I sit and write, my plans will occasionally be all but forgotten. I use conversation to drive the plot forward, and sometimes when I attempt to keep the dialog believable, new ideas develop and I find myself altering the course and changing my plans.
However, when my original plans fail to make the pages of my current book, I often set them aside and save them for the next book. No good idea ever goes wasted. It may be neglected, but only temporarily.
Tell us about your future? Next book?
I am completing the third book in the Running Series entitled Running Away With You. I am anxious to help my characters finally find their HEA. Although I will miss them when I finish the last chapter, I'm already thinking about the next novel. I have so many ideas that haven't made it onto the pages of these books, that I cannot just walk away at this point. I'm toying with the idea of selecting a minor character from the series to focus on for the next in much the same way Kristen Proby does in her "With Me In Seattle" series.
About the Author: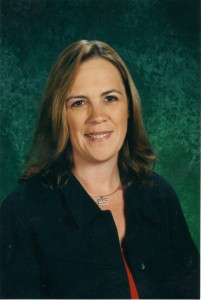 Suzanne Sweeney is a graduate of Georgian Court University where she studied Elementary Education and Sociology. For some time now, she has been sharing her love of literature with the young minds who sit before her in class each and every day. After years of teaching the art of writing, Suzanne has finally taken her own advice and put pen to paper in order to produce her debut novel, Running Back to You. She writes what she lives, residing in the community she loves, Point Pleasant, with her family who provide a constant source of inspiration and support.
Blog ~ Facebook ~ Goodreads
Buy the books at Amazon, Barnes and Noble, or Smashwords.