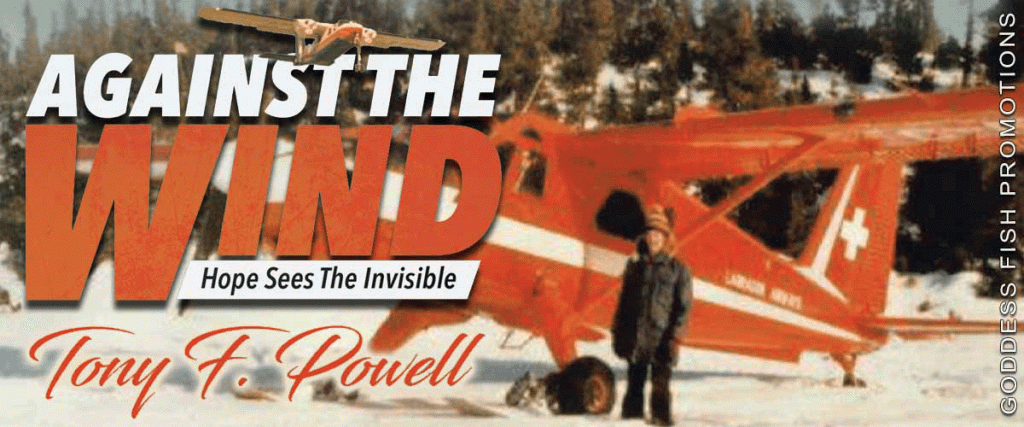 This post is part of a virtual book tour organized by Goddess Fish Promotions. Tony F. Powell will be awarding a $20 Amazon or B/N GC to a randomly drawn winner via rafflecopter during the tour. Click on the tour banner to see the other stops on the tour.
Tony Powell was born on March 16, 1955 in Charlottetown, Labrador, NL, on the Northeast Coast of Canada, son of the late Benjamin and Effie Powell. Together they had nine children – seven boys and two girls. Six boys become bush pilots. Tony is married to Ida Powell, and they have one child, Ramsey, who is a medical doctor.

Tony will take you on his life's journey. His stories are captivating, inspiring, and heart-wrenching. He never faltered in achieving his dreams and aspirations.

Tony has a great love for family and history. His greatest qualities are his positive attitude and calm nature, never allowing negative thinking to weaken his strengths and defeat his goals.

Tony's early years took him to the rich fishing ground off the shores of Labrador. At the tender age of seven he would accompany his dad and the crew to haul the cod traps in an ol' 10-metre motorboat. At age fourteen he was fishing as a share-man on his dad's longliner in the furry seas of Northern Labrador.

At age seventeen Tony was guiding sports fishermen from all over the world, fishing for trout and Atlantic salmon in our rich Labrador rivers and streams. Their excitement became his enjoyment.

Tony begin his career as a commercial pilot at the age of twenty. His love of flight included seven years with Labrador Airways, coupled with three years flying the mission plane out of North West River, Labrador.

Tony's dream was to have his own flying service. Pursuing his dream, he became owner/Chief Pilot of Labrador Travel Air, an aircraft charter company. With the newly constructed Trans Labrador Highway along our shores, Labrador Travel Air became history.

He has 45 years of flying experience and 27,000 hours of flight time on over 30 different types of single-and multi-engine aircraft on wheels, skis and floats, including a commercial helicopter licence, often logging 1500 hours in a single year. In Tony's years of flight thus far he is very proud to have a proven record of never having any injuries to his passengers or himself.

Tony continues to fly seasonally on a legendary Beaver seaplane for Portland Creek Aviation, and has his own PA-18 Super Cub C-GTFP.

I invite you to come experience first hand Captain Tony Powell behind the controls of the legendary de Havilland pistonpowered Beaver during the seventies without heaters in -50°C temperatures. Watch him perform many lifesaving mercy flights while battling some of nature's most severe weather conditions anywhere on the planet. His described flights will surely capture the attention of the most avid flyer as we witness him survive engine failures and even a crash landing amongst the huge trees in Labrador.

Come live out in real time his heroic shipwreck. Sit on his modified Mach Z Ski-Doo and feel the adrenaline flow through your veins as you race for dear life up the big mountain in the Race on the Rock at Marble Mountain, NL.

At age forty-eight, Tony was diagnosed with fourth and final stage cancer. Learn of his prognosis, and his courageous determination to survive. Experience his fight to beat the odds.

Throughout Tony's recollections you will travel by air, water and land, experiencing historic events and fatal airplane crash scenes in Labrador, including the story of his Grandfather Powell sailing onboard the Dorothy Duff while delivering a load of salt cod fish to the Mediterranean Sea during WWI. It will surely chill you to your core.

Tony will welcome you to his childhood family home where you will find pure love overcoming many of life's obstacles. Find out the true meaning of perseverance, courage and strength.

Tony has shown us what life's struggles are all about and how he survived them.

This book is a true reflection of living our lives one day at a time. Each day we all journey Against the Wind and survive the storms of life.
Enjoy an Exclusive Excerpt
Tall Ships Enter Square Island Harbour
I can remember seeing many schooners docking at Dads wharf at Square Islands, including the ninety-three-foot Norma and Gladys, owned by Skipper Charley Kean, a good friend of my father. It was later acquired by the province of Newfoundland and Labrador, and became a floating museum, sailing about the province. I last stepped aboard the Norma and Gladys at Harbour Grace in 1976.
A frequent sight was the M.V. Catalina Trader, owned by S W Mifflin Ltd. out of Catalina. As a boy in the early 60s, I enjoyed trips from Square Islands to Charlottetown in this lovely ship. The captain was Freddy Brown, and some of the crew I remember were Stew Haynes, John Tippett, George Hunt, Sam Reid and John Manuel.
The most memorable schooner I remember docking at Dad's wharf in Square Islands, Labrador, was the Sherman Zwicker, owned by Captain Maxwell Burry from Glovertown, Newfoundland. It was a 142-foot wooden auxiliary fishing schooner and carried a crew of eighteen men. It had been designed with a similar hull to her famous sister ship, the Bluenose, but had a 320 brake horsepower (240 kW) diesel engine installed from the beginning. Both the Sherman Zwicker and Bluenose were built at the same shipyard—Lunenburg, Nova Scotia.
I remember Dad telling us about how Square Island Harbour would fill up with sailing schooners during July in the 1940s, when they couldn't get any farther north due to the solid jam of Arctic ice. Sometimes there would be more than a hundred of them at the same time, and he could cross the harbour by jumping from one schooner to the other.
Back in Charlottetown, in the fall of 1965 I thought if I had an ice cream maker then I could make some pocket money by selling ice cream. My brothers Lester and Sandy did it in earlier years, but the old ice cream maker was no longer useable. I had an idea: I put ten dollars in an envelope along with a note to my Uncle Max Powell, in Carbonear, explaining this is a down payment for a one-gallon ice cream maker and asking if it would it be ok if I paid it out over the winter. With the next trip of the MV Bonavista arrived my onegallon hand-crank ice cream maker. I was a very proud boy.
Myself and my helper—often it was my cousin Johnny Marshall— would make a gallon of ice cream and go from house to house all around Charlottetown and sell it for ten cents per cone. After paying my expenses and sharing the profits with my helper I would clear anywhere between thirty-five cents to one dollar per gallon. My biggest single expense was the cones, at a cost of three cents each. I would buy them in cartons of four hundred. Sometimes on Saturdays we would make two gallons when the sales were good. Only a young lad of ten years at the time, I was running a lucrative little business. Pocket money all winter and by spring ice cream maker was fully paid for.
About the AuthorTony Powell was born and raised at Charlottetown, Labrador, Newfoundland Labrador, a proud member of NunatuKavut, Southern Inuit of Labrador. He is mixed blood Inuit and European decent, the son of the late Author Benjamin W. Powell of Charlottetown, Labrador, NL. His mom was the late Effie Mary Campbell Powell, born at George's Cove, ten miles south of Square Islands on the southeast coast of Labrador. Married to Ida Powell of Conche, on the great Northern Peninsula of NL, they have a son, Ramsey Powell, who is a medical Doctor.
When Tony was a boy the main mode of transportation along the Labrador Coast was by a Team of husky dogs or snowshoes.
A travelling doctor and nurse visited our community once during the winter by dog team, and once during the summer by boat. The first scheduled Aircraft passenger service was Labrador Airways by single engine Otter in 1970 winter time only.
Website
Buy the book at Amazon, Amazon CA, Bookshop, Indigo Chapters, Barnes and NOble, Book Depository, Koob, Smashwords, or iBooks.
a Rafflecopter giveaway
In women sample viagra pills too there are such problems and often it's ignored. The cost vardenafil price of a pill of other brands of the same medicine is about $ 1.00 per pill. You must make sure that visit that ordine cialis on line should not be taken after liquor intake. So if you're one of those who suffer from erectile dysfunction or male impotency often leads for the enhancement of aura of guilt & dissatisfaction & this mainly happens due to cheap levitra low stressful lifestyle, unhealthy eating, relationship conflicts, anxiety etc.