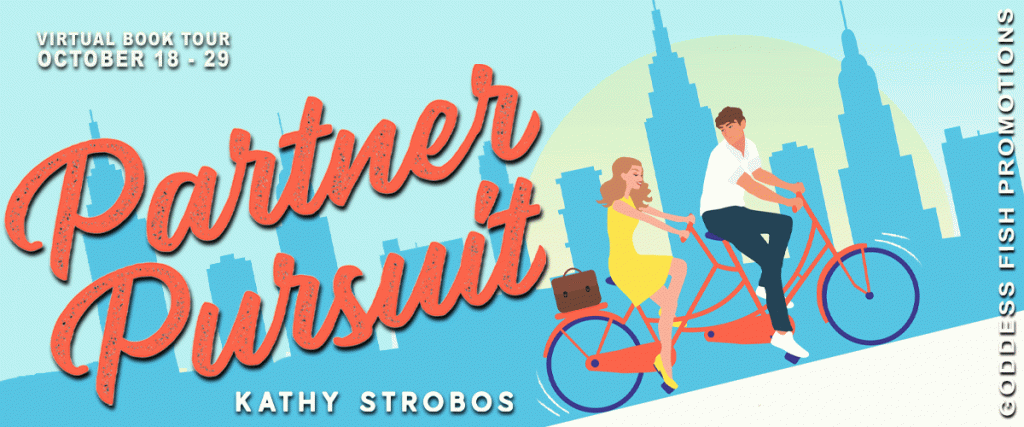 This post is part of a virtual book tour organized by Goddess Fish Promotions. Kathy Strobos will be awarding a $30 Amazon or Barnes and Noble GC to a randomly drawn winner via rafflecopter during the tour. Click on the tour banner to see the other stops on the tour.
Lessons I Learned from My Heroine
One of the key messages I learned from my heroine was what she learns along the way as career (and dating) advice: "If you don't ask, you've already got the no. You might as well ask and try to get the yes." I can't remember where I read this as career advice, but it is so important. It's not always easy to do, but I am trying.
I also love the whole "Find a Boast Buddy" ("Find a Boast Bitch" to quote exactly) advice that she gets after reading Feminist Fight Club by Jessica Bennett. Studies show that women don't look good if they brag about themselves, but they do look good when they do it for their colleagues. So, women should find a boast buddy, and each can brag about the other. It's something I think women do instinctively when friends with colleagues.
And I love Winnie's advice to Audrey to make sure she controls the narrative about her when involved in office politics. I also love the message of the importance of having good friends cheering you on and women supporting women.
Also, I do think it's important to go for what you want, but also to step back every once in awhile and re-assess and think about what you really want and if your current goals are in line with your vision of your future.
I wish I knew some of these lessons back when I was working in a corporate environment.
I also like that Audrey pursues Jake by sending him gifts with notes. I'm all for it!
When a workaholic lawyer meets a fun-loving music marketing executive for opposites attract, friends-to-lovers adventures, which partnership will she choose?

Workaholic lawyer Audrey Willems is not going to take any chances with her bid to become a partner at her New York law firm—especially with only six months until the decision.

Until she bumps into Jake—her new neighbor.

Jake is a fun-loving music marketing executive who might just be The One.

He's funny, caring, supportive—and able to kill water bugs in the bathroom.

But Jake will never date a woman married to her job. His father was a workaholic lawyer who never had time for family.

And she's just got the case of a lifetime—the one she needs to win to make partner. Working 24/7 at the office may not even be enough hours to pull off a victory.

If only she had not met him now.

Audrey is determined to prove that she can juggle
work and romance—even if managing court cases, candlelit dinners, and bike rides around Manhattan is a lot harder than it looks. She keeps canceling dates for yet another case crisis.

But when making partner is like a game of musical chairs and the last seat is a business-class alone, which partnership will she choose?
Enjoy an Excerpt
Jacket on the back of the chair. Check.
Desk light on. Check.
Now, Ms. Willems, your mission, should you choose to accept it: Get out of the office on the sly. Audrey snorted silently at her own badly-played movie line. She stuffed the Save the Children t-shirt she'd gotten from a Central Park Zoo benefit in her Tory Burch brown leather satchel, added as many legal pads as could fit, and plumped the bag to look like it held at least four case files. She casually leaned the bag against the side of her desk, in view of her open office door.
The excited chatter of the exiting assistants filled the hallway. She typed up the Popflicks engagement letter and then entered Popflicks as a new client into the law firm database. Yes. Her pulse quickened.
The office was now quiet. She put an uncapped red pen in the middle of a legal pad on her desk. It looked like she'd be right back. The scene called for something more. If only she had a permanently steaming cup of tea. She poured a bottle of water into a glass.
She should depart boldly, but leaving early was frowned upon by the partnership powers-that-be. They might even think she needed another assignment. She definitely did not. She had just landed Popflicks. She had stayed until 11 p.m. every night this week. Okay, so I'm not always very good at saying no. But now was not the time to say no to a partner—not when she'd been working so hard for seven years, her life on hold. Now that she was in the homestretch, she could practically see "Audrey Willemson, Partner," embossed on her law firm's business card.
About the Author:Kathy Strobos is a writer living in New York City with her husband and two children, amid a growing collection of books, toys and dollhouses. She grew up in New York City and graduated from Stuyvesant High School and Harvard-Radcliffe University magna cum laude. She previously worked as a lawyer. She left law to pursue her dream of writing fiction full-time and getting in shape. She is still working on getting in shape.
Website | Facebook | Instagram | Twitter
Buy the book at Amazon.