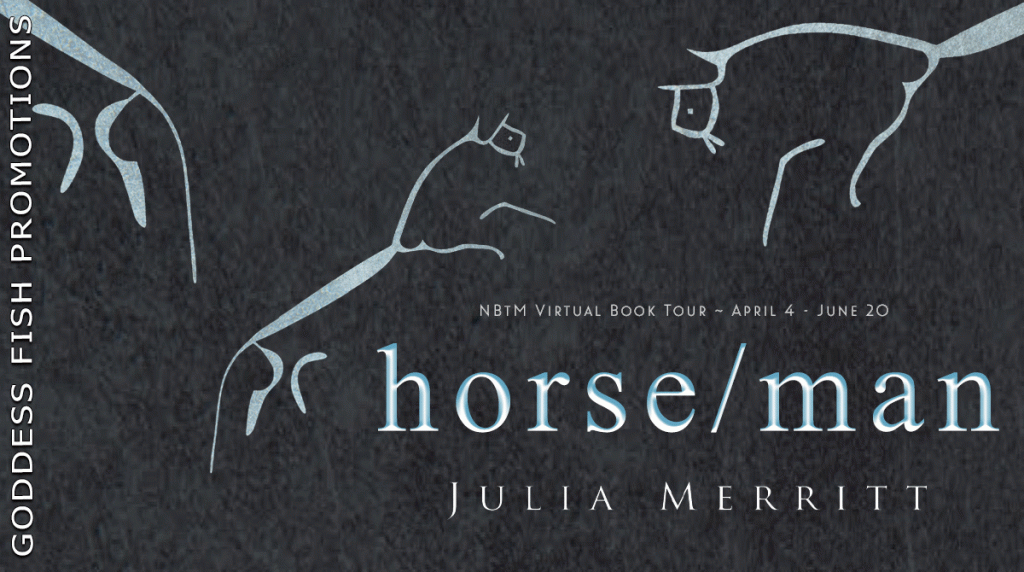 This post is part of a virtual book tour organized by Goddess Fish Promotions. Julia Merritt will be awarding a $15 Amazon/BN GC to a randomly drawn winner via rafflecopter during the tour. Click on the tour banner to see the other stops on the tour.
The Hardest Part of Writing
The hardest part about writing is trusting in yourself. It has taken me a decade to write my first novel, in large part because I didn't trust myself, and it took most of that decade to find my stride.
When I was a child, I knew I wanted to be a writer. I asked my mum to teach me to read before I went to school, and she did. She read me stories every night, and bought me workbooks so that I could learn my letters and practice how to write. By age 5 I was reading chapter books, and by the time I was in Grade 4, I was writing all kinds of stories. The unused backs of school notebooks and empty binders with lined paper were my prized possessions.
And then, through the smallest of actions, my confidence was washed away. A couple of my stories were read without permission, and I received unsolicited feedback that sounded like negative judgment. An email story-chain writing club was squashed by one of the member's parents who thought we were being too fantastical. By Grade 9, I had given up writing, and nobody noticed or encouraged me to do otherwise.
High school, university, master's degree, job. The normal progression of schooling took place, followed by my entrance into the working world and self-sufficiency. Only a year after I had begun to work full-time, the idea for horse/man arrived. It is perhaps fitting that I was sitting in a conference session about self-publishing and printing books at library-owned presses at the time, as self-publishing is the eventual route that I took for this novel.
After the idea, came the halting process of writing. Every few months I would try to write a short scene. Occasionally I would read a history book that added more context and allow the development of a new plot point. Writing was difficult to prioritize amid the process of building the career that was paying the bills. And I was terrified to show the work to anyone, or to ask for help.
From what I can tell, so many creative people have abandoned creativity in favour of stability and safety. We lose confidence in ourselves, and feel stuck and dissatisfied, although we may not be able to articulate why.
But I believe it is true that art does not just "arrive" in the world following a period of consistent inspiration. Mastery requires practice, and practice requires commitment. So get ready. Refuse to schedule commitments on your Saturday. Feed the dogs, use the bathroom, get some water. Open the computer, turn on some music, set the timer for ten minutes. Procrastinate through the first ten minutes, take your five minute break anyway, and set the timer for ten minutes. Write a few sentences. Take a five minute break. Start the ten minutes again. The sentences will start to come easier. Maybe the characters will speak to you and their actions will become clear. And even if they don't, you are practicing. This builds trust, and confidence. Eventually, the practice becomes easier. You can see where the writing is good. And if the writing needs work, it doesn't hurt so much, because you can trust that you will show up for it tomorrow.
So trust yourself enough to get started. Keep starting every single day that's available. When you show up, so does the trust, and so does the story.
What happens when your entire identity revolves around a way of life that is becoming obsolete?

In the 1920s, as Canada progresses through the Industrial Revolution, horses are still the rural engines of survival. As a child Adam lives this reality on his family's farm in the Ottawa Valley, planning to take over one day and have a family of his own. When his parents die during the Great Depression, nineteen-year-old Adam is disinherited in favour of his brother and is forced to move to the city to find work. Without a formal education his choices are few, yet he finds a place to use his horsemanship skills in the dwindling forces of the Canadian cavalry based near Montreal. There he finds pride in being a mounted soldier, and friendship with his fellow dragoons. But the cavalry units are mechanized by the beginning of World War Two, and when Adam is sent to Europe, he must abandon his equine partners for trucks and tanks. In the catastrophic experience of war, he will lose everything once again.

Broken in body and spirit, he returns to Canada where he must confront the question of survival in a world that doesn't seem to have a place for an injured soldier. Full of poetic reflections on what it means to work with horses, horse/man is a powerful story about a man searching for dignity and connection in the face of a rapidly shifting world.
Enjoy an Excerpt
"Trot on, Jack! Git up, Pete! Git UP! Good."
The driver called out orders and sounded gruff, even in praise. The reins slapped the broad chestnut backs lightly, then loosened. It was the end of May, and planting had finished. Today, they were going to town. Freed from their heavy collars and the deep wet soil, the horses danced down the dirt road, shaking their heads as they pushed through the harnesses. Their efforts were rewarded with an easy silence.
Seven-year-old Adam sat in the back of the wagon, his skinny legs anchoring the sacks and baskets his mother had given him for dry goods. He was small for his age but wiry and strong. His face was still childish, heart-shaped and snub-nosed, with sandy brown hair and eyes. His father, Ciaran, was alone on the front seat, driving the horses with his back to Adam. Adam was grateful for the rest.
The horses picked up speed, and Adam bounced from side to side on the planks. The percussion of the horses' hooves and the squeak of the wagon on its struts was all he could hear. The wind from the wagon's movement had a chill. He turned his head to face it, letting the tears from his watering eyes stream along his cheeks. He inhaled the sharpness of spring, undercut by the heaviness of soil and vegetation that was not quite yet alive. Travelling along, further details unfurled — the patches of mud in the potholes, the freshly tilled soil in the fields, the shades of green emerging from the ditches and the trees.
About the Author: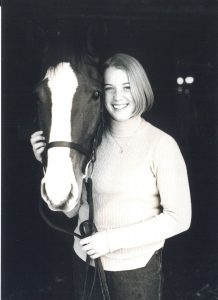 Julia Merritt has been captivated by horses ever since she could see out of the car window. Then she grew up and became a public library CEO and certified animal bodyworker. She lives in Ontario, Canada, with her thoroughbred horses and smooth collie dogs. This is her first novel.
Website | Facebook | Instagram | TikTok | Goodreads
We're giving away 100 e-copies of horse/man, the new historical fiction novel by Julia Merritt. Don't miss your chance to win! Click here to enter: Goodreads Giveaway.
Buy the book at Amazon, Amazon CA, Indigo Chapters, Barnes and Noble, Book Depository, or Smashwords.