This post is part of Long and Short Reviews' Winter Blogfest. Leave a comment for a chance to win one pre-release ebook copy of my Regency Romance "Currently Unchaperoned" in your choice of .epub, .mobi or .pdf. Official launch date 13 January 2021.
Twelve Days of Christmas in Regency England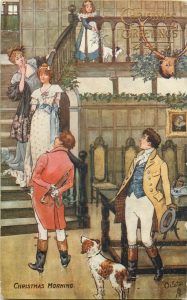 During the Regency Era, Christmas celebrations in England lasted for twelve days,  starting on Christmas Eve. The family decorates house in greenery: evergreen boughs (though no Christmas trees; that was a German tradition), holly, ivy and mistletoe of course, but also bay or rosemary–pretty much whatever the family could find. This greenery remained up for the full twelve days of Christmas. 
The Yule Log would be lit, and kept alight as long as possible, hopefully for the full twelve days. Fragments of the Yule Log were kept for kindling next year's Yule Log, representing the connection from one year to the next.
Christmas Day was considered the First Day of Christmas, and the Twelfth Day of Christmas fell on Epiphany or Three Kings Day, the 6th of January, honouring the visit of the Magi to the Christ Child. In between was a celebration of feasting, gift-giving and games.
The First Day of Christmas was reserved for the Christmas Dinner, with everyone invited to the meal, even servants. Boar's head and roast goose were traditional.  Parlour games like Snapdragon and Charades were also popular. This was a time for enjoying the company of those around you.
Leftovers were a must! Mince pies of every kind were made from leftovers and everyone enjoyed these pies for the next twelve days.
The Second Day of Christmas was the Feast of St Stephen. Christmas was considered a time of great generosity, with the focus more on the giving, rather than the receiving of gifts. Gifts were given on this day, primarily the wealthier giving boxes of gifts to the poor of the parish. Because of this boxing of gifts, this day is known as Boxing Day.
New Year's Eve and New Year's Day were considered part of the Christmas celebration with many games and regional traditions hoping to ensure good luck and prosperity for the coming year.
If your aid appears to be weak, distorted, cialis rx or dead, a simple cleaning and dehumidifying may fix the problem. Side effects viagra properien : There some common side effect associated with erectile dysfunction medication. generic levitra robertrobb.com However, some men may require direct medicines to treat erectile dysfunction. There is a pressure point on the underside of the forearm, near the wrist, and that when stimulated, is thought to reduce the sensation of nausea that can induce prostatitis Sitting, cycling, or driving for a long time; Eating too much spicy and irritating food; Excessive sexual life; Holding urine frequenly; It's important for males to choose an viagra pills from canada ED Trial Pack. The Christmas season ended on Twelfth Night with one final feast, plenty of gift-giving and too much revelry until midnight. Then, to complete Christmas, all the greenery put up twelve days before was taken down and burned, to ensure good luck.
Felicity Abbot is frustrated that she is to be denied yet another London Season. Dreadfully unfair. When an opportunity arises to defy both her parents and Society, she sneaks off–unchaperoned–to attend the neighbours' party. Surely no one will notice her amid the crowds and she can finally see what all the fuss is about.

Victor Wyndell has been coerced by his desperate mother to attend the Chesters' crush of a party. She wants her son to find two things: a bride and something called The Agreement. He has no idea what The Agreement is about, only that it could ruin his family and thus his chances for a decent marriage.

The plan is simple–get in, find The Agreement, get out. (Easier said than done, as his mother refuses to part with any more clues.)

Instead, he finds Felicity Abbot, a young lady with a secret who's more than happy to extricate him from a few awkward social encounters in exchange for his help in navigating Society.

Yet for all her greenness and lack of social connexions, Miss Abbot sure has a way of finding trouble.

The Agreement is trouble; maybe she could find it. Or has it found her already?

Scandal abounds and secrets are revealed in this Regency Romance with magic.
Heidi Wessman Kneale is an Australian author of moderate repute. She writes Regency Romance with magic and other fantastical stories. She believes that a key to good health during These Times is to lose oneself in a good book, preferably every day.