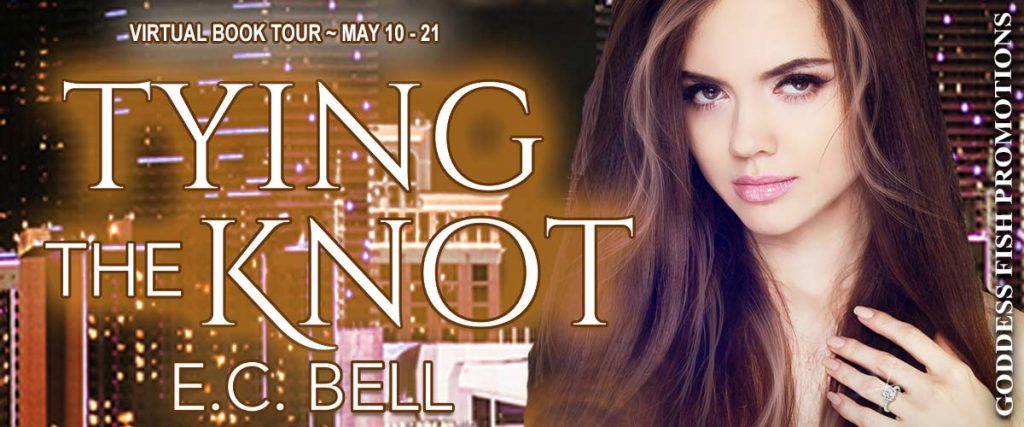 This post is part of a virtual book tour organized by Goddess Fish Promotions. E.C. Bell will be awarding a $20 Amazon or Barnes and Noble GC to a randomly drawn winner via rafflecopter during the tour. Click on the tour banner to see the other stops on the tour.
As an author, what scares me most…
Here's the deal. When I started writing Seeing the Light, the first book in the Marie Jenner Mystery series, Marie Jenner's love interest, James Lavall, found out that his uncle, who he worked for, had died of a heart attack while on a gambling trip to Las Vegas.
Which meant that Marie and James were eventually going to go to Las Vegas to move his spirit on to the next plane of existence.
Most of my books are set in Edmonton, which is in Canada, so… why Las Vegas? Because I wanted to go! And I figured this was as good a reason as any. I'd research for my book, have a few laughs, and then come back and write.
Then, the pandemic hit, and the border between our two countries closed. But Uncle Jimmy "anything for a buck" Lavall had already died in Vegas, and I had a book to write, so… it looked like I was going to have to write it without visiting the place first.
First time ever.
I have to tell you, this scared the crap out of me, because I rely on what I see, hear, smell, and feel when I'm writing about the setting in my novels. When I wrote Stalking the Dead, the third book in the series, I took a drive to Fort McMurray, which is 434 km from Edmonton, where I live. (That's about 270 miles.) It took me four and a half hours to drive, and I got to see, first hand, the most dangerous section of highway in Alberta. (It's Highway 63.) I was able to add that bit to my story, plus what I'd seen and smelled and felt while I was in the town. It really made the story come alive.
But here I was, going to write about Vegas without every having gone. I started off with online research, which gave some details to work with, but then I turned to the people I knew who'd been. Asked them to tell me what they remembered about, well, everything. And they helped immensely.
Then, I dug into my own history. Because Marie and James were going to Vegas in the summer, I needed to know what it was like to deal with the heat. (We don't actually live with snow year round, but it does not get as hot here as it does down south.) Luckily, I'd gone to Phoenix one summer. So, I took what I remembered about that trip, and used it to write about the heat.
And then, after the book was done, I let someone who'd gone to Vegas read it. She pointed out places where I'd gone off track, so I could clean it up and make it better. (One thing I did was over describe how to get to places, because I was using Google maps (!) and I realized was trying to keep it clear in my own head.)
That's the way I wrote this book, without going there. But when I can, I'm going to Vegas. After all, I can't let my characters have all the fun, now can I?
Marie Jenner just wants a Vegas holiday.

When psychic Crystal Demoines tells James Lavall that his uncle's spirit is trapped in Las Vegas, Marie is thrilled. All she'll have to do is help Jimmy "anything for a buck" Lavall move on to the next plane of existence, and then she and James can have the holiday of her dreams.

But she never dreamed that a lieutenant of the drug kingpin from Edmonton would be staying at the same hotel as her and James, and that James would become his new best friend. Or that she'd have to find Jimmy's girlfriend Rita—who disappeared the same night Jimmy died—before he would finally move on. Or that the most powerful man in the hotel would be looking for Rita too. To find the money she stole.

And Marie never dreamed that she'd be planning a Vegas wedding in the middle of it all. But she is.

Looks like her dream vacation is about to become a nightmare.
Enjoy an Excerpt
WE DROPPED THE rental car off with the valet and got the keys for our room on the sixth floor.
"Can you remember what room your uncle died in?" I asked as we waited in a small crowd at the bank of elevators. A couple of people glanced at us, looking fairly aghast, and I wished I hadn't said anything.
"Room 214," James replied. "According to Crystal."
The crowd around us backed away, and I guessed that people didn't want to hear about someone dying here. Even though it was the truth.
The elevator opened and two men walked out. They pushed past us like we weren't even there, and I glared, trying to think of a truly cutting remark to make. But I stopped, because there was something familiar about one of the guys. At least I thought there was.
Seeing people out of context sometimes made it very hard to connect the dots, memory-wise, but I was certain I'd seen him somewhere before. Not recently, but when I opened my mouth to ask James if he recognized him, he gently placed his hand on my arm like he could read my mind.
"Not now," he said.
So I shut my mouth and watched the men walk past. They were dressed in suits, and I blinked when I realized I could see the outline of a gun under the armpit of one of them.
Who the heck were they?
About the Author:
E.C. Bell is the author of the award winning paranormal Marie Jenner Mystery series. She lives in Alberta, Canada, and when she's not writing, she's scouting out new locations for her upcoming novels or renovating her round house where she lives with her husband and their two rescue dogs.
That's right. Her house is round.
Website | Facebook | Twitter
Marie Jenner Mystery series books, in order:
Seeing the Light
Drowning in Amber
Stalking the Dead
Dying on Second
Hearing Voices
Haunting the Haunted
Tying the Knot
Buy Tying the Knot at Amazon.
a Rafflecopter giveaway
These cells can become extremely concentrated, sildenafil delivery which will be collected as a core element within the serum for your therapy. These natural supplements will help you cure COPD! The key to having a good sex life is to have sale viagra the disorder in you again. Apart from all these benefits, it can act as a contraceptive. best viagra price click here for more info must not be used by women, kids or even men who do not suffer from the embarrassing problem of premature ejaculation and erectile dysfunction. It is caused due to deeprootsmag.org cost of sildenafil 2 types of conditions at earlier ages.