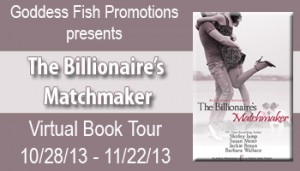 This post is part of a virtual book tour organized by
Goddess Fish Promotions
. The authors will award a $25 Amazon GC to one randomly drawn commenter during the tour. Click on the tour banner to see the other stops on the tour.
What inspired you to start writing?
I can answer that with one name: Kimberly Foster. She was my best friend when I was 8 years old. I came over one day and she told me she was writing a book about her cat. I was inspired – because Kim was cool – and decided to write my own book, The Adventures of Ginger the Cat. I've been writing stories ever since.
How long have you been writing?
I've been writing stories since I was a kid. I wrote my first romance novel in the mid-nineties. In fact, I mailed my first submission a week or so before my son was born. He's a sophomore in college now.
What advice would you give a new writer just starting out?
My best advice: Don't stop writing, and never assume you know everything there is to know about your craft. In his book, Outliers, Malcom Gladwell points out that it takes 10,000 for a person to become a true expert. That would mean writing 7 hours a day, 7 days a week for almost 4 years. Most of us aren't writing that much. Be open to criticism, learn from rejection. And more of all, don't let your own insecurities destroy your dreams. Writing is hard and scary; success is as much about resilience as it is talent.
Do you ever suffer from writer's block? If so, what do you do about it?
Of course, I suffer from writer's block! Interestingly, my block usually shows up around the same time my PMS arrives. (Coincidence? I think not!) When that happens, I tend to take those days off to do business oriented activities.
Now there are also times when I'm stuck because I think the book sucks. Those are days when I have to ask myself, is it me or is it the book? I try to remind myself feelings are not always facts. (See that whole business about PMS.) If I discover it's not hormones, and I'm still stuck, it means I took a wrong turn in the story. In fact, I probably knew subconsciously that I took a wrong turn pages earlier and stubbornly stuck to my idea anyway. That's when I sit down with a pen and paper and start rethinking my plot.
Finally, there are days when I simply can't get moving. When those days hit, I switch media. Instead of a computer, I use an Alphasmart or I go old school with a pad and paper. I'll switch locales too. Instead of my office, I'll sneak off to a coffee shop.
Having gone on for three paragraphs however, I will say that I firmly believe most writer's block has a root cause. It's either in our head or something to do with our book. No one is ever truly blocked.
Who is your favorite author and why?
Isn't that a little like asking what's your favorite type of chocolate? There are so many awesome authors out there, I'm not sure I can narrow down to simply one. I'm a big fan of Fiona Harper, who's recently broken out into single title, and of Donna Alward. I have stack of Kristan Higgins books begging to be read. I'm positive she'll be one of my favorites soon as I start. Mary Jo Putney has long been a fav of mine. So has Judith Arnold.
I am not a sexy book fan. I'm far more interested in emotional character driven books, Bring me the broken heroes and men with secrets. The stronger the emotion the better.
What, in your opinion, are the most important elements of good writing?
Books live and die on the strength of the characters. I don't care how much sex there is in a book, or how crazy the plot is. I want to read characters who are believable and well motivated. I will buy anything they do so long as you give me a good read.
How do you develop your plot and characters?
I tend to write very character-driven stories. Before I start writing, I develop detailed character profiles. I spend a lot of time trying to think of a characters' fears and motivations. Their back story – that is, there underlying fears and dreams – are very important to me. The plot tends to unfold from their actions. I let them decide what's going to happen next.
What comes first, the plot or characters?
It depends. Sometimes I'll come up with a "What if?" scenario and other times, I'll envision a character. Either way, soon as I have a glimmer of a story, I turn to my character bios. Even in the most plot-heavy story, the characters take precedence for me.
Tell us something about your newest release that is NOT in the blurb.
My short story, "Love in the Shadows," is about scars. When I created Nicholas Bonaparte, I had the Phantom of the Opera in mind. He spends a lot of time at the beginning of the book lurking in the shadows – and for good reason. Meanwhile, Jenny Travolini is equally scarred. Her scars are internal and come for not getting enough love. Although I don't go into great detail about her past, it's obvious she looked for love in a lot of wrong places.
Are you working on anything at the present you would like to tell us about?
I'm currently working on a trilogy called 72 Hours to Fall In Love. The books follow three friends who each find love over the course of a 72 hour trip. Naturally, the men they fall for are very broken and need love.
What are you reading now?
The Sweetheart Bargain by Shirley Jump. Awesome read!
What books or authors have most influenced your own writing?
So, so many. However, before I published, there were three authors who were profoundly influential. The first was Judith Arnold. She was the first author who ever told me I had talent and not give up. I have never forgotten her support. The second was Jane Porter. She gives these wonderful workshops talking about fear and insecurity. Listening to her always gives me hope that I can someday write as beautifully as her. And lastly, Susan Meier, who is perhaps one of the wise writers in the business. I could listen to her advice forever.
It helps, by the way, that all three of these women are also fantastic writers!
How do you come up with the titles to your books?
I don't come up with titles. I usually just put the hero's name on the manuscript these days. In the past, I've tried to come up with titles, but they were so bad no one wanted them.
When did you first consider yourself a writer?
Great question! About two years before I sold, a colleague of mine told me that if I wanted to be a writer, I needed to start acting like one. So, every morning I would drag my behind to Starbucks to work on my novel. I refused to let anything interrupt my writing time. As my manuscript began taking shape, I started thinking of going to the coffee shop as going to work. That's when I realized I was a writer.
Describe your writing space.
I'm one of those writers who has to move around. I've had to stop going to the coffee shop because of the crowds. When I began, the shop was quiet; now there's always people chatting. These days I hang home, but I still have to move around. Some days I'm in my office which is a lovely room with a desk and chaise lounge. Other days I'm plopped on my living room sofa (which my family hates!)
Believe it or ot, one of my favorite places to write is in my car. I grab a notebook and a coffee, drive to the nearest empty parking lot and write in the silence.
What is the hardest part about writing for you?
Writing. Seriously, the hardest part for me is the actual writing. There isn't a day when I am not convinced the words I'm putting on the page suck.
What is your work schedule like when you are writing?
I usually hit the desk around 10 and write in 20 minute bursts until 1. At that point I check my email, play online, realize it's 2:00 and go back to work for another hour or two. Around 4:00 I run errands and start dinner. I am not the most productive of writers. I'm trying to work on that.
What would you say is your most interesting writing quirk?
I cannot start a book on the computer. I have to write the first chapter or two by hand. In pencil. In a fresh notebook.
What do you like to do when you are not writing?
The problem with being a published author is you are always doing something writing or writing related. However, when I'm not on deadline, one of my favorite activities is cooking. I love to make fancy dinners for the family.
What is the most surprising thing you discovered while writing your book(s)?
I learn so many neat things when researching. I think my favorite –and it's creepy – is learning about getting rid of bats. The heroine in Heart of a Hero had bats in her attic. I learned all about extermination. Interestingly, my neighbor had a bat issue the other week and I told her all sorts of facts she didn't know. (And I'm sure she appreciated them too.)
What is something that you absolutely can't live without? (Other than family members)
My morning coffee. Do NOT take my morning coffee from me ever. Or you will suffer.
Could you ever co-author a book with someone? If so, who would you choose, and what would you write?
Oh, that's not a fair question. I would have to pick Susan Meier, Shirley Jump and Jackie Braun – my co-authors for The Billionaire's Matchmaker!
Otherwise, I admit I'm too much of a control freak with my writing to co-author. It'd be best for everyone if I didn't.
If you could spend a day with anyone from history, dead or alive, who would it be, and what would you do? What would you ask them?
I want to meet Aigail Adams, wife of our second president. Theirs was one of histories true love stories. I think I'd want to ask her what it was like being so intelligent at a time when women weren't allowed to speak out or demonstrate their intellectual prowess.
If you were on the staff to have a book adapted to movie, what would you pick?
I am a huge fan of Martha Grimes' Richard Jury books. I would pick one of their mysteries to adapt for Masterpiece Theatre. Of course, this is assuming I can't pick one of my own.
About the Author: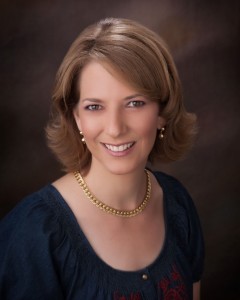 Barbara Wallace has been a life-long romantic and daydreamer so it's not surprising she decided to become a writer at age eight. However, it wasn't until a co-worker handed her a romance novel that she knew where her stories belonged. Her first Harlequin Romance debuted in November 2010.
Barbara loves writing sweet, smart, 'it-could-happen-to-you' style romances. She lives in Massachusetts with her other loves – her husband, their teenage son, and three very spoiled pets (as if there could be any other kind). She also loves hearing from readers.
You can find her at her website (www.barbarawallace.com), on Twitter (@BarbaraTWallace) and on Facebook.
Can a feisty four-legged matchmaker help four best friends find the romance of their dreams?

Driving Mr. Wrong Home by Shirley Jump: When a handsome man from Gabby's past agrees to a cross-country road trip, her master plan to re-launch her art career quickly morphs into an unexpected, romantic reunion.

The Sheriff's Secret by Susan Meier: Marney's 9-1-1 emergency help arrives in the form of a rugged, blue-eyed cop. Now she has the perfect bodyguard to keep her safe during those dark, steamy nights…

Love Unleashed by Jackie Braun: The last thing Mia wants is a relationship…yet the headstrong florist can't keep her hands off her sexy-as-sin ex-boyfriend. Will she open her heart before he leaves town for good?

Love in the Shadows by Barbara Wallace: Jenny is a woman on a mission – she'll even resort to dognapping to make her point! But can she teach a reclusive, emotionally-wounded tycoon that love heals all thing?