Long and Short Reviews welcomes Laura Strickland, whose newest book Daughter of Sherwood is now available. She had serious doubts in the beginning about taking on the legend of Robin Hood, but once she got started the characters came alive and began weaving the story on their own.
"It was precisely like watching and hearing it all happen in my mind, complete with color, scents and a veritable wealth of emotion. All I had to do was write it down," she explained. "In fact, there were times when I was forced (by things like my day job) to lay my pen aside, but the characters just kept right on going. While driving my car, cleaning the house or performing my duties at work, I'd be listening to them with half an ear and, very often, scribbling down what they said so I wouldn't forget. And more than once, during the writing, I was unsure about what would happen next and how the story would end."
As you can tell, Laura is definitely a pantser. Usually, she'll get the flash of an idea for a book–it might be something as insignificant as an opening line or a comment one character makes to another. It might be a "what if" question: what if a Celtic warrior lost the ability to fight? what if a woman taken as slave by a Viking enchanted him? what if a character dreamed a world that became more real to him than his own?
"The rest of it just sort of takes off from there and I have no time to plot. The story becomes a living, breathing entity that creates its own plot as it goes along," she told me. "I have never in my life made a written outline and probably wouldn't have the patience. The most I ever do is jot down lines or details so I won't forget them, and sometimes make lists of characters' names because I write about antiquity, and some of those names can be tough to remember until the characters and I become well-acquainted. It's a bit like automatic writing."
Laura started writing because she loved to read. As a child, she was known among her family as the girl who always had a paperback book in her pocket.
"I consumed books the way other kids consumed candy," she said. "Well, I consumed candy too, but that's another story. There was just one problem with the books I read: they always ended too soon. If I got my hands on one of those truly wonderful books – the ones that drew me into another world –like Witch of the Glens by Sally Watson or Rose in Bloom by Louisa May Alcott, I wanted it to go on and on. It was a real wrench when I had to lay the book aside. Then one day the voice of inspiration whispered in my ear: 'Why don't you just make up the story?; It dawned on me that if I wrote the tale, I could make it go on for as long as I liked and create whatever wonderful worlds I wished. So I guess writing became the fix to my reading addiction. And it still is!"
Laura wrote her first book in third grade–called "The Haunted House." She wrote it out by hand and made a construction paper cover with a drawing of a spooky house on it.
"Even back then I nursed the conviction that I'd been born to be a published writer. It took the world some time to get up to speed with that conviction, but I never let that hold me back. I wrote throughout school, manuscript after manuscript scribbled in loose leaf notebooks, and when I met my best friend in high school (she's still my best friend) I introduced myself by saying, 'I write books about Scotland.' For my Senior year Independent Study project I wrote a book (what else?). And I've been writing ever since. I've graduated to spiral notebooks, but no further. I still like to write curled up with a spiral notebook and a pen (college ruled and blue ink only, please). And I've created plenty of worlds to which I enjoy returning time after time."
She's been obsessed with Scotland since kindergarten–maybe even before. She lived and breathed stories about the place and studied texts about the Clans–attributing this connection to the strength of ancestral blood on her mother's side. After she wrote her twenty-book Celtic Series, she saved up her money for her first trip to Scotland.
"I drafted my grown daughter into accompanying me and rented a cottage (via the internet, unseen) near Kippen, not far from Stirling," she said. "And here comes the crazy part: we landed at Glasgow airport early on a rainy Saturday after flying all night into the dawn, rented a car and took off to find the cottage, which at this point was no more than a point on a map. Now, you have to understand I had never driven a car with right-hand drive. We took off from the airport parking lot in mid-day weekend traffic, in the pouring rain, and the first thing we had to do was negotiate a roundabout, which is like a traffic circle, with other cars driving around it madly. They all, presumably, knew where they were going. I didn't! Eventually we did find the cottage, five hundred feet up a hillside, and even ventured out again to drive great distances. Scotland didn't disappoint, and the locale where we stayed became the setting of my first book for The Wild Rose Press, Devil Black."
Of her Celtic Series, four of the books have been published: The God's Song, The Shadow Ground, The Walking Dream, and The War Raven. The series started out as a single book several years ago with one of Laura's "what if" questions: What if a quintessential Celtic warrior, foremost in his clan, was so badly injured in battle he could never fight again? What would become of such a man once his purpose in life ended? What kind of physical and spiritual journey would he need to make? The answers to these questions became the story of Aoghan MacKintire, set in a (so I thought) mystical place on the coast of Scotland.
"The book and the place both possessed me and speaking in Aoghan's voice became so deeply personal I wanted to return to it again and again. So that single book turned into a saga telling the story of Aoghan's ancestors and descendants," she said. "Ironically, Aoghan's book, which came first, hasn't yet made it into print. Instead, I began publishing with the stories that came earlier in the timeline. But I did find the mystical place where Aoghan lived when I journeyed to Scotland, and it proved to be exactly the way I'd always seen it in my mind."
Not only is Laura a historical writer, she lives as close as possible to the way her ancesters lived.
"For the past thirty years my husband and I have heated our home exclusively with wood. We do not even have a back-up furnace! I am the official Keeper of the Hearth in our house," she told me. "I rise before everyone else each day and kindle the fire, which I consider a semi-sacred duty. In winter I also leave my job at midday to drive home in my 1988 Volvo station wagon and stoke our woodstove. (Our dogs have long benefited from this, as I'm able to take them for walks after the fire is revived.) We live in the country and since acquiring our property 25 years ago, we've also harvested most of our own firewood from the deadfall found on our forested acres. We make it a point to fell no healthy tree, and make use of all those whose lifespans have come to an end. And each time I toss a log onto my fire, I'm grateful."
"Who is your favorite author?" I asked.
"Wow, this is really a tough question because there are many, many authors whom I've elevated to the status of demi-gods, in my mind. If I look back, I can see I've progressed through them the way a ship progresses through waves. Each one pushed me a bit further on my chosen path. I've always said I learned to write by reading great authors, so I know I owe a great deal to each of them. If I had to choose one, though, to reign above them all – the Odin of my writing pantheon, so to speak – it would have to be Sir Terry Pratchett. To my mind, Terry Pratchett's writing is untouchable. I've never read another author who approaches him for originality, humor, zaniness and pure creativity. And he's brilliant, an absolutely delightful mind. The first of his books I read was The Fifth Elephant and from there I moved through the whole Discworld series the way a forest fire moves through dry timber. It would be impossible for me to choose a favorite, but Going Postal might come close."
Finally, I asked, "If you could keep a mythical/ paranormal creature as a pet, what would you have?"
"In Scottish Hebridean lore, there's a creature called the Bauchan, a dour, unhappy elf, and I'd like one of those if I could. Why, you ask? Well, because though not effusive in disposition, the Bauchan will work tirelessly for his keep and that's exactly what I need around my house. I'm so busy writing, reading and editing I rarely have time for housework. In fact, things have been slipping drastically for some time. And a creature – even one full of gloom – willing to sort through my closets, neaten up my cupboards, scrub my floors and do the laundry in return for an occasional bannock, a cup of custard or a mug of ale would be most welcome. Of course, you did specify 'pet.' Every pet I've ever owned has spent its time lying around and sleeping in comfort while I performed every household task under the sun, so I don't know … I could only hope for better behavior from my Bauchan."
Laura Strickland's new historical romance book Daughter of Sherwood, published by The Wild Rose Press, was released on November 1, 2013.

Raised as a scullery maid in Nottingham Castle, Wren has no idea she is the daughter of the legendary Robin Hood. When she is forced to defend herself against the unwanted advances of an influential man, she flees the castle and finds refuge in Sherwood Forest. It is then she learns a powerful secret: she has a destiny as a guardian of Sherwood, charged with the responsibility of defending its ancient magic.

Since Robin's death many years before, his supporters have kept his legend alive. Now one of the three guardians holding the spell has died. With two young men, Sparrow and Martin, Wren must form a new bond strong enough to protect Sherwood and continue her father's fight. Drawn equally to Martin's warrior spirit and Sparrow's gentle strength, she finds it nearly impossible to choose between duty and love.

Laura takes us on a journey into the world of Robin Hood's daughter, where we experience her struggle to accept her identity and the demands of her father's legacy. Along with Wren, we learn that what is loved in life can never be lost, and that great love is worth the price paid. For at last, when Martin is captured and held at Nottingham Castle, the path becomes clear for Wren and she finds the strength to become the woman she was born to be, the Daughter of Sherwood.

Daughter of Sherwood is book one of The Guardians of Sherwood Trilogy.
About the Author: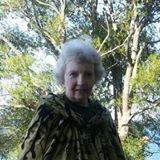 Born and raised in Western New York, Laura Strickland has pursued lifelong interests in lore, legend, magic and music, all reflected in her writing. Though her imagination frequently takes her to far off places, she is usually happiest at home not far from Lake Ontario with her husband and her "fur" child, a rescue dog. Currently she is at work on the third book of the Guardians of Sherwood series.
Goodreads ~ Website
Buy the book at Amazon.