Long and Short Reviews welcomes Ken Dalton whose latest book The Tartan Shroud is available. The Tartan Shroud is the fourth book in the Pinky and Bear series.
Ken is currently working on a non-fiction book concerning the great polio epidemics that raged through America from 1915-1955.
"As a polio survivor who was struck down at the age of five in 1943, I have the personal knowledge to chronicle the life changing effects of the disease during that era," he told me.
When Ken's not writing, he plays golf and performs in local theater.
"It is hard to turn my mind off from the next plot twist and golf helps me to get my thinking on to something completely different, such as how much my golf ball is going to move from left to right during my next putt," Ken said. "Performing in a play forces me to become a different character, and in the long run, that helps me to develop interesting characters for my novels."
"What is the one thing readers would be most surprised to learn about you?" I asked.
"That I am completely different than my two main characters, Pinky and Bear. Most readers do not understand that I allow Pinky, or Bear, to invade me when I am writing in their voice, but their characteristics leave me the moment I have completed their segment. Another example? In my current little theater production I play the part of an unctuous undertaker. Once the two hour play is over, I remove my costume, makeup, and return to my real persona, a seventy-four-year-old writer."
Ken admitted he was surprised to discover that he's not always in complete control of what will wind up on the page once he starts writing.
"For example, in my first book, The Bloody Birthright, Flo Sonderlund was just a minor character who was suppose to remain in Los Angeles when Bear drove back to Carson City. Somehow, Flo ended up in Bear's car as the two headed north toward Bakersfield," he explained. "The next thing I knew Flo had become a major character in the rest of that novel and she continued in that role in books two, three , and four. A second example happened in Death is a Cabernet when ten-year-old Ettamae popped up. She was suppose disappear after the climactic conclusion at the winery. But somehow Ettamae ended up living with Bear and Flo while her grandfather recovered from a major leg injury. Ettamae went on to play a major part in The Tartan Shroud, but you'll have to buy the book to find out the rest of her story."
The working title of The  Tartan Shroud was "Scottish girl murder."  I asked Ken to tell us how he came up with his titles.
"First I pick a working title so I can save, and pull up my writing on my computer. Then, as the book takes shape, I set my mind a simple task—come up with a title that looks, sounds, and fits the plot of the novel.  Sooner or later, the answer will pop up. in an hour, a week, or a month—as I'm eating breakfast—driving to the grocery store, or writing. Once I have selected the perfect title, I check Bookfinder.com to see if that title has been used recently. If my title passes that final test, I tie the title to an ISBN number and the rest is history."
I asked Ken to tell us about his family.
"In case you haven't noticed, we live in a crazy crap game we call life. The day I met my wife, I rolled a winning seven and found my true love. Today, fifty-four years later, we still love each other, have fun together, sit by the fire together, travel together, and once a week, play golf together. I mention the golf because during the week we each play golf with other people, but every Friday, we play together. Not only is Arlene my wife, she was also the greatest mother for our three children, our four grandchildren, and our six great-grandchildren. She never misses sending a birthday card, to all of our extended family, and kind words to all our friends."
About the Author: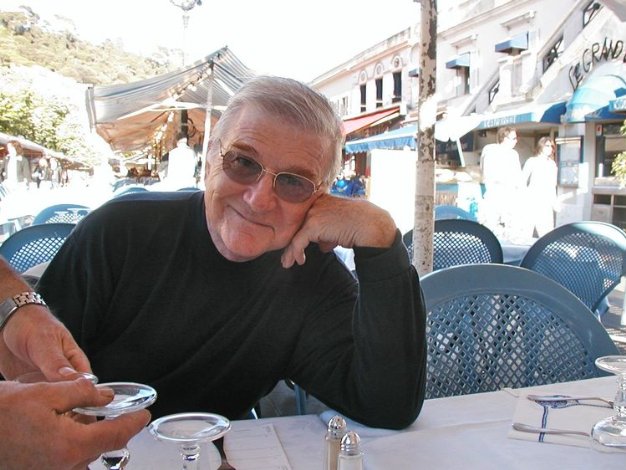 Ken Dalton was born in 1938 at Hollywood Hospital. He grew up with his parents, his older sister, Pat, and younger brother, Richard in Los Angeles. The year 1938 informs the quick reader that Ken's older than a lot of people, but younger than some.
In a turn of bad luck, the dreaded Polio virus found Ken.
At the end of World War ll, Ken's family moved to Cheyenne, Wyoming for a year where he learned how to live through snow blizzards, avoid walking through the large pile of coal in the basement, and how to survive life as an Army Officer's brat on a base called Fort Warren.
By the age of sixteen, after eleven years of operations, therapy, and braces, Ken's luck changed dramatically when he met the girl of his dreams at a party. A few years later they married, produced three wonderful children, and settled into a happy life in Southern California.
In 1966, Ken, who worked as a technician for Pacific Bell, and his family left Southern California for the green hills of Sonoma County where they bought a home in Sebastopol surrounded with apple trees. A few years later, Ken and Arlene built a new home on three and a half acres. They raised cows, pigs, and learned how to build outstanding fences. While their children grew, they hosted two exchange students, Eva Reimers from Sweden, and Tanja Wuttke from Germany, both of whom are still loved members of the Dalton clan. Also during those years, Ken was promoted to management at Pacific Bell. He eventually ended up responsible for all the central offices, sixty-three, in an area that covered five counties.
In 1977, Ken, Arlene, Bob Wiltermood, and his wife Norma, designed, built, and operated a 2000 case winery named Pommeraie Vineyards. They produced award winning Cabernet Sauvignon and Chardonnay. However, after Bob died, the winery was sold. Ken and Arlene moved to a hilltop in Healdsburg.
With the winery gone, and time on their hands, Ken and Arlene started to perform with the Camp Rose Players. Twenty years and forty productions later, both are still acting and singing.
Life was good. All Ken had to do was learn some lines and bow when the audience applauded.
Then, ten years ago, Ken started to write. His first article was published in Golf Illustrated in August 1996. More golf articles followed in national and regional magazines including Golf Magazine and Fairways and Greens.
After a two-year stint on the County Grand Jury, Ken felt the need to begin his first novel.
Now, after a decade of struggle to learn the craft of writing, Ken has become the publishing world's latest overnight sensation.
To enter a drawing to win one of ten copies of The Tartan Shroud, autographed by Ken, please fill out this Rafflecopter form.