Long and Short Reviews welcome J.D. Brown, author of Dark Heirloom and Dark Liaison. Leave a comment for a chance to win a digital copy of Dark Liaison. Enjoy this blurb:
Ema Marx wishes her life would go back to normal, but there's nothing normal about being a Romani-Vampyre with an ancestor who wants you dead. Apollyon is back, wreaking havoc on the lives of everyone she cares about while plotting her demise.

Ema thought she would find a new best friend in her trainer, Bridget, until the exotic vampire vies for Jesu's attention. Jesu can date who he wants, right? Ema has more important things to worry about, like honing her powers. When Apollyon's thugs appear out of the shadows to attack her, Ema knows it's time to take action. But everyone else has other plans in mind.

One thing is for certain, being under house arrest in the German vampyre king's castle was not part of her plan to save the day.
Dark Liaison is the second book in Ms. Brown's Ema Marx series. The vampires in this series are also shapeshifters and there are a few zombie vampires too.
J.D. started writing because she wanted to read something that hadn't yet been written: a vampire story where all the characters were vampires–not just the brooding guy.
"I like paranormal for the paranormal characters (duh!) so why would I want a bunch of puny humans ruining the party?" she explained. "Instead of searching for such a book I decided to write my own. That project ended up my first novel, Dark Heirloom."
She started writing three years ago, and Dark Heirlooms was published in 2012. She's working now on the third book in the series, Dark Becoming.
J.D. is very active on Facebook–she's there every day. She and her readers mostly discuss the latest vampire craze, argue over who's sexier (Stefan, Damon, or Klaus?), share books they're reading, and usually end up agreeing that Spike is the hottest of all.
"If you could keep a mythical/ paranormal creature as a pet, what would you have?" I wondered.
"Oh, I would totally have a dragon! Or maybe some sort of flying gargoyle thing. Or Spike. Can I keep Spike as a pet?"
She would love to travel to Finland one day, because that's where her main characters are from–and she'd love to have the paranormal gift of super fast healing.
"I think that would lead to immortality. That's how it works for my vampires at least," she told me.
"Do you ever suffer from writer's block?" I asked.
"Yes, I do, all the time, but I hate calling it a 'block'. It's more like a 'break' and for me it's a necessary part of the creative process; one that I embrace and (usually) enjoy. You see, my creativity needs to take breaks to re-charge and re-fill. I actually feel more productive when I'm actively thinking about my current manuscript and working it out in my mind than when I'm sitting at the computer trying to force the words onto the page when I know my brain is running on empty and needs a re-charge. Some of my best work is done while washing dishes or walking my dogs rather than on paper."
As a child, though, she didn't want to be a writer. She wanted to be a veterinarian.
"I love animals," she said. "I never made it to vet school, but I did become a certified companion dog trainer, and I worked two years at a vet clinic where I managed the boarding kennels, was a grooming assistant, and occasionally a helping hand for the technicians."
Finally, I asked, "What is the hardest part about writing for you?"
"It's all hard," she said with a laugh. "I am my own worst critic and my own toughest boss. I want to please my readers but I also have to stay true to the characters and to myself and ultimately that means not everyone is going to like the final product. But I still fight myself like a rabid beast to try and get as close as possible to the best book possible for both my readers and my characters. I try to write a story that keeps them at the edge of their seat and characters they can't help but fall in love with."
About the Author: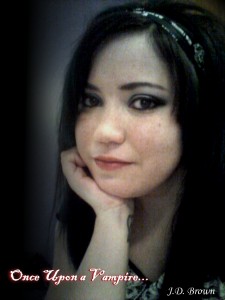 J.D. Brown knows that vampires exist because she's dating one and no, he doesn't sparkle. Unfortunately, he's not immortal either (or maybe her standards are too low). A magnet for subcultures and weirdness, J.D. was that socially awkward girl with more fictional friends than real ones. As a child battling a hearing loss and a medical condition with no name, J.D. found comfort in books where strong women always saved the day and got the guy. An obsession with Charmed, Sabrina the Teenage Witch and Heroes lead J.D. to believe that her mutated chromosome made her something more, not something less. Thus her stubborn flare to persevere was born. A lover of fine cuisine, coffee, and shoes, J.D. never understood why shoe stores don't serve Starbucks and soufflé. She resides in Wisconsin were she writes urban fantasy—aka vampires for adults—and has political debates with her dogs. She loves to hear from fans and is active on Facebook.com/AuthorJDBrown.

Website ~ Facebook ~ Twitter: @AuthorJDBrown ~ Amazon Author Page