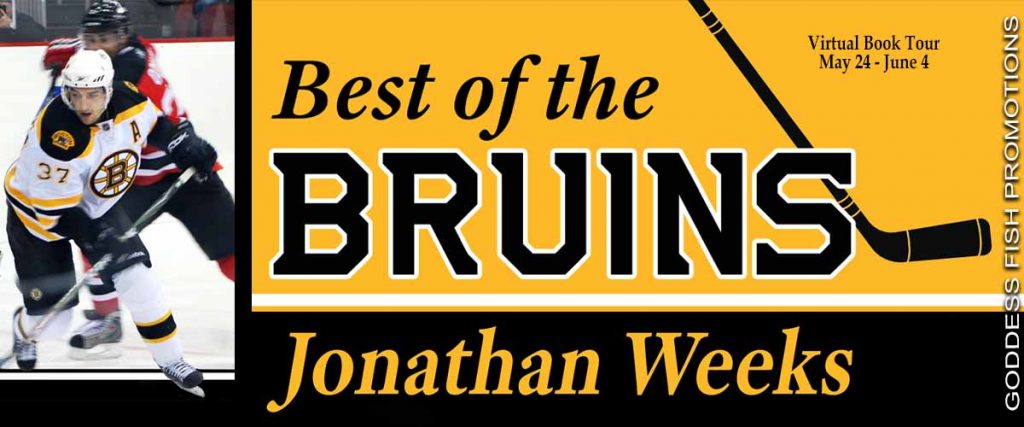 This post is part of a virtual book tour organized by Goddess Fish Promotions. Jonathan Weeks will be awarding a $25 Amazon or Barnes and Noble GC to a randomly drawn winner via rafflecopter during the tour. Click on the tour banner to see the other stops on the tour.
YOUNG PLAYERS ON THE RISE IN BOSTON
Though none of them appear in my latest survey of the Bruins brightest stars, the following players may be featured in future volumes:
CHARLIE McAVOY
DEFENSE
He isn't drawing frequent comparisons to Bobby Orr or Ray Bourque just yet, but McAvoy may be Boston's defenseman of the future. In his 2017-'18 debut, he was named to the NHL All-Rookie Team. McAvoy has excellent speed, handles the puck well and is capable of laying devastating hits on opponents. In 2019-'20, he reached a career-high of 27 assists—pretty impressive for a twenty-two year-old.
TRENT FREDERIC
CENTER
Born in St. Louis, Frederic played both football and hockey in high school. During his days at the University of Wisconsin, he was named Big Ten Freshman of the Year. He led the Badgers with 17 goals and 15 assists during his sophomore campaign. In 2018, he signed a contract with the Bruins. Called up for the first time in 2018, he has become a regular in the Boston lineup. A spirited player with great speed, the Bruins believe he may be destined for bigger and better things.
BRANDON CARLO
DEFENSE
A Colorado native, Carlo played for the University of Denver before aspiring to the NHL. Entering his fifth season with the Bruins, he has accrued a plus-58 rating so far. He is one of Boston's top shot blockers. Solidly built at 6-foot-5, 215 pounds, he handles himself well on the ice. Though he doesn't appear in the scoring column terribly often, he has elevated his offensive game over the past two seasons. He was twenty-four years-old at the start of the 2021 season.
MATT GRZELCYK
DEFENSE
Hailing from Massachusetts, Grzelcyk was a major star for Boston University, where he served as team captain in his junior and senior years. His overtime goal lifted the Terriers to their thirtieth Beanpot Tournament victory. Currently in his fourth full season with the B's, Grzelcyk is a tireless grinder and is gradually finding his scoring touch. He had 20 points in 37 games with Boston during the 2021 regular season. He avoids the penalty box in spite of his physical play.
CONNOR CLIFTON
DEFENSE
Clifton grew up in Matawan, New Jersey. He attended Quinnipiac University, where he was named to the ECAC Hockey All-Academic Team during each of his four seasons. Originally drafted by the Coyotes, he was signed by the Bruins in May of 2018. He played his first full season with Boston in 2021, finishing among the team leaders in hits and blocked shots. In spite of his modest size (5-foot-11, 175 pounds), he plays a very physical game. He has received glowing praise for his "attack mentality."
JEREMY SWAYMAN
GOALIE
Hailing from Anchorage, Alaska, Swayman helped the U.S. team to a Bronze Medal in the 2018 World Junior Championships. He spent three years at the University of Maine, where he was named to three consecutive All-Star teams. In 2020, he was among the most decorated college players, capturing Hockey East Goaltender of the Year and Player of the Year honors. He also won the Mike Richter Award, which is given to the NCAA's top collegiate goalie. After his junior year of college, he was signed by the Bruins. In April of 2021, he was called to Boston to substitute for Jaroslav Halak, who tested positive for Covid-19. In 10 starts, Swayman compiled a 7-3 record with a 1.50 goals against average. His quick reflexes and superb puck-tracking skills have impressed coaches and teammates. Fans in Boston are already talking about him becoming the successor to future Hall of Famer Tuukka Rask.
JEREMY LAUZON
DEFENSE 
Born in Val-d'Or, Quebec, Lauzon was selected by the Bruins in the second round of the 2015 NHL Entry Draft. Upon finishing his junior hockey career with the Rouyn-Noranda Huskies, he joined the Bruins' minor league affiliate in Providence. As of 2021, he appears to have found a permanent home in the NHL. Lauzon is a big guy at 6-feet-2, 210 pounds and he hits hard. He doesn't hesitate to block shots or trade punches with opponents if he is challenged. Extremely mobile on defense, he has an active stick and remarkable on-ice vision. Those qualities have earned him the respect of Bruins' head coach Bruce Cassidy. At twenty-three years of age, he may have a very bright future ahead of him.
Among the "original six" NHL clubs to survive the Great Depression, the Boston Bruins have a vibrant history. Entering the 2020-'21 campaign, the team ranked fourth all-time with six Stanley Cup championships. Some of the most gifted players in NHL history have skated for the Bruins over the years. Best of the Bruins: Boston's All-Time Great Players and Coaches tells the individual stories of the players and coaches who have helped make the Bruins perennial contenders for close to a century. Profiles of current players are included in this sweeping survey.
Enjoy an Excerpt
Brad Marchand
In spite of the team's efforts to protect him, Marchand has repeatedly engaged in outrageous behavior on the ice. His most reprehensible acts include a low-bridge hit on Sami Salo of the Canucks that left the Vancouver defenseman with a concussion and a spearing penalty incurred for deliberately hitting Tampa Bay blue-liner Jake Dotchin in the crotch with his stick. Entering the 2019-'20 campaign, Marchand had half a dozen suspensions to his credit in addition to multiple fines.
In spite of his incorrigible antics, Marchand has been an indispensible member of the Bruins top scoring line, which also features David Pastrnak and Patrice Bergeron. The trio, which has been dubbed "The Perfection Line" by sportswriters, averaged well over 200 points per year between 2016-'17 and 2019-'20. Marchand was the team's top point producer in three of those seasons. Not only does he score goals in bunches, but he scores them in timely fashion. In November of 2019, he set a franchise record with his 26th short-handed goal. And by January of 2020, he had attained a rank of #6 among the Bruins all-time leaders in game-winning goals. His efforts earned him a pair of Seventh Player Awards in 2011 and 2016. But outside of Boston, he is largely viewed as a criminal.
Asked about his tarnished professional image, Marchand told a reporter: "It's tough. I've tried for awhile now to get away from that role and I just can't seem to escape it. I think obviously if you look back on the last few years, I've turned into a decent player and it's tough to be branded with that name consistently. Obviously, it's from my own doing but it's tough to escape it. Devil's advocate there, it's what I had to do to get into the league so I'll never say that I wouldn't go back and play the same way."
About the Author: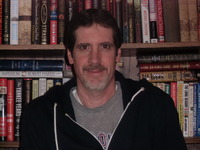 A lifelong sports fan, Weeks has published several non-fiction books on the topic of baseball. Additionally, he has two novels to his credit–one of them a posthumous collaboration with his father. His latest project: Best of the Bruins: Boston's All Time Great Players and Coaches, is due out in 2021.
Buy the book at Amazon.