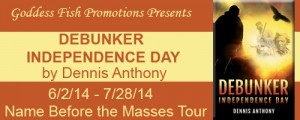 This post is part of a virtual book tour organized by
Goddess Fish Promotions
. Dennis will be awarding an eCopy of Debunker: Independence Day to a randomly drawn commenter during the tour. Click on the tour banner to see the other stops on the tour.
Writing and Getting Naked
When I was little — back when folks used to write letters to relatives — I sometime wrote to my old Aunt Ella in California. Every year she would send us a book full of colored photos of that year's Rose Parade in Pasadena.
In the letter I would tell her of the badges and arrows I earned as a Cub Scout or the games I won playing football in the backyard or how many "A's" and "B's" I received on my last report card. I didn't mention the trouble I got into throwing crab apples at innocent passersby near the schoolyard or the time I shot my friend, Dicky, in the hand with an arrow while he held a soap box as a target.
I wasn't completely honest with Aunt Ella.
I mention this because a lot of people think writing honestly means telling no lies. I don't agree. If you're a writer, you've got to get naked. You've got to let it all show and be willing to accept the consequences. No hiding allowed. In short, you've got to be you.
These days, I spend my time writing and editing. My boys have grown up. My dad passed away some years back. But when I worked at a regular day job and had a family, I spent a lot of time hiding. I never felt I could write honestly. When I wrote a novel, I had to consider what my boss would think of my words. And what about my kids and their teacher? The pastor at church? My wife, parents?
So I ratcheted back my passion and my prose. I didn't offend anyone. I kept my clothes on.
The books sucked.
A girlfriend of mine once asked her mother, after meeting me, what she thought. "He's an odd duck," she said.
My girlfriend thought it was a funny comment, but I was troubled because I thought it meant I gave away too much of myself. I wanted her mother to see me as intelligent, thoughtful and responsible. But in her mind, I came off as irreverent and a little goofy.
But I am irreverent. I am a little goofy. Yeah, I think I'm intelligent, thoughtful and all that other stuff too, but it's wrapped up in the same package..
My sister read my book, Debunker: Independence Day, and said she couldn't finish it. She had a hard time reading "sex scenes written by my brother." My 95-year-old mother, who isn't doing any reading these days, piped up, "Oh, my son wouldn't write any dirty books!"
Well, yes and no, mom. I didn't write a dirty book, but I didn't not write one, either. Since I'm trying to write honestly these days, the sex — what there is of it — is not gratuitous. It's just that I resisted the impulse to remove these scenes to avoid offending my sister or my mother or my grown up kids. If the scenes worked in the story, I kept them in. If not, like a lot of the backstory and some of the longer descriptive passages, I cut them out.
I think the book is intelligent, thoughtful and responsible. But it's also irreverent, goofy and occasionally amusing. That's because all those things are who I am. I'm not keeping it a secret any longer.
I wrote it while I was naked. And the book is better for it.
I hope you agree.
This is the greatest battle ever fought on American soil. History will be changed. Thousands will die. And many of the dead will wander the battlefield in three different centuries, waiting to find their way home.

It's 150 years later. Enter Francis Trecy.

An alienated outsider, he refutes paranormal claims of other researchers on a popular reality television show. Critics call him The Dark Lord. They call him The Unbeliever. Only a few people closest to him know his secret. Francis sees a lot more than he's telling.

Before he becomes the accidental star of the program, he falls in love with a beautiful, enigmatic woman who disappears without explanation. In her wake, she leaves behind a procession of ex-lovers, along with suggestions of deceit and betrayal. Finding her becomes Francis's obsession.

His team of mismatched investigators journeys to the most famous battlefield in American history. There he discovers that reality is not at all what it seems. In coming to terms with his relationships and his complicated past, he battles against physical danger and emotional pain. He discovers that longings of thousands of wayward spirits mirror his own.

And he learns that in a world stranger than we can imagine, the human heart remains the strangest thing of all.
Enjoy an excerpt:
Parker's car was in a small lot behind the Inn and he had to walk past a pond and stream in the backyard to get there. Two ghost soldiers – one was the man from his room and the other a much older soldier with half-moon wrinkles under his eyes – watched him walk up the steps to his car.
While the spirits he'd seen in the last few days did not seem aggressive, he felt they were slowly moving toward him in the glacier-like way of zombies in a George Romero movie. The ghost of an aged man holding a musket that must have been an antique even during the battle was walking stolidly down an alley. Parker tossed his bag into the back seat and got into his car.
He had never seen anything like this proliferation of spirits, nor experienced the kind of jitter he was feeling. He grabbed the steering wheel with both hands and briefly dropped his head against it. He looked down to see if the two dead soldiers at the pond were walking in his direction.
He'd seen families of ghosts in homes or, more often, on porches of homes in the south. There might be three or four together in one place at the same time. Unless Parker acted as though he recognized their presence, there was seldom any interaction.
But Parker had never seen anything like he'd been seeing in Gettysburg. Not in graveyards. Not in haunted houses or abandoned orphanages. The spirits seemed to be assembling like dark clouds bunching up before a storm.
He drove down Baltimore Street, then detoured around some construction sites, and headed for the battlefield.
About the Author: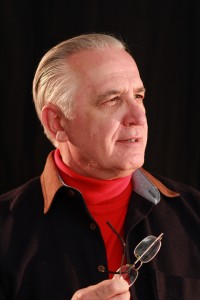 Dennis Anthony has been a newspaper reporter, sailor, military officer, television news producer, public relations executive and publishing company owner. He and his wife live in Pensacola, Florida, but try to spend as much time as possible at their cabin on
Lookout Mountain in Alabama. Debunker: Independence Day is his first published novel.
Website ~ Twitter: @DennisAuthor
Buy the book at Amazon