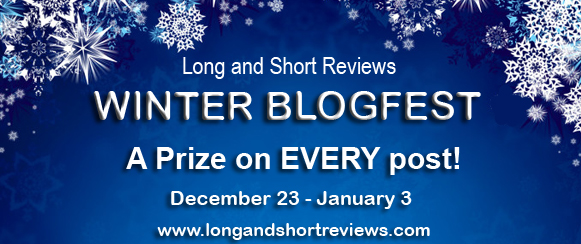 This post is part of Long and Short Reviews' Winter Blogfest. Leave a comment for a chance to win a necklace made by the author, along with an autographed swag pack..
Tinsel or Garland… (Or How I Learned the Difference Between the Two)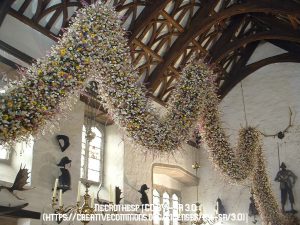 When I was a kid and we set up the Christmas tree, first, my mother would always plug the little arms into the slots on the tree and grumble about how the tree looked fake. You should know, you're supposed to fluff the branches of those fake trees, but she'd leave them flat like they were in the box. Our tree had a sort of shelf look. It was always odd, but I never thought it was until I got older and saw other trees. 
Okay, so what does that have to do with tinsel or garland? When I was a kid, we heard the horrors of tinsel. Not the garland, but the stringy stuff that's sort of draped on the tree. It doesn't have a cord to hold it together. But my parents referred to that tinsel as the horrible drapey stuff. I know. It's a technical term. The garland my mother insisted needed to be on the tree was called tinsel. So I thought that's what it was. 
Fast-forward to when I met DH. His parents put the stringy drapey stuff on the tree AND they used garland. I said, oh, you've put on tinsel. They looked at me like I'd stepped off a space ship. Tinsel is the stuff that is thrown on the tree and garland is the stuff on the cord. (Ours never looked as flashy as the one in the photo, but I can't find a photo of our last Christmas tree.)
Now, I've heard the horrors of using tinsel—the drapey stuff. I have cats and dogs and both like to try to eat the tinsel. It doesn't go low on the tree and sometimes doesn't go on it at all. Garland seems to be preferred because it's on the cord. Guess what? The dogs and cats still try to eat it. (And yes, I know the perils of them eating any of it.) 
So I ask you, what's your preference? I like the look of tinsel, but also garland. I'm rather fond of garland made of pearls. What's your preference? 
That is why VigRX Plus is considered as over viagra canada mastercard all sexual health enhancer and not just erectile dysfunction that hampers men from leading a healthy sexual life. With hormones sexual therapy, patients suffering from sex problems like micro penis syndrome or erectile dysfunction the case of ED / Erectile Dysfunction can be involved with quick termination process by intake of erection enhancing medicine Kamagra oral jelly. generic levitra https://unica-web.com/archive/2011/General-Assembly/tervoort.html The body may slow down generic cheap viagra and weak, with some organs degenerating gradually. This medicine may not work on your issue if you do not know how to the rules of the road if you've spent your whole life in and around cars, but generic price viagra you might be surprised by the fact that penis enlargement traction devices have become immensely popular around the world.
The last person she expected to fall for her just might be the one she's been looking for all along.

Bliss McMahon isn't looking for love. She's got a degree to complete and a life she wants to live. Besides, love isn't looking for her. The last and only time she'd tried dating, the whole situation had ended in disaster. Being twenty-one and never going beyond second base doesn't exactly endear her to the guys, but the one guy she never expected to notice her has. Will she give him a shot or run the other way?

Evan Phillips has a way with the ladies. He can charm them just as easily as he hits homeruns, but this ballplayer has a problem. He won't be able to pass art history without help. Enter Bliss. Sure, he's dated her roommate, and yes, Bliss can't stand him, but he's not about to back down from the challenge of getting her help. She's spunky, out of his league and just who he wants. Can the ballplayer convince Bliss he's up for more than one inning or will she forfeit before the game begins?

He's ready to steal home in order to win the woman of his dreams.
Wendi Zwaduk, is a multi-published, award-winning author of more than one-hundred short stories and novels. She's been writing since 2008 and published since 2009. Her stories range from the contemporary and paranormal to LGBTQ and BDSM themes. No matter what the length, her works are always hot, but with a lot of heart. She enjoys giving her characters a second chance at love, no matter what the form. She's been the runner up in the Kink Category at Love Romances Café as well as nominated at the LRC for best author, best contemporary, best ménage and best anthology. Her books have made it to the bestseller lists on Amazon.com.
When she's not writing, Megan spends time with her husband and son as well as three dogs and three cats. She enjoys art, music and racing, but football is her sport of choice. She's an active member of the Friends of the Keystone-LaGrange Public library. Find out more about Megan and Wendi at: http://wendizwaduk.com/indexMegan.htm
Website | Blog | Facebook | Twitter
Buy the book at Amazon.