It's That Time of Year!
How many times a year do you hear that? The beginning of the school year, during the cold and flu season, tax time? Right now, it's that time of year! The holiday season, Christmas is almost upon us and we're all scrambling to put up the tree, decorations, buy the perfect gift for our loved ones, and prepare the perfect meal. I don't know about you but since we have turkey for Thanksgiving we usually eat a different meat for Christmas, and this year it will be ham.
Christmas was big in our house when I was growing up. My sister and I made out like bandits, as our parents spoiled us with everything we asked for. Being only a year, apart Lois and I would get a lot of identical gifts, too. Our parents were determined there would be no fighting. But there was always that one special gift that set us apart, and one year she got a TV and I got an electric typewriter.
I was in heaven! Graduating from a manual typewriter where the words often looked fuzzy and you had to use that smelly old carbon paper. Running out of ink was the worst, if you were a writer because you know it went fast. The electric typewriter had issues, too, but at the time, it was a big improvement. Course, nothing beats the computer! I swear if computers hadn't been invented, I wouldn't be a published author today.
So getting back to, it's that time of year. Christmas. A time for parties and renewing friendships, catching up with family members, relationships, and love. Which brings me to The Promise, an erotic holiday romance between a marine on leave, and his brother's widow. It takes place at a farm in Vermont, where the family has gathered to celebrate. One random commenter will receive a download of The Promise, so please make sure you answer the following question in the comment section, and leave your email addy.
Question: What's the most cherished Christmas gift you received as a child?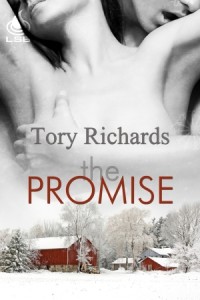 The Promise burb – Keeping promises is important to Ryan, but keeping his promise to his younger brother David will be hard. David's final wish is for Ryan to watch over his wife and daughter, but Ryan's been in love with Shannon for years. This holiday season, Ryan will learn he can keep his promise and still have his heart's desire.
The Promise excerpt –
Just as she stepped off the bottom step, she heard a noise at the front door. She hesitated, unsure what to do. Who could be visiting at this hour? Just when she expected to hear a knock, she heard something else instead. A key was being inserted into the lock, and right before her startled eyes, she watched the knob turn and the door open. Her gaze landed on a pair of army boots and slowly traveled upward, taking in the muscular body in military fatigues. Her mouth dropped open in shock.
Ohmygod! Ryan had come home!
He appeared just as startled as she was. Halting in the threshold as their eyes meet, his rugged expression carved in granite. Only his eyes, those piercing blue orbs, showed any sign of life, if you could call it that. Shannon had a feeling that Ryan Hayes didn't reveal any emotions that weren't hardened by years of combat. For a moment, she thought he wasn't going to speak and half expected him to back out and leave.
"Do you mind if I come in?" His deep voice was just as Shannon remembered. "It's damn cold out here."
For the first time she realized she was blocking his way. Swallowing, she stepped back enough for him to enter and close the door behind him. He dropped a large army bag on the floor by his feet, and shook off the snow onto the floor mat. All the while keeping his eyes trained on Shannon, as though she were the enemy. She took a nervous step further into the foyer, directly into the soft glow of the lamp that had been left on in the living room.
Ryan looked just like he did the last time she saw him. Big and tall, cloaked in that attitude of quiet strength he seemed to possess. His black hair cut in military fashion and suited his strong, square boned face. Though sporting a tiny scar over his left eyebrow and another, bigger one halfway down his left cheek he was still a handsome man. He eluded danger in practically every move he made, every glance. His eyes dropped, running over Shannon rapidly, making her painfully aware of her disheveled state.
She refused to reach up and smooth her hair back, knowing that it would do no good. The tiniest quirk on his full, sensuous mouth revealed he found her condition amusing. Quickly, his lips thinned almost menacingly when his gaze narrowed on her breasts. It was then that Shannon reached up and pulled her ruined blouse together where the buttons had come off. She finally found her voice.
"Welcome home, Ryan."
"Where is everyone?" His tone seemed hard, gruff, more commanding than inquiring. He slipped off his jacket and hung it on a peg on the back of the door, and then bent to slip off his boots.
"Mom went to bed with a headache. Sheila must be putting the kids to bed. The rest won't get here until tomorrow night." Shannon couldn't help but notice the quick glance he shot her way when she called his mother mom. She watched quietly as he set his boots against the wall and stood, towering over her again.
"It's just as well. I'm tired as hell and want to turn in early myself. But first, I want to find something to eat. I'm starved." Closing the distance between them, Ryan halted when he reached Shannon. "Is that okay?"
Shannon felt a telltale heat rush up to her cheeks when she realized she was watching Ryan's mouth form the words. What the heck was wrong with her? Jet lag, that's what. She gave her head a little shake. She must be more tired than she thought. As his words became clear, it dawned on her that she was once again blocking his way.
"Oh! I'm, ah sorry." Instead of moving to let him pass, she turned and began to walk in the direction of the kitchen. "I'll be glad to fix you something to eat."
"Thanks, but that won't be necessary." He was right on her heels.
"That's okay." Shannon pushed the kitchen door open and flipped on the light switch on the wall next to it. "Sheila put a plate for me in the oven and if I know her, she left enough for two. I don't mind sharing." Not waiting for Ryan to acknowledge her, Shannon took the potholders from the counter by the stove, opened the oven door and retrieved the plate. "Just as I thought."
She turned and showed him the full plate of corn beef hash. But the expression on Ryan's face almost made her drop it. Sweat had broken out on his forehead and he'd turned pale, his lips were thin as a muscle twitched in his jaw that had hardened in an effort to hold back that he was in obvious pain. Intense pain. He was clutching the island counter in the middle of the kitchen as if it alone was holding him upright. "Ryan!" Shannon set the plate down and rushed to his side. "What is it? What's wrong?"
Links –
Liquid Silver Books: http://www.lsbooks.com/the-promise-p593.php
Tory Richards website: http://www.toryrichards.com/
Face book: https://www.facebook.com/authortoryrichards
Twitter: https://twitter.com/ToryRichards
Amazon: http://www.amazon.com/Tory-Richards/e/B002DBFNUQ/ref=ntt_athr_dp_pel_1
Author bio –
Tory Richards often refers herself as the grandma who writes smut. But, she's also a lot of other things, including a daughter, mother, aunt, sister, friend, and writer. She specializes in erotic romance, and has recently written her first erotic paranormal called The Mating Ritual. Tory is retired from Disney, and lives with her daughter, son-in-law, and two grandchildren, in Deltona, Florida. She spends her time between family, and writing.
Interesting facts, well, Tory likes to think so:
she was on a plane on 9/11
she met actor Charlton Heston
she once raced a car 110 miles an hour
she was a twin
she likes any kind of sandwich
Barnie's Santa's White Christmas Coffee is her favorite
she's been to Alaska, and Europe
her favorite movie is Last of the Mohicans (Daniel Day-Lewis)
her favorite TV shows are Criminal Minds, Flashpoint, and Cold Case
she's a syfy junkie
she was born in Maine