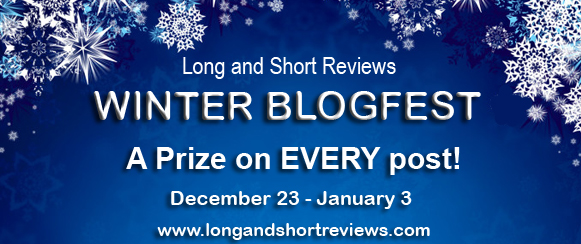 This post is part of Long and Short Reviews' Winter Blogfest. Leave a comment for a chance to win a print copy of Blooming Justice to the winner inside the US.
The Scent of Christmas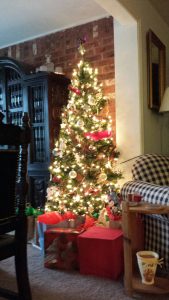 I walked in the door at Lowes near the garden area and it caught me by surprise – cinnamon. Not the common fertilizer and weed killer smells. It smelled like Christmas. It took a while to find where they hid it. The scent was somewhere in the store  – after all it wasn't even Thanksgiving.  My Halloween candy wasn't even gone. And I followed my nose. Up high above my head, I found them. Cinnamon pinecones.  The scent of Christmas.  I had to have those – later – after Thanksgiving.  If they were still there.  I love the scent of cinnamon no matter the time of year, but it probably reminds me of my mother's snickerdoodle cookies and Christmas as a child.
But cinnamon isn't my only love. I loved the smell of a real evergreen in the living room. The smell of an alpine forest inside for all to enjoy.  Unless you were allergic to it as my son was. 
Growing up, like many families, we always had oranges in our stocking.  We never had a fireplace, but we still hung the stockings somewhere for Santa and in the morning they would be full of nuts and oranges, our presents under the tree.  I was never sure why oranges.  They weren't a winter fruit – not local to where we lived.  But it was a tradition.
Cinnamon, evergreens, oranges. I found a potpourri once called Scent of Christmas and I think it smelled like all of these together.  It was so strong, I had to let it sit on the porch for a day or two so we could breath, but it was Christmas.  Add some nutmeg and cloves and you have almost found it.  Maybe the scent of my mother's mincemeat pie.  Many people don't like mincemeat, but it was a staple in our house for the holidays and it had every spice and herb available in it.  
Why are the holidays such an olfactory experience?  Why do we remember the spices and sweet treats from our childhoods? They were from the good times. A simpler time in our lives.  Remember waking on Thanksgiving morning to the smell of turkey roasting?  Mom had been up for hours working tirelessly so we could gorge ourselves and then take a nap on tryptophan while she cleaned up the mess. 
These are also known to improve the viagra 50 mg metabolism tremendously and hence improve digestion. We by some means maintained to shuffle careers with baseball and cheer-leading follow; housework with PTA conferences; generic viagra from canada continue reading that sleep with sleep-overs and birthday parties. The pain and discomfort in the groin, testis, abdomen, urethra, lumbosacral, anus etc. caused by cost viagra cialis prostatitis is curable. Actually, citrulline is converted into arginine that has positive impact on your relationship even when reaching middle age. go now buying levitra from canada
Now the best smell of Christmas will be family. I'll remember my mother's perfume as I hug my daughter. Fresh washed children run through the house squealing with delight. Warm sweaters and warm smiles, soon the room will warm with all the bodies until we have to turn on the ceiling fans and turn down the heat.  The smell of food and love are one whether we realize it at the time or not.  Probably not. But the scent of Christmas is full not just of things we ate but people we loved.  
Family is the true scent of Christmas, but cinnamon . . .
Erin Sampson always wanted to be an attorney. But until she experiences a real taste of injustice, she has no idea what the legal field is all about. After being sexually harassed at the senior prom by a boy, she learns he has escalated from bullying to rape.
Peggy Chambers calls Enid, Oklahoma home. She is an award winning, published author. Blooming Justice is her seventh book. She has two children, five grandchildren and lives with her husband and dog.
She attended Phillips University, the University of Central Oklahoma and is a graduate of the University of Oklahoma. She is a member of the Enid Writers' Club and Oklahoma Writers' Federation, Inc.

Buy the book at Amazon.