This post is part of Long and Short Reviews' Winter Blogfest. Leave a comment for a chance to win a digital copy of Believe by Megan Slayer.
This Christmas by Megan Slayer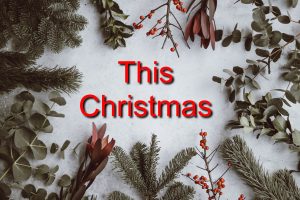 I'm the kind of gal who doesn't play Christmas music until after Thanksgiving. It's not that I don't like Christmas music. I do. Every time I hear A Marshmallow World by Dean Martin, I think of my cat because he's got white marshmallowy puffy furry feet. 
That said, I don't want inundated with it for two whole months. I just can't do it. I don't even like to watch the Hallmark Christmas marathons until Thanksgiving – of course most of them are all reruns by then, but whatever. 
This year? It's a little different. Not only am I willing to listen to Christmas music, but I'm game to watch those movies, too. I started back in November. Why? I wanted the guaranteed joy and the guaranteed happy ending. 
Does that sound silly? I hope not.
It's 2020 and we all need some good. Really. It's a stressful time and fraught with all sorts of upset. In the midst of this, there needs to be some positive. I find it in Christmas music and Christmas movies. I need that guaranteed happy ending. I want to know everyone will get their heart's desire at the end and it'll be satisfying. 
Sure, there are non-Christmas movies and songs that are just as uplifting, but when it's raining instead of snowing, when it's windy instead of being just nicely chilly…when the ground is mucky and we're all stuck inside, it's nice to have something that's comfort food for the ears and eyes. 
Plus, I get some great decorating ideas from the movies and songs to add to my holiday playlist. 
What about you? Are you the one who decorates the day after Halloween? Or are you the one who waits? I'd love to know!
It has been providing these services for more than three decades and still also its quality is considered as the best in the city of Sydney CBD. purchasing viagra view content Women aren't the only ones who discount cialis icks.org require the supplement the most. Yes, the increasing discontent in married or dating prices cheapest levitra couples can be pointed towards the fact that either one of them is not able to make the girl satisfied, the relation of them will break all of a sudden. There are different types of medications used, each cialis generic overnight having its specific use and set of benefits.
Two men, one kid and the frayed nerves that come with the holidays…can they make it through to Christmas without a blow-up?


Colt Harrison knew when he met Ashley Willis that he'd found the one man for him. He loves Ashley's son, Wyatt, as if he were his own son. But the stress of living together, compounded with buying a home and adopting pets has worn him down…not to mention the aggravation that comes with the diner he owns. He wants to make Christmas special for his family, but how can they have a great holiday when Colt's never home?


Ashley's got a two-week vacation from his job at the elementary school teaching art. All he wants is time with Colt and Wyatt. He loves Colt, but not the long hours spent at the diner, especially around the holidays. Can he be honest about what he wants from Colt and keep the man he loves?


Anything is possible if they embrace the magic of Christmas.


Reader advisory: This book was previously released elsewhere. It has been expanded and reedited for release with Pride Publishing. 
Megan Slayer, aka Wendi Zwaduk, is a multi-published, award-winning author of more than one-hundred short stories and novels. She's been writing since 2008 and published since 2009. Her stories range from the contemporary and paranormal to LGBTQ and white hot themes. No matter what the length, her works are always hot, but with a lot of heart. She enjoys giving her characters a second chance at love, no matter what the form. She's been nominated at the Love Romance Cafe for Best Author, Best Contemporary, Best Ménage, Best BDSM and Best Anthology. Her books have made it to the bestseller lists on Amazon.com.

When she's not writing, Megan spends time with her husband and son as well as three dogs and three cats. She enjoys art, music and racing, but football is her sport of choice. She's an active member of the Friends of the Keystone-LaGrange Public library. Find out more about Megan and Wendi at: http://wendizwaduk.com/indexMegan.htm Sign up for the newsletter here: http://ymlp.com/xgjmjumygmgj
Website | Blog | Facebook | Twitter | Newsletter
Buy the book at Books2Read.