Winter Cravings & Giveaway by Madeline Pryce and Dawn Montgomery
 'Tis the season to sit back, relax and enjoy the crackling fire. Winter brings in the New Year with frigid temperatures, family, the delicious aromas of baked holiday goods (yippie for those of us who aren't on diets), twinkling lights, festive drinks and music! (Says Madeline who sings her children a really awful version of Jingle Bell Rock all year).
Madeline: So, Dawn, tell us what you crave during the holidays?
Dawn: Besides curling up with my eReader in front of the fireplace?
Madeline: Duh. *Rolls eyes* Of course I meant other than that.
Dawn: *Blows Madeline a kiss* I'd have to say, my biggest winter craving is eggnog. I love it so much. (Madeline—who isn't a fan of eggnog—gags in the background.)
We make eggnog cakes, cookies, drinks (with and without alcohol), etc. This year we're planning on making an eggnog topping for cupcakes (or ice cream if we can't get the eggnog to fluff).
For many years I lived in the Northern parts of the United States. This was when I would curl up on the couch and read next to the fireplace with my eggnog beside me.
Madeline: You got a recipe for us?
Dawn: You betcha!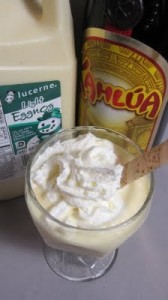 KAHLUA EGG NOG
4 oz eggnog
Dawn: Mix kahlua with eggnog in a wine glass and then sprinkle nutmeg on top. So, Madeline, what are the chances you'd sing us your Jingle Bell song?
Madeline: You asked for it… *clears throat and promises there will be booze after this*
Jingle bell, jingle bell, jingle bell rock.
Jingle bell cheers and jingle bell jeers.
Dancin' and prancin' and laughin' about,
Thaaaaaaat's the jingle bell rock!
*Dawn who sings much better than I, joins in for the finale*
'Na-na-na-na-na baaaaaaatman!
Madeline: My gift to you is a recipe for one of my favorite holiday drinks. It's a festive cocktail that tastes as good as it looks! Enjoy <3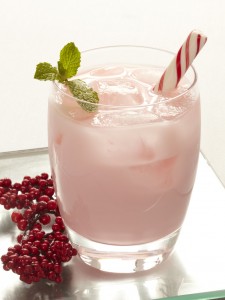 CANDY CANE COCKTAIL
1 tbs crushed soft peppermint candy
1½ fl oz good vodka
Splash of white creme de menthe
¼ fl oz of good brandy
½ fl oz half-and-half
Crushed ice
Peppermint stick for garnish
Mint sprig for garnish
Madeline: Combine the vodka and crushed peppermint. Stir to dissolve. Add the remaining ingredients, stir and garnish. Voila!
If your winter cravings run darker and deeper than music, booze or fire watching, check out these two new releases from Ellora's Cave: DARK CRAVINGS and DEEP CRAVINGS.
GIVEAWAY: One commenter will win *two* eBooks ('cause that's how we roll!) — DARK CRAVINGS and DEEP CRAVINGS.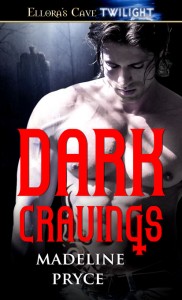 As a half-breed vampire, Ella Grey's life sucks. She does her best to pass the time killing demons and secretly admiring her Shadow Hunter partner, Micah. He's hot, dangerous and knows it. He'd be just Ella's type if he weren't likely to kill her the moment she put a toe out of line.
A chance encounter with a succubus changes everything. From the second the succubus's spell washes over them, Ella and Micah are helpless to keep their hands off one another. The sex, when it's not leaving them on the verge of death, is earth shattering and for the first time in ages Ella is connected with someone on a level she'd feared lost forever. But a dangerous prophecy has been set into motion, and if Ella's not careful it'll pull her straight from Micah's arms and into the deepest bowels of the underworld.
Connect with Madeline Pryce
BUY LINK | AMAZON | EC AUTHOR PAGE | BLOG | FACEBOOK | TWITTER
The Vamp Life sucks if you're the only female vampire in the world allergic to chocolate. When a wizard with a penchant for kitchen magic arrives, however, things can take a delicious and sinful turn. Especially when he puts himself on the menu.
Chocolate goes well with…everything.
Rachel Karrin is at her wits' end. The benefits to vampire life look pretty grim when her new powers come with limits on her favorite food. Chocolate. The rare allergy is unusual enough to gain the interest of the Kitchen Witch Society.
When the sexy, brooding Ryan Shepard shows up, there's more than chocolate in his repertoire and his temptation is far more than she can take in her world of blood and sex.
Connect with Dawn Montgomery
BUY LINK | AMAZON | EC AUTHOR PAGE |WEBSITE |WRITING BLOG | FACEBOOK | TWITTER