Happy F%@#ing Holidays
At the end of the first chapter of my contemporary rom-com THE DIMPLE OF DOOM, the heroine Samantha Lytton thinks to herself happy freaking holidays.  Her Christmas is more marred than merry, what with the art thief who ruins her life and causes goons with guns to chase her down.  Happy f%@#ing holidays is what I said to myself last Christmas, after I'd had a grief-stricken Thanksgiving, and the sorrow chased me for the rest of the season.
Unfortunately, I think we've all had those holidays, when everything around is twinkling! and cheery! and it just makes you want to punch an elf in the face.  (FYI, I don't recommend doing that, as a) elves aren't real, and b) punching imaginary things might get you sent to a rubber room.)
In the end, Samantha rallies, turns the tables on her sexy, be-dimpled art thief (see, the book title makes sense now!) and they share a sexy Christmas together with a kiss under the radicchio.  It's hard to come by mistletoe when you're on the run from bad guys.
Intestinal fortitude is a trait I usually give my heroines — the ability to stare trouble in the face and rally with humor and good grace.  Well, after some crying and cursing and whatnot — even the strongest among us joins team Give Up and Lie on the Floor sometimes.  I tried to take inspiration from plucky Samantha when I went through my time of loss and sadness.  I don't know if my intestines achieved fortitude, but they did manage a Christmas smile or two, even in the midst of darkness.  Um, I think my metaphors got a little mixed there…
So that's what I wish for you this holiday season, dear reader.  No, not mixed metaphors, but joy in whatever form is best for you.  If you're having a difficult time achieving heavenly peace this year, that's okay.  You're not alone.  Christmas isn't a time when all the bad crap magically disappears, no matter what a big-haired model in a TV commercial tells you.  If you need to step away from yuletide demands and read a book in the bath, do it.  Eat a cookie, or eight, and remember that there are still great things in the world, like cookies.  And I sincerely hope that good wishes and great times come to you if they're not here already.
(This is the part when I subtly transition into shilling my book.  Ready?!)
If you want to read about a heroine whose luck might be worse than yours, or at least one you can laugh at, check out THE DIMPLE OF DOOM and its sequel, THE DIMPLE STRIKES BACK, which has just released!  Below is a blurb to the series.  I'm giving away copies of both e-books to one lucky winner!
Thank you so much for reading, and blessings to you and yours,
Lucy Woodhull
​Website Goodreads Twitter Blog Facebook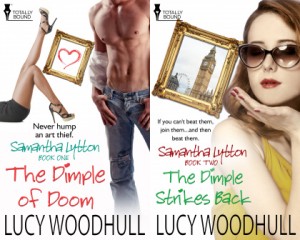 The Samantha Lytton series by Lucy Woodhull
 Obviously, the solution to a failed acting career and depressing dating desert is to take up with a dimpled art thief, get chased by thugs, lie to the police and almost die.
That's not what Samantha Lytton thought would happen when she kissed the guy who said he was an accountant at the office Christmas party.  But in her defense — it was an amazing freaking kiss.  The kind of lip-lock that frustrates you in the wee hours.
Turns out, thinking with your nether regions can lead to poor decisions.  Or perhaps…fantastic ones.  Samantha and her burglar travel from Los Angeles to Vegas to Paris to London on adventures that bring Samantha's wildest dreams of stardom to fruition.  After spending years falling on her face, she learns to fight for herself and her heart's desire.  You can't choose who to love, but you can try to keep his cute butt out of jail and in your bed.
No matter where in the world you go, or how many hot movie stars you kiss (um, professionally), you never forget your first criminal.  Hopefully, only criminal.  Although bad boys with dangerous dimples are nothing but trouble, a relationship can still work as long as the goons don't get you.  And if they do, well, at least an actress is good at improvisation.
Book One:  THE DIMPLE OF DOOM — Available in print and digital from:  Totally Bound, Amazon, AllRomance.com, B&N, Sony / Excerpt here.
Book Two: THE DIMPLE STRIKES BACK — Available in digital (print coming March, 2014) from: Totally Bound, Amazon, AllRomance.com / Excerpt here.
About the Author: Lucy Woodhull has always loved le steamy romance. And laughing. And both things at the same time, although that can get awkward. Her motto is "Laugh and the world laughs with you, cry and you'll short-circuit your Kindle." That's why she writes funny books, because goodness knows we all need to escape the real world once in a while. She believes in red lipstick, equality, and the interrobang. Hailing from Southern California, she daydreams with her husband and a very fat cat who doesn't like you.