Walking in a Winter Wonderland with Lucy Felthouse
I always find it tough to write posts about winter/Christmas/holidays. Christmas is pretty unremarkable, other than everyone being off work and eating lots of food you wouldn't normally buy, and giving each other gifts, it's no different to any other time. And as for winter, well, I am not what you would call a fan. I don't like being cold, I hate going out when it's snowy and icy and I would quite happily stay in the house for weeks on end until it's all buggered off. Having said that, I've had some of the most beautiful walks when snow has been on the ground.
Naturally, if the roads are not safe, I'm going nowhere. The OH and I live far enough apart that bad weather has prevented us from seeing each on more than one occasion, so we certainly wouldn't venture up into the Peak District (my favourite walking venue) if it was dangerous to do so. However, when the roads are good, going out is always on the cards. And once I'm wrapped up in so many layers I can barely move, and armed with a flask of a hot drink, I will grudgingly admit that it's quite fun and pretty to be outside.
I have some damn good examples, too. The year before last, which was a pretty bad one for snow in the UK, the OH and I headed up into the Peak District (for a change 😉 ) and visited Chatsworth House, who were hosting their Christmas event, which, if I remember rightly was a Russian-themed one. The drive up there was very white and beautiful and Chatsworth House looked very beautiful in the snow, despite the dullness of the sky.
After a mooch around the house, with its Christmas trees, decorations, light show and fairies (there was a Nutcracker theme), we headed out into the garden. As you would expect, it was extremely cold, but our trusty thermal clothes and many layers stopped us from freezing up. The same couldn't be said for the waterfall in the gardens. It was absolutely frozen solid and incredibly beautiful, and I took several lovely photographs.
We saw many similarly beautiful and interesting things in the gardens that day. Icicles galore, bird and fox footprints, stunning views out across the whitened Peak District, and the coolest trees! As soon as I spotted one of the beauties, I decided it looked cold and needed a cuddle (yes, the cold was obviously addling my brain), so I did it. I ended up with green smudges on my coat, but it was totally worth it for the photo OH took, and the amusement value. Overall, it was an incredibly fun day, there were no slipping, skidding or falling over incidents (which is one of the main things that makes me hide inside), which means I can look back on the day with fond memories.
So, despite my aversion to cold, snow and ice, what I'm saying is that I *can* be coaxed out of hiding, if I can go and walk in a winter wonderland like that 🙂
*****
Prize information:
Win a PDF copy of one of my backlist titles of your choice. Just leave a comment on this post to do with winter and/or Christmas, and make sure to include your email address in the BODY of the comment, and I'll choose two winners on the 28th December.
*****
Author Bio and Links: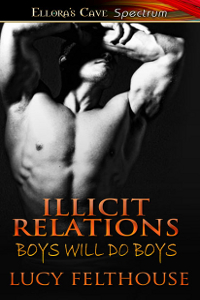 Lucy Felthouse is a very busy woman! She writes erotica and erotic romance in a variety of subgenres and pairings, and has over eighty publications to her name, with many more in the pipeline. These include several editions of Best Bondage Erotica, Best Women's Erotica 2013 and Best Erotic Romance 2014. Another string to her bow is editing, and she has edited and co-edited a number of anthologies, and also edits for a small publishing house. She owns Erotica For All, and is book editor for Cliterati. Find out more at http://www.lucyfelthouse.co.uk.  Join her on Facebook and Twitter, and subscribe to her newsletter at: http://eepurl.com/gMQb9