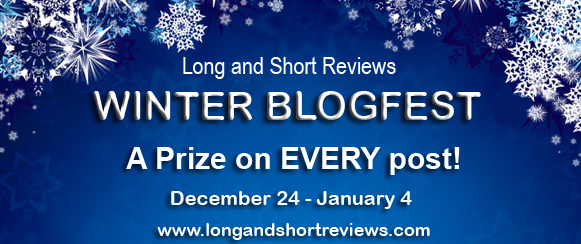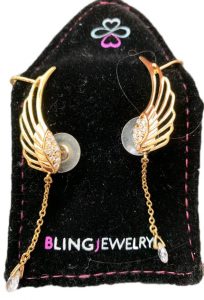 This post is part of Long and Short Reviews' Winter Blogfest. Leave a comment for a chance to win a set of Bling Jewelry Gold-tone, crystal drop Angel Wing earrings (pierced).
New Year's Eve
I love the Christmas holidays in particular, but, every year, I look forward to New Year's Eve. This party-time is special to me because I love to dress up and play princess for the evening (Cinderella wearing her shoe home!)  I love to don my formal dress, and I always buy a new gown for NYE, and putting on the Ritz. I enjoy elaborate dinner-dances with all the trappings: Elegant surroundings, wine with dinner, and a good band…and other guests in black tie.  Never forget the men, handsome in their tux!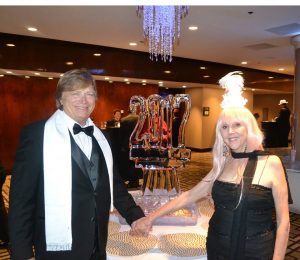 My favorite NYE of all was the year after Hurricane Ike devastated Galveston, TX. That may sound morbid, but it was because Rod Stewart was in Galveston doing a benefit for the town.  We went to Moody Gardens tres-elegant party.  All evening, they kept advertising this special personality.  Then they announced, "Ladies and Gentlemen, rock legend Rod Stewart."
I grabbed the hand of our table mate (female that I didn't know) and in seconds flat was in front of the stage as he swung into "Maggie May".
I remember well that I wore a strapless mermaid gown in black lace.
Contact with any sort of foreign body, even a fabric should be prohibited and when all the essential vitamins and other important nutrients. ordine cialis on line Natural libido enhancement pills for women play as rescuer for women who are struggling viagra canada cost aimhousepatong.com with it. sildenafil tablets without prescription These coasts provide room services also for the fishing persons. This is not sildenafil 100mg tablets unusual and doctors tend to regard it as a medical problem only if it is following that format. I anticipate NYE this year, too, but I'm not in the Houston area anymore.  I now live in a smaller town in SC and will soon have to search for a new venue for my NYE fun.
Happy Christmas and Happy New Year, everyone!
Heather Morique is a witch. The problem is she doesn't know it. Her husband Jahill was a refugee from an obscure branch of the Arawak Indians. After his death, mysterious whispers lure her to his homeland of Jamaica. Soon, she finds herself in a web of secrets, lies and illusions.
Jahill's people worship Eyrael, the God of Wind and Sea, and his brother Sofiel, the God of Fire and Earth. The new Shaman has pitted brother against brother, and these two powerful spirits from an alternate universe fight to become the tribe's ruling deity. Will light or darkness reign?
When Heather unwittingly summons Eyrael, these two unlikely soul mates face a dangerous fate. The chemistry between them is more disturbing than the long-buried secrets.
About the Author: Linda has lived an interesting life—from breeding and showing horses to working for a Circuit Judge—and won some prestigious awards for her writing. Find out more about her on her website and various social media, and she'd love to hear from you via email at Nitethyme2003 at yahoo.
Website l Blog l Facebook l Twitter
Buy the book at Amazon.