Happy Holidays!
The story below is a fictionalized dramatization of a real event in my life. If you leave a comment, you'll be entered into my Holiday Giveaway.
An Old Blue Christmas
Holiday excitement rode in on howling north winds under cloudless blue skies causing temperatures to plummet in the Sunshine State.
My husband and I, flat-broke college students, had endured family tug-of-wars for the first two holiday seasons of our marriage. Year three, we defied family convention and celebrated Christmas at home in our five-hundred square foot, university-issued, married-student apartment.
The Christmas tree dominated the living room.
Next door, our newly wed neighbors, Juan and Clara, joined in our holiday liberation. On Christmas day, I set a table for four of mismatched stoneware, garage sale flatware, hand-me-down glasses, and an aromatic centerpiece cut on the sly from the university's cedar trees and holly bushes. At noon, mouth-watering scents filled our tiny home as we sat down to a holiday feast. My husband presented a golden, roasted turkey along with the oyster dressing I made. Juan's garlic and buttered yucca with mojo sauce made me drool. Clara brought the adult food. Homegrown green beans—it was the only vegetable the four of us agreed on. We finished the meal with sugar-loaded sweet potato pecan pie and flan.
Guilty of gluttony though giddy over our accomplishment, we then phoned our respective families in other parts of the state and wished them holiday joy. After that, we were at a loss of what to do without the chaos of family at Christmas. Juan demanded we take Old Blue, his refurbished classic '66 Mustang for a drive. My husband, who grew up in the area, planned the route, and had us driving north on a two-lane country road. We sang Christmas carols loudly, making a joyful noise punctuated with fits of laughter.
We stopped for an hour to visit with a friend who lived in the country. While there, temperatures dropped below the freezing mark. Our host left us for a few minutes to put his outside faucets on drip, which is what you do in north Florida on the rare occasions when it freezes.
Before dusk, we departed, but the vintage mustang had no heat. "Old Blue" had been customized and garaged only in Miami. Juan neglected to replace the heater in the car when he brought it north.
Clara and I threatened mutiny.
In the front seats, the guys debated the best way to defrost the windshield, then argued about which route to take home. The country roads at slower speeds would take twice as long, and it would still be cold with the windows cracked open. The interstate would be twice as fast, but twice as cold.
I voted for shorter and colder.
Clara and I huddled on the backseat under Alpaca blankets and sipped whisky from a flask. The twenty-degree temperature in north Florida proved even more shocking when it blew through partially opened windows. Clara and I scrunched down to escape the stiff breeze. Blankets covered us to our noses. My husband sat on the console, straddling it as though it were a saddle with a foot on either side of the center console. He braced himself with his left arm wrapped around Juan's shoulder as Juan steered the car. Precariously perched, my husband scraped frost from the inside of the windshield with a credit card, creating a small opening for Juan to see. Frost formed as quickly as my husband could swipe it away. He grumbled that he hadn't planned to start his after-Christmas workout exactly in that way.
We were a moving spectacle. Passers-by slowed and took a second or third look at us in Old Blue. Clara and I waved. We laughed all the way home.
To this day, I think laughter kept us from freezing to death. Old Blue gave me the funniest, forty-five minute drive of my life.
* * *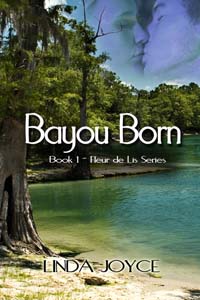 Want to escape the cold? Take a trip to the warm, sunny south. Bayou Born, the first book in my Fleur de Lis series, takes Branna Lind to Florida. (Bayou Bound, the second book in the series will have a release date soon.)
Amazon: http://www.amazon.com/Bayou-Born-Fleur-Lis-ebook/dp/B00B9L1VAC/ref=sr_1_9?s=books&ie=UTF8&qid=1359997756&sr=1-9&keywords=Bayou+Born
Barnes and Noble Nook: http://www.barnesandnoble.com/w/bayou-born-linda-joyce/1115360406?ean=2940016730806
The Wild Rose Press:  Paperback: http://www.wildrosepublishing.com/maincatalog_v151/index.php?main_page=product_info&cPath=191&products_id=5146
eBook:http://www.wildrosepublishing.com/maincatalog_v151/index.php?main_page=product_info&cPath=175_133&products_id=5174
You can connect with me here:
Website: http://www.linda-joyce.com
Blog.  http://lindajoycecontemplates.com
Facebook Author Page https://www.facebook.com/LindaJoyceAuthor
Twitter: @LJWriter  https://twitter.com/LJWriter
Goodreads: http://www.goodreads.com/author/show/6950241.Linda_Joyce
Fresh Fiction: http://freshfiction.com/author.php?id=32071
Pintrest:  http://pinterest.com/LindaJoyceWorld/boards/
A peek into Linda's life: Linda Joyce, born on Christmas Eve, is an award-winning author living in an all-male household in Atlanta. She and her husband love college football and their three dogs: General Beauregard, Gentleman Jack, and Masterpiece Renoir. Even after eleven years, Linda and Beau are still battling. He thinks Linda is HIS pet.
Giveaway! It wouldn't be the holidays without a present so I'm doing a special giveaway. An eBook copy of Bayou Born and a $10.00 Amazon Gift Card via email.