Delivering Festive Fantasies!
Kay Jaybee
I love writing Christmas stories. There is something about playing with tinsel, spices, and the prospect of wrapping up interesting items in Christmas paper that brings out the kinkster in me- even more than usual!
I'm something of a big kid when it comes to the festive season. It is the only time of year that I actually enjoy shopping and cooking. There is something so rewarding about it- I guess I'm a softy at heart. I adore making other people happy, and to find the perfect gift for friends and family is a mission I embark on with gusto.
An extension of this "making people smile at Christmas" mission is to try and provide my readers with something seasonally smutty at this time of year.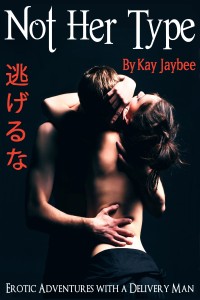 My naughty winter time novella, Not Her Type: Erotic Adventures With A Delivery Man was written in honour of all those lovely men and women, (Santa's little helpers I call them), who brave the snow and frost to visit homes and shops, delivering all the goods that go on to become the presents we buy for the people we love.
I have been lucky enough to work with many couriers over the years, and I know how hard these folk work. What better way for me to say thank you to them, than with something kink-packed to fill their imaginations! Trust me, the weeks before Christmas described in Not Her Type, contain delivery time activities of an incredibly HOT variety!
As part of this brilliant WINTER BLOGFEST you could win a PDF copy of Not Her Type to download onto your Kindle, phone, computer etc!! Good luck!!
If you fancy discovering a little more about how my naughty courier delivers in Not Her Type, (and you don't win a copy!), you can buy it in paperback or as an eBook from all good retailers, including…
http://www.amazon.co.uk/Not-Her-Type-Adventures-Delivery/dp/1484881184
http://www.amazon.com/Not-Her-Type-Adventures-Delivery/dp/1484881184
Merry Christmas to you all!!
Kay xx
Bio-
Kay Jaybee wrote the novels The Retreat (Xcite, 2013), Making Him Wait, (Sweetmeats Press, 2012), The Voyeur (Xcite, 2012), and The Perfect Submissive (Xcite 2012). She also write the novellas, Not Her Type (2nd ed. 1001 NightsPress, 2013), Digging Deep (Xcite, 2013), A Sticky Situation, (Xcite, 2012), and The Circus, (Sweetmeats Press), and the anthologies Christmas Kink (KDP, 2013) The Collector (Austin & Macauley, 2012).
Details of Kay's work can be found at www.kayjaybee.me.uk.
You can follow Kay on Twitter- @kay_jaybee, Facebook, Goodreads, and Brit Babes Site. Kay also writes contemporary romance as Jenny Kane