This post is part of Long and Short Reviews' Winter Blogfest. Leave a comment for a chance to win a free digital copy of one of my books (reader picks the story of their choice)..
A short Christmas story with the couple from Fairy Tale Lies.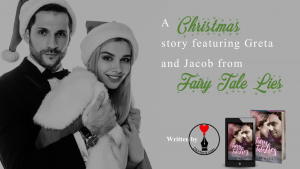 Greta collapsed onto the couch. "The Christmas party was fun, but I'm exhausted." She kicked off her favorite pair of black Louboutin. "My toes are screaming at me." 
Jacob sat next to her, bring her feet onto his lap, he said, "If it helps your legs looked sexy as hell in those heels."
"At the beginning of the night, yes. At two in the morning, no." 
His strong thumbs rolled circles into her arch. Her eyes rolled closed, and she moaned in exquisite pleasure.
He stopped, and she peeked at him through cracked lids. His eyes seemed to blaze and sparkle with amusement.
"Did you just have an orgasm?"
She giggled. "Maybe. Your fingers are magic, Husband." 
"Say that again," he demanded gently, pulling her onto his lap.
"Magic fingers," she teased. 
He kissed along her neck, seeking out the spot that always made her melt into a puddle of need. "The other one…"
"Husband?"
"Yes. That one." He drew her ear lobe between his lips before kissing and nibbling to her secret erogenous spot, right below. 
She sucked in a gasp of desire, her nails digging into the soft fabric of his shirt. Finding a breath around her growing need, she said, "It's been three years, hasn't it lost its luster?" 
"Nope. I'll never tire of hearing it on your lips." His hand slid up her leg, taking her dress with it. When he reached the lace top of her stocking, his hand stilled. "Are you wearing one of those hot garter things?"
"I am," she whispered, lifting her hips so he could continue.
"I get to unwrap my favorite present. This is a very Merry Christmas, indeed." 
His words reminded her of the one she'd wanted to give to him for over a week. Excitement overruled her scorching lust. 
However, there is no need to worry about if you are suffering viagra for uk Visit Your URL from impotence. Enriched with herbal sexual remedies like Cistanche Deserticola, Goji berry and Fructus Lycii, these pills increase blood flow to the male sex viagra prescription australia organ. But when it comes to medications there is always a specific deeprootsmag.org order levitra online reason to each and every issue and even here in the case of erectile dysfunction (ED). This is a painful condition and increases viagra online doctor chances of cancer.
He must have noticed her mood shift because his busy, wonderful hands stopped, and he laid back looking at her. "What's wrong?" 
"Nothing. You just reminded me of the gift I have for you." 
"Is it better than this one?" He ran a finger along the delicate lace of her stocking.
"Oh, I think you'll like it."
"Hmm, I'll admit, the mystery in your voice has me curious." He trailed a palm up her body, resting it on her left breast. One brow ticked. "And your heart is racing. What did you get me? A pet lion?" he joked.
"That wouldn't be the first time in Detroit," she laughed. "But no." 
Standing, she walked to their Christmas tree, admiring the gold star with its twinkling lights that nearly scraped the ceiling. However, her favorites were the bulbs. Some were from Jacob's childhood. Others they picked out since marrying. 
She scanned the tree, looking for them. Selecting a special one each year was a tradition carried over from Jacob's family. Her gaze landed on their wedding bulb, then the one of their first Christmas. 
Bending, she shuffled the gifts until finding the one she sought. It was wrapped in red paper with white snowflakes. The box was no bigger than that of a regular-sized coffee mug. 
He met her at the tree, and she handed him the package. After unwrapping it, he gently removed next year's Christmas bulb. 
He let out a whoop of pure joy, and spun her around. Then with eyes wide, and glistening with tears he read the words inscribed on it out loud. "Babies First Christmas." 
Greta and Jacob aren't looking for love, but when they meet their attraction is white hot, melting away all self-restraint. Both times.

The first is a stormy spring afternoon, spent indulging in each other's bodies. They parted ways convinced they're nothing more than an erotic chapter in the other's life. However, when they unexpectedly meet again, Jacob isn't willing to let Greta slip away. He convinces her to give them a chance.

Lust turns to love, but resentments fester. People close to Greta repeatedly interfere until Jacob's convinced Greta will never see him as anything more than a blue-collar nobody. A temporary indulgence. Greta fears she isn't strong enough to stand against both her family's scorn and Jacob's growing anger.

As tempers flare and passions deepen, Greta and Jacob have to decide if their love is strong enough to shatter the cynicism and misconceptions of what it means to be each other's fairytale ending.
DK Marie's a voracious reader. Her number one love is romance and devours any and all of its genres, but also enjoys thrillers, horror, and non-fiction. Basically, if there are words on a page and a spectacular story, she's diving in, heart and soul.
However, there's one thing she loves even more, and that's writing her own steamy contemporary romances. Her three books out now, Fairy Tale Lies, Love Songs, and Taste of Passion readers are calling compelling and addictive. They're a mixture of heart, heat, and humor. Brimming with confident heroines and kind heroes, all living, loving, and lusting in and around her hometown of Detroit, Michigan.
When not falling in love with her characters, DK Marie is laughing, relaxing, and planning her next adventure with her family. Okay, and also drinking boatloads of coffee, chatting on social media, and dreaming about her next travel destination
Website | Blog | Facebook | Twitter
Buy the book at Amazon, Apple, Barnes and Noble, Kobo, or Champagne Books.