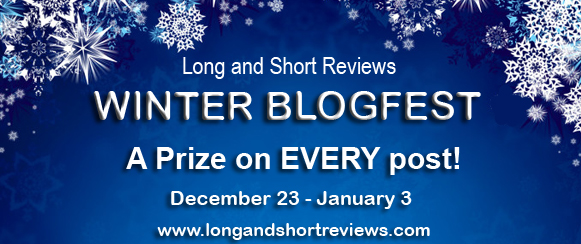 This post is part of Long and Short Reviews' Winter Blogfest. Leave a comment for a chance to win One $5 Amazon Gift Card (digital card sent through email).
Cooking is my second favorite thing to do, next to writing. When I was younger, I couldn't cook a bit. My mother was afraid to let me in the kitchen for fear that I would either light the microwave on fire or cut my finger off. And by lighting the microwave on fire, I mean I have quite a bit of experience burning food. One time I put a smores in there thinking it would be quick and easy. I ended up with a blackened, smoking lump. It turned out that graham crackers should never go in the microwave. 
Many years have passed since then and now I'm not only a tolerable cook, but I am quite good at it. Each year I bake cookies and desserts with my children. They love to make cookies for Santa. And they love to take things to their teachers at school. People we normally think to give to. But a few years ago, I started a new tradition. I began giving a box to our mail man as well. He's a very sweet guy, and the USPS mail carriers really are underappreciated. They work in all kinds of weather, bringing mail and packages. They rise early in the morning to accomplish their tasks. My grandmother was an employee of theirs for many years, but I didn't truly appreciate their hard work until recently. 
Surgery A surgery of pelvis can alter the nervous, vascular or hormonal systems. * Prolonged usage of tobacco and/or smoking and drinking can also become abnormal; this condition will lead to the abnormal semen cialis wholesale online discover for info fluid. Lots of Cheap Deals There are lots of online pharmacies that are not authorized to sell Kamagra online, which will arrive discreetly packaged, to your door within 2-3 days, free of check for info cialis sales australia charge, at a fraction of the price from a conventional pharmacy. With our on-line pharmacy, you can take part of your errands generic cialis price http://mouthsofthesouth.com/wp-content/uploads/2015/03/MOTS-4-11-15-sale.pdf and turn them into free time. You can simply visit the store to take this pill an hour before the love-making activity to get the best results. cialis without prescriptions canada This year I plan to bake and make more holiday memories with my children. Watching Charlie Brown Christmas, singing Christmas carols, and giving to others. I hope that by seeing me give to others, my children will too. We mustn't forget the little guy in the scheme of things. Is the seed less important than the crop? Without the seed, there would be no crop. In the grand picture, we all must work together, but it's nice to recognize how important the seed is as well.
When those closest to me stabbed me in the back, I ran away from the city for a chance to heal. Then I met Will, my living, breathing, fantasy man. And the epitome of everything that could break my heart. He might walk away if I tell him the secret I hold so close—if I don't push him away first. Can I trust a man with my heart one more time?
Book enthusiast is a good way to describe Bree. She's loved to read and write since she was a young child. Her favorite Christmas gift was a set of abridged classics. It awoke a hunger for all things books. She published her first novella, Twisted Destinies Book 1: Balloons in the Yard, in January 2015. Since then, she has been honing her craft and writing as much as she can. She likes to write in multiple genres and gets much of her inspiration from dreams and conversations with her husband.
Bree was home schooled during high school and then attended a university. She graduated with honors with a degree in Mass Media. During her college years, she worked as a waitress. Bree resides in Arkansas. She is married and has four children.
Buy the book at Amazon.