Christmas in China
Well, as some of you know, I now live and work in China. I've been here since last May and so far it's been one adventure after another. Christmas, I think will be another.
So far I've heard from other western staff that Christmas is a very 1970s kinda affair here with lots of tinsel, kinda nutty Santa decorations and a whole lot of reindeer, stockings, and huge ornaments.
For a country that doesn't allow religion, and doesn't follow Christmas, I thought that was a lot. I mean, in the states we don't really celebrate Chinese New Year. A few restaurants near where I lived did, in a small way, on one day, but that was it. There weren't really any Chinese New Year items around for sale that I saw. Maybe in the China Towns across the world there are, but not out in the stores that I ever noticed.
So, for me, at least, I was encouraged by the HUGE tree put up before Thanksgiving at the place I work. I mean, come on, that's pretty cool, right?
Then I went to one of the outside markets and found a guy selling huge, I mean, monster size (and impossible to put on a tree) ornaments. I since think they are merely for the store, possible for a restaurant, but not for individuals…I hope. Trees now, those are tough to find outside of the small four foot fake ones. So are stockings bigger than those mini ones I used to use for my dog and cats. Wrapping paper is an unknown item (and why do you need that when you can get a pretty bag? I'm always asked – forgetting I have an eight year old who would love for me to use bags!). 🙂
But all in all, this year we've made out pretty good. Christmas is about family for me, and although having my son back in the United States is hard, I'll still find that spirit in our holidays no matter where we live. Besides, we've gotten a tree, decorated it with very pretty decorations and plan on making our own wrapping paper (no, I'm not tempting my daughter with bags) out of some scraps I've found. I've ordered a pie – no ovens where I live – and I've also ordered ice cream, something we don't have often. There will be lots of friends over and many smiles and hugs, so Christmas will still be about celebrating a day of being thankful for the people in our lives and for our good fortune and health.
We might have a "hot pot" for dinner and pork dumplings from our favorite street vender but it will still be a day of joy for us. Even in China. Maybe because we are in China.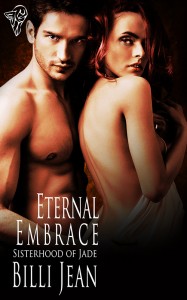 Today I am giving away a free ecopy of my latest book, one I wrote before I came to China! Eternal Embrace is the fourth book in the Sisterhood of Jade. Please leave a comment on what Christmas means to you, or if you've ever spent Christmas somewhere where it's not really celebrated, tell me about it.
I hope your holiday season is full of joy and happiness, as well. Hugs, billi jean