This post is part of Long and Short Reviews' Winter Blogfest. Leave a comment for a chance to win a signed, print copy of "Christmas Quilt Anthology", a book of ten original holiday short stories by author Barbara Baldwin. This needs to be mailed so is for US only.
Holiday Happenings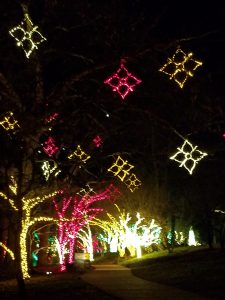 Ah, the holidays are here and even with all the craziness in the world, I hope you have the chance to enjoy the season. I recently wrote a holiday card for friends about the season and thought I would share a few parts with you. I'm sure you can relate to what I have experienced over the years.
DECORATING: We found the box of lights at the bottom of everything because we had moved last summer and when we got them out, they were all tangled up and half of them didn't even work. After buying new lights and a new ladder because ours was run over by the moving truck, we strung the lights along the house, around the shrubs, in the trees and down the driveway.  Only to realize we needed five extension cords just to reach the closest outlet.
SHOPPING: I drove around for over fifteen minutes trying to find a parking place at the mall and when I finally spied one, a little red Beetle whipped into it before I could round the corner. After taking a whole day off to go Christmas shopping, things that were on the sale flyer weren't in the store and what I had put on layaway three months ago was now on sale for half price.
And I couldn't find the right size or the right color or something that matched the rest of what I had bought and if I couldn't buy five of the same thing then I might as well not buy any because everyone had to have one or there would be crying.
COOKIE MAKING: It was time to bake and my daughter made the frosting and decided that army green was an appropriate Christmas color, so Santa, the reindeer and all the snowmen joined the service that year. I wanted to make trays for work and my husband's office and for our friends so I had to bake for several days, hiding everything on the shelf in the office closet because no one ever goes in there. But they did.
SNOW: All the family was here to celebrate and just in time because it started to snow and the roads were closed. The kids all wanted to go sledding and build snowmen. We finally got everyone bundled up in snowsuits and boots and mittens and caps and then the littlest one said he had to go potty and so we had to undo the caps and mittens and boots and snowsuits.
Much later, the cold, red noses were wiped and the hands warmed and cocoa drank and cookies eaten. All the cousins played downstairs and nobody worried when they argued because all we had to say was, "If you're not good, Santa won't come and leave you any presents."
CHRISTMAS EVE: The carolers are singing and we go out and join them before going to midnight service to hear the wonderful story about the birth of Christ. And when we come home, all the presents are wrapped and under the tree and the stockings are hung and the kids are too excited to go to sleep, but all we have to say is, "If you don't go to sleep, Santa won't come and leave you any presents."
​Quiet descends and we sit and watch the lights wink on the tree and hope that on Christmas Day all the toys make noise and all the baby dolls bawl; that the bike and trike bells ring and the train whistle blows and the race cars speed around the track just like the instructions said they would.
onlyhave three hundred sixty-four shopping days until we get to do it all over again.
Welcome to Cherrywood — a small town where we celebrate the magic of Christmas all month long. Come enjoy holiday lights, dances and music; ice skating and snow sculptures; fellowship and generosity of spirit and above all – romance and family.

Erin Thomas, confidential investigator, uploads her latest case files to the Hartford DA and happily shuts down her computer, promising herself she won't open it again until the New Year. Even though it's December, she is ready for vacation and looks forward to visiting the small town of Cherrywood. She wants no more than to sleep late, wander the Christmas markets and catch up on reading the latest romance novel from her favorite author.

Remington Matthews enjoys his life in Cherrywood and his job as part time sheriff is enough to keep him busy but also allows him time to pursue other interests. He's happy to help people he's known all his life and even allows his quirky twin sister to pull him into her antics during the month long Winter Festival. Perhaps the only down side to the small town is the lack of romance, but that changes the day he meets Erin.

Erin's encounter with Remington takes her by surprise. She certainly doesn't intend to fall for his cover model smile and engaging personality. Yet because Cherrywood is a very small town, she keeps running into him and before long he completely occupies her time and her dreams. He pulls her into holiday activities she never took time to enjoy; introduces her to family and captivates her with fiery kisses and romantic adventures. In Cherrywood, it's easy to believe in the magic of the holiday. For Erin, that magic and this particular man might change her life forever.
Barbara resides in the Midwest United States but she loves to travel and explore new places, which usually means each of her novels is set in a different locale. She has been published in formats from poetry and short stories to full-length fiction and was writer and co-producer for a documentary on state history that won state and national awards. She really loves writing romance, whether it is contemporary, historical or time travel. She has an MA in Communication and has taught every grade from Kindergarten to college. When not writing, she enjoys other creative activities such as making pottery, fused glass, quilts and basket weaving.
Buy the book at Amazon.