Party! By Lily Harlem
 Hi to everyone, it's great to be here at the Long and Short Reviews Christmas Party. I love a party and add in some mulled wine, mistletoe, and a few cheesy festive songs (Wham's Last Christmas anyone?) and I'm a happy girl.
Parties are of course great at any time of year, whether it's birthday celebrations, a wedding (yes, that's a party in my eyes, there is booze, dancing and lots of laughter!) or the end of the academic year send off. Parties are great for meeting new people and of course confessing to secret crushes-actions spurred on by a little Dutch courage and being swept away in the moment.
The first time I spoke to Mr Harlem was at a party. I was wearing some hideous red dress that I wouldn't be seen dead in now (luckily he remembers it fondly though he mainly describes the tightness of it when asked!). He was actually chatting to another girl who was batting her eyelashes up at him. Fortunately it seemed I'd caught his attention and he worked his way over to my group, started chatting to someone he knew near me and then before I knew it he was handing me a glass of something bubbly and talking about taking me out the next week! The rest, as they say, is history!
Parties therefore often appear in my stories because not only do they hold a huge amount of memories for me (some aren't quite a good as the one I just mentioned) they are also incredibly useful as a catalyst to get the story going and the characters interacting.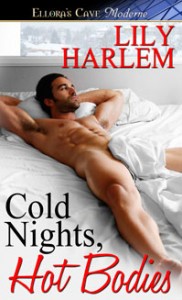 In Cold Nights, Hot Bodies, the heroine Ashley, has been chosen to go to the company party at a posh hotel in The Cotswolds. She doesn't really want to go, she's shy, she's a bookworm and she never knows what to wear to parties. Luckily for Ashley, her 'friend' sneakily replaces her safe black pants and plain blouse for a vampish red dress (nothing like mine I hasten to add), some seriously sexy stockings and high-heels to die for. Of course Ashley goes through a lot of angst deciding whether or not to go downstairs at all, she'd rather stay in her luxurious hotel room and read steamy novels. But, her boss doesn't let her get away with that and she attends the Christmas party in her great new outfit. Before long she has caught the eye of super hot Shane Gallaway. Oh, yeah, he's the stuff of fantasies and before long they're dancing the night away and then sharing all kinds of secrets and desires. Let's just say when the hotel gets cut off by snow they don't get cold at all!
Another of my books that starts of at a party is Slap Shot, book #3 in my Hot Ice series. It also starts off with a particularly terrible chat up line by our hero, captain of The Vipers hockey team, Rick 'Ramrod' Lewis. "Is there an airport around here or is that my heart taking off?" Luckily his conversation does improve but he uses this ice-breaker to chat up wedding planner Dana Wilcox, well kind off, she can't help but groan initially but, you guessed it, it doesn't take long before she's moaning and groaning for a different reason altogether! I loved writing Rick's character, he's such a solid and real guy despite his fame, fortune and talent, and when things get rocky he's the one you can rely on.
Enchanted Submission is a short story about Cinderella's hen night (Do you call them bridal showers in the US?). All the fairytale princesses are out on the town looking for a serious night of partying before Cinderella ties the knot with the rampant Prince Charming. But it's Rapunzel the tale follows as she submits to Beast whose dominant streak shows no sign of abating and whose membership to The Turret Club proves the perfect place for their night of mayhem.
In my newest release Stories for When the Sun Goes Down, a collection of 10 erotic and romantic stories, A Classic Wedding Night jumps to the end of the night, after the lights have gone off and the guests have gone home. Ever wondered exactly what the gorgeous Mr. Darcy and Elizabeth Bennett got up to on their wedding night? Well wonder no more…
It's been so much fun partying with you all today at this joyous time of year. I'm going to give away a copy of Enchanted Submission in ebook, so just leave a comment telling me about your favourite type of party along with your email address and I'll pick a winner at random on the 28th December.
Have a wonderful day, chink, chink!
Lily x
Author Bio
Lily Harlem lives in the UK and is an award-winning author of contemporary erotic romance. She writes for publishers on both sides of the Atlantic including Ellora's Cave, HarperCollins, Totally Bound, Xcite and Sweetmeat Press. Her HOT ICE series regularly receives high praise and industry nominations.
Before turning her hand to writing Lily Harlem worked as a trauma nurse and her latest HarperCollins release, Confessions of a Naughty Night Nurse, draws on her many experiences while nursing in London. Lily also self-publishes and The Glass Knot and Scored have been blessed with many 5* reviews since their release in 2012.
Her latest novel, Breathe You In, is a super-sexy romance with a twist that will not only heat you up but stay with you for years to come.
Lily also co-authors with Natalie Dae and publishes under the name Harlem Dae – check out the Sexy as Hell Trilogy available exclusively on Amazon – The Novice, The Player and The Vixen – and That Filthy Book which has been hailed as a novel 'every woman should read'.
One thing you can be sure of, whatever book you pick up by Ms Harlem, is it will be wildly romantic and down-and-dirty sexy. Enjoy!
Buy Links
Cold Nights, Hot Bodies – http://www.amazon.com/Cold-Nights-Bodies-Lily-Harlem-ebook/dp/B006MXE7U8/ref=la_B004MHRTQK_1_12?s=books&ie=UTF8&qid=1385022122&sr=1-12
Slap Shot http://www.amazon.com/Slap-Shot-3-Hot-Ice-ebook/dp/B005KT7HZW/ref=sr_1_27?s=books&ie=UTF8&qid=1385022513&sr=1-27&keywords=lily+harlem
Enchanted Submission http://www.amazon.com/Enchanted-Submission-erotic-fantasy-novella-ebook/dp/B008HGPN8I/ref=la_B004MHRTQK_1_10?s=books&ie=UTF8&qid=1385022449&sr=1-10
Stories for When the Sun Goes Down http://www.amazon.com/Stories-When-Goes-Down-Anthology-ebook/dp/B00G2GIZ7Q/ref=la_B004MHRTQK_1_27?s=books&ie=UTF8&qid=1385022642&sr=1-27
Lily Harlem Links
Website http://www.lilyharlem.com/
Blog http://www.lilyharlem.blogspot.com/
Twitter https://twitter.com/lily_harlem
Facebook http://en-gb.facebook.com/people/Lily-Harlem/100003519563064
Facebook author page http://www.facebook.com/pages/Lily-Harlem-author-page/200182030094568
Pinterest http://pinterest.com/lilyharlem/
Goodreads http://www.goodreads.com/author/show/4070110.Lily_Harlem
Google+ https://plus.google.com/u/0/106837751333678531161/posts
Harlem Dae http://www.harlemdae.com
Raw Talent http://rawtalentseries.co.uk
BritBabes http://thebritbabes.blogspot.co.uk
Newsletter Subscription http://www.lilyharlem.com/newsletter-subscription.html