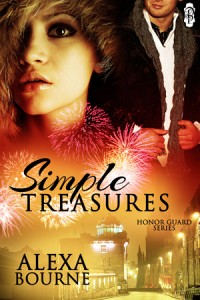 Some people say authors put a lot of themselves into their characters. I agree with that to an extent, but I can tell you the heroine in my New Year's romantic suspense, SIMPLE TREASURES, is nothing like me at all. Joanna is former military. She's organized, methodical and intense. Around the holidays, she does relax a bit. She also enjoys the music, window shopping, drinking mulled wine and eating lots of treats. She reflects on the previous year and sets goals for herself for the year to come. Of course, unlike most of us, Joanna meets all her goals.
Oh, how I wish I could be like Joanna. Every year, around September, I start my Christmas shopping and get all excited that I'm starting early. My goal becomes to get the shopping done before Thanksgiving so I can stroll through the malls and look at all the sales, go to parties, and embrace the joy and hope of the season without another gift worry. But then real life gets in the way and then I don't buy anymore presents until after Thanksgiving. I often find myself scrambling with the holiday preparations, my "real world" and my writer world. Yikes! Seriously, while I sat around watching football and eating Thanksgiving leftovers on Black Friday this year, I actually started panicking when I thought about all I had to do in the next few weeks. Thankfully, I managed to get all the cards sent out, all the presents wrapped, all my students' work graded, and a bit of reading and writing done, too. I even managed to get rid of my panic and embrace the holiday spirit.
But I still really wish I could be more like Joanna. Maybe next year?
What about you? Do you get everything done early like Joanna or do scramble as much as I do?
One lucky commenter will win a prize! The prize will be book swag and a special surprise treat from the UK.
Alexa Bourne is a teacher by day and a romance writer by nights, weekends, and all school holidays. She also teaches online classes for writers throughout the year. She writes romantic suspense and contemporary romance and is thrilled to have the chance to share her stories with readers everywhere.
When she's not concocting sinister plots and steamy love scenes or traveling and exploring new cultures, Alexa spends her time reading, watching brainless TV, and thinking about exercising. Okay, she also spends way too much time interacting with readers and writers on social media sites. But don't tell her editors! Find out more about her and her books on her website, www.alexabourne.com.
Website: www.alexabourne.com
Blog: http://alexabourne.blogspot.com
Twitter: https://twitter.com/AlexaBourne
Facebook: http://www.facebook.com/AuthorAlexaBourne
Goodreads: http://www.goodreads.com/author/show/5818611.Alexa_Bourne
Buy Links:
Amazon: http://www.amazon.com/Simple-Treasures-Honor-Series-ebook/dp/B00ASDELAE/ref=sr_1_1?s=digital-text&ie=UTF8&qid=1356318198&sr=1-1
Decadent Publishing: http://www.decadentpublishing.com/product_info.php?products_id=695&osCsid=c4f503tisneu0ck64d4qbfspb7
All Romance Ebooks:  https://www.allromanceebooks.com/product-simpletreasures-1031942-149.html
Barnes & Noble:  http://www.barnesandnoble.com/w/simple-treasures-alexa-bourne/1045488229?ean=2940016157382
Smashwords: http://www.smashwords.com/books/view/268279