Why I Love December by A. Y. Stratton
My big brother was born on July 2.  When he was a kid, he celebrated his birthday outside with a picnic of hotdogs, chips and cupcakes. The boys all ran around, sailing their balsa airplanes and begging my dad to rescue the planes from the maple tree in our front yard. Sometimes they'd run through the sprinkler, glad to be blasted with cool water.
My birthday is December 12. When I mention that to others, they usually express their sympathy. They assume I must have been gypped, because my celebrations must have been blurred by all the Christmas activities. My friends sympathized, assuming I'd get fewer gifts, because of the big holiday that followed.
But my mother made sure that didn't happen. I had my parties on my exact birthday, no matter what. I felt lucky, because I got gifts twice in that month–maybe a new doll for my birthday and some clothes for her for Christmas.
I thought the candy canes and ribbons that decorated the neighbors' homes were for me. I loved waking up on my birthday and peeking out the window to see snow falling, tiny crystals glittering in the morning sun. Even now I enjoy a snowfall on my birthday. It's my special present.
My first child was born in June. Her parties were outside, fun games and squirt guns, just like my brother's. And then, wouldn't you know, my second daughter was born two days after Christmas. Now there's a tricky day to host a party! The little friends showed up tired. They'd already had too much candy. And their parents weren't eager to pick them up promptly, if at all.
And I couldn't send them outside to play in the 29-degree weather. Even so, it was my daughter's special day.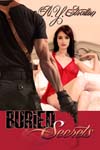 Leave a comment to win one of three copies of Buried Secrets.
Visit the author at http://www.aystratton.com/
Twitter: @AYStratton
Facebook: https://www.facebook.com/pages/A-Y-Stratton/247082884057