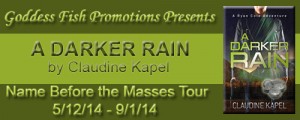 This post is part of a virtual book tour organized by
Goddess Fish Promotions
. Claudine will be awarding a $20 Amazon gift card to a randomly drawn commenter during the tour. Click on the tour banner to see the other stops on the tour.
Science fiction is an intriguing genre. It offers a unique vantage point for exploring ideas, experiences and worlds that go beyond our day-to-day reality.
For me, it's a fun genre to write because it allows significant creative license. In science fiction, anything is possible. Entire worlds or galaxies can be envisioned and populated, providing almost unlimited fodder for exploration and adventure. Because the settings and species – and the technology they wield – are often literally out of this world, science fiction provides familiar archetypes – including brave heroes and nasty villains – with new avenues for expression. Intrinsic to the genre is a lot of undiscovered territory that's ripe for exploration.
Part of the joy of writing science fiction is the creative art of world building. Piece by piece, a new world comes together, powered by a well-articulated, inherent logic regarding why things are the way they are. Through careful attention to detail, these worlds that initially exist only in the mind of the writer can be made real for others.
It's greatly satisfying when, like a complex puzzle, the pieces come together and give rise to a whole that's greater than the sum of its parts. Suddenly, these new worlds and the beings that inhabit them can take on a life of their own.
While A Darker Rain is a science fiction novel, it has its own distinct trajectory in that it is set on modern-day Earth. But this rendition of Earth includes beings from other worlds that have decided to play a more active role in the day-to-day affairs of the planet. Some of these beings are advancing sinister agendas by sharing their advanced weapons and technology with power-seeking human allies.
A Darker Rain is the first book in the Ryan Cole series, which chronicles the adventures of Cole and his team of investigators as they tackle unconventional security threats posed by beings and technology from other worlds. Cole is charged with helping to protect Earth from dangerous alien influences and to keep weapons and technology from other worlds from falling into the wrong hands.
It was fun to create Ryan Cole's world and establish how it operates. This included envisioning beings and technologies from other worlds and then integrating them into familiar Earth-based settings. That process opens the door for the unexpected, such as Cole's encounter with a red-eyed leopard in the woods of the U.S. Pacific Northwest, or his efforts to decipher an alien rifle with no visible trigger.
Because science fiction offers such richness in terms of what might be possible, A Darker Rain represents just the beginning of Ryan Cole's adventures. The second book in the series is slated for release at the end of 2014.
"It's definitely not a good time to be going into the woods of Hawkley Ridge."

When a red-eyed wildcat starts threatening ranchers in the Pacific Northwest, Ryan Cole recognizes the danger is far more menacing than the ranchers realize. Cole specializes in tackling unconventional security threats, particularly those with alien origins.

His investigation puts him in the crosshairs of Antoine Drake, an international arms dealer with a penchant for weapons from other worlds. Both men are hot on the trail of powerful alien artifacts known as guardian stones.

Cole and his team of investigators embark on a dangerous quest to recover the guardian stones before they can be assembled into the ultimate alien weapon. To succeed, Cole must also decipher the wildcat's deadly secrets.

But in the woods of Hawkley Ridge, it's easy for the hunter to become the prey.

A Darker Rain is the first book in the Ryan Cole series.
Enjoy an excerpt:
"We now have two stones and the amulet," said Jackson, barely containing the excitement in his voice. "And you know what they say—you can't make an omelette without breaking a few eggs."
"Yeah, and you know what they say about good intentions and the road to hell," Cole countered. "Our goal is to collect all the stones so we can make sure no one parlays them into some sort of ultimate weapon. That includes us. The last thing we want to do is unleash a weapon like that ourselves."
"The Rajan understood how the amulet worked, and they decided to take it apart and scatter the pieces across two continents," Ashcroft added.
"Yeah, but that was hundreds of years ago," argued Jackson.
"And we've evolved so much as a species that we can handle that kind of power now?" countered Cole.
"You're right," agreed Jackson. "But as scientists we have to learn more about the stones and how they work."
"Far be it for me to get in the way of scientific inquiry," said Cole. "I'm not saying you can't study the stones or the amulet—just that we're not putting them all together." That had been a longstanding rule. Cole wasn't about to create an unprecedented weapon and unleash it on the world.
"I know what you're saying, Cole," said Jackson. "But that's like saying we should study the atom but not try to split it."
"Good analogy," said Cole. "That's my point exactly."
About the Author: A Darker Rain is Claudine Kapel's first novel. She lives in Toronto and enjoys books, music, and travel. When not working as a consultant, she can be found writing, reading, or contemplating what else may be out there.
The second book in the Ryan Cole series is planned for release in 2014.
Claudine loves to hear from readers. You can reach her at www.claudinekapel.com.
Buy the book at Amazon US, Amazon CA, iTunes US, iTunes CA, Barnes and Noble, or Kobo.
a Rafflecopter giveaway