Long and Short Reviews welcomes Abbie Williams, author of the SHORE LEAVE SERIES.
Why I Love Writing About Sexy, Romantic Men
I love my
Shore Leave
men. I absolutely love everything about them, from Blythe's wide shoulders, smoky eyes and complete devotion, to Justin's scars and the heat of his passionate soul, to sweet, sexy Mathias and his tendency to sing at the most random moments. But what I most especially adore about them is how very much they love their women. In every sense of the word love. (naughty smile)
I have been writing about the same family for two years now, and I think of all of them as friends. I actually miss them between books. Their stories come so naturally to me, even though I don't always know exactly where a story is going until I am in the heart of writing it. For example, initially with Winter at the White Oaks Lodge, I had this particular guy in mind for Camille, but when I started writing I began to realize that he was just plain wrong; it was like trying to push together two opposing magnets. So I kept writing and then realized that her true love just hadn't revealed himself yet – when he finally did, everything was sizzling and sexy and so right. And it all fell into place.
When creating a true love/lover for my heroines, I always have several things firmly in mind. First, he has to appeal to her, and her alone, in a unique, sensual way. This might be the scent of his skin, the feel of his hand on her thigh, the sound of his voice and the way he says her name, the heat in his eyes when he looks at her. There has to be sparking, electric chemistry between the two of them, and I love to draw out the time between the first meeting and a first physical encounter (even just a kiss), to really crank up the tension, heighten the anticipation, and at last create a fiercely passionate and smoking hot…climatic moment.
I also keep in mind that my leading men must take care of their women. By this I mean that the man thinks of the woman before anything else – in ways both trivial (meaning, he makes sure that she has gasoline in her car and is warm enough on a chilly night) and significant – as in, he would lay down his life for her without question. Would fight for her to his last breath. A man who listens to her and believes in her and protects her. A man who is at once tender and knows how to cherish his woman, but who can kick ass when/if required. These are crucial qualities in my leading men.
Something else that is a must for me when I write is love. There has to be love between my characters, even if they don't realize it at first. I appreciate an erotic, one-night-stand type of read as much as the next woman! Don't get me wrong! But these are not the kind of books I like to write. I believe in true love and finding your other half. Sometimes you find this person in the place you least expect and I love writing about the journey. I believe in sweet, tender romance and hot, steamy love all wrapped up in the same book, and I write about men who sweep their women off their feet, literally and figuratively. And that's why I love my Shore Leave men, because they are just so darn good at doing all of these things.
Shore Leave book six, The First Law of Love, was just released! This one was incredibly fun to write, as it follows Tish (now 25 years old). I thoroughly enjoyed writing in her feisty voice and the man attempting to win her heart is a super-sexy musician cowboy who wears a pair of faded jeans really well, if you know what I mean. I have so loved following this family of women (and their men) through the last five books and the story is far from over. I admit I am dreading the day when the story is actually over, because I will so miss writing about these characters!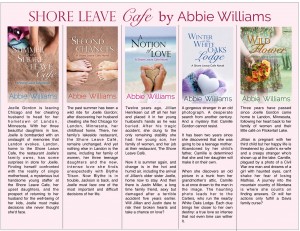 Also upcoming is my latest set of books, the
Dove
series, which are a crossover from the
Shore Leave
series, in that they are written from the perspective of an ancestor who worked as a prostitute during the Civil War. I have so completely enjoyed becoming immersed in an earlier era as I write this newest series, researching the "oldest profession" and learning a great deal about women who worked as prostitutes in this country in the 19th century. My imagination resembles a pinwheel in perpetual motion at this point, and I love it.
Bottom line – read the Shore Leave books if, like me, you sometimes just need to satisfy your romance fix! Because I know romance.
Tish Gordon has always been the most stubborn of her sisters, and has worked tirelessly to earn a law degree from her father's alma mater in Chicago. Although the Shore Leave Café will always be in her heart, Tish, now twenty-five, wants nothing short of a high-profile career in corporate law in the glamorous city where she was born.

There is just one minor roadblock – a summer internship as a favor to her future boss. Location: Jalesville, Montana, where a fast-talking company is snapping up acreage and threatening local business. Tish heads west, determined to accomplish the internship and return to Chicago as quickly as possible. But Montana proves to have distractions of its own, catching her quite off guard. Particularly in the form of sexy musician/cowboy Case Spicer, who once told Tish she was the love of his life.

As the summer heats to a boiling point, Tish must choose between the life she thinks she wants and the life that might just prove to be what she needs.
About the Author:
I have loved to write since I was a little girl. I started out with a notebook full of stories about a girl my age at the time (12 years) who was traveling with her family on the Oregon Trail. I wanted to live in the Old West (which had been romanticized very nicely for me courtesy of Little House on the Prairie and Young Riders on TV and fabulous books like Ride the Wind by Lucia St.Clair Robson and Lonesome Dove by Larry McMurtry on my nightstand). I longed to be there so badly that I would lie in the alfalfa field behind our house and stare up at the sky and just plain try to WILL myself back through time.
Obviously that didn't work, so the next best thing was writing about living there. I named my preteen heroine Missie and endowed her with all of the characteristics I wished I had (like a smart mouth and piles of courage, plus great hair) and then wrote her adventure. Oh, the nights I spent along with her on that dusty, danger-laden trail. I would look forward to continuing the story all day while I languished in middle school math classes that had no bearing upon my future. Ha. And then I'd rush home and grab my favorite pen that fit just right in my hand (this was long before the days when my family had a computer) and write until I was satisfied. Then, to my surprise, Missie's adventure was hijacked by a young, good-looking, horse-riding son-of-an-outlaw named Hudson Carter. Damn. I fell instantly in love with him, and so did Missie. And voila! My career as a romance novelist was born.
Nowadays I am a mother of three with a day job (teaching high school English) who still secrets herself away in the evenings to write. I still love being swept away in my stories. I write romance for the pure thrill of a love story. Enjoy! 🙂
Buy the book at Amazon.