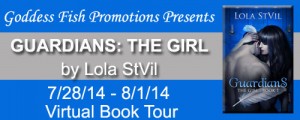 This post is part of a virtual book tour organized by
Goddess Fish Promotions
. Lola will be awarding a $100 Amazon GC to a randomly drawn winner via rafflecopter during the tour.
Why do I write YA? by Lola StVil
The answer is the same for why you read YA. As a teen or young-adult, that life, that environment, those experiences are full of drama, heightened emotion, depth, evolution, growth, mistakes, finding oneself and learning the world. Everything is a big deal. Everything is on the pivot of social escalation or decline. Young Adult is fabulous because you have everything happening all at once, and every emotion is balled into it. The characters can be saving the world, but at the same time, day-dreaming about their crush, or freaking out over a ripped shirt, or having a fight with their parents. That's the way teen life is. Teens are cramming for tests and having pressures of the world put on them; what college are you going to, what are you going to do when you graduate, I heard a rumor about you, my best friend is dating my crush, what do I want to do the rest of my life, do I want to get married, should I break up with my boyfriend, should I buy this dress…In fiction, the characters face the same thing, just on a bigger, more fantastic scale but it can all be related to the regular lives of its readers. When a character is being attacked or having pressure put on them to save humanity, teens feel that from their teachers or parents for the normal life choices they face everyday. As a writer, I can tap into what I felt as a teen, or what I fantasized as a teen to write these situations and characters readers and relate to and understand. That's why I write YA. I want it to reach people, to touch them, to connect.
******OVER 400 FIVE STAR REVIEWS!*******
Sitting there in the car, a part of me bitterly resented what she was doing to me. I knew it wasn't her fault. But does she have to be so… alluring? I need to focus on something else besides the spot between her earlobe and neck. It looked so soft. Her lips were slightly parted as she looked out the window. I wanted to part them further with mine. I put both my hands on the steering wheel. I could not allow myself to let go until she was out of the car. Suddenly she leaned in and kissed me. It was far better than I could even begin to explain to you. I've fought and died a slow and painful death on earth. And nothing, NOTHING can compare to how hard it was for me to pull away from her lips. I don't think any angel could do it twice in a lifetime…
Enjoy an excerpt:
I refuse to blink and miss a moment of him. The water builds up in my eyes. It stings. It burns. No, I won't blink. It's like having a thirst so deep water can not quench it. The more I drink him in, the more of him I want.
Tears gather in my eyes, waiting, begging for me to blink. I won't. So the tears run down my face. My vision gets blurry. No, I won't blink. My eyes feel like they're being pricked by hundreds of small pins. It stings badly. But I remain steadfast. The second round of tears falls from my eyes. I won't blink. I will not move from the vision before me."
About the Author:Lola StVil is a Haitian born writer and actress. She lives in Hollywood, CA., and welcomes online interaction with readers.
Lola StVil is a Haitian born writer and actress. She lives in Hollywood, CA., and welcomes online interaction with readers.
Website ~ Facebook
Buy the book at Amazon, Barnes and Noble, Kobo, Amazon UK