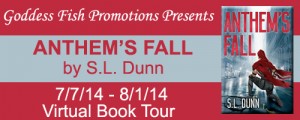 This post is part of a virtual book tour organized by
Goddess Fish Promotions
. Enter the Rafflecopter to win a $50 Amazon or Barnes and Noble gift card. You can see the other stops on the tour by clicking on the tour banner.
Long and Short Reviews asked S.L. Dunn, "What directions/topics/issues would you like to see SFF authors take on?"
Science fiction is often used as a mechanism to reflect a given time's anxieties toward social movements and technology. In the wake of WWII, books like 1984 and Farenheit 451 gave life to the fears people had toward a potential future where creativity and individuality were snubbed out in the name of order. In the 1960s, science fiction began to elevate in thematic imagination, with novels like Dune, A Wrinkle In Time, and 2001 A Space Odyssey. This doesn't come as a surprise when one considers that the 1960's were a decade of applicable scientific imagination, (the space race comes to mind).
As I write this blog post, I'm sitting in the shadow of the Seattle Space Needle, an art piece erected for the 1962 World's Fair—its skyward pointing apex making not so subtle an implication of where the people of 1962 saw humanity headed.
But over the course of the second half of the 20th century, I think technology turned in a direction that people had not anticipated. In 1962 people saw a glimmering future of the Jetsons, monorails and space ships. But in reality, the forthcoming technology instead took the form of computers, the Internet, cyberspace and automation. I think the second half of the 20th century's innovation wasn't quite as tangible as people would have envisioned beforehand.
And just as before, this movement toward a digital-abstract-future also had an effect on science fiction. From space and aliens, the genre moved to digital horizons, the idea of simulacra, and the birth of cyberpunk. Neuromancer, Snowcrash and The Matrix come to mind.
Arriving at today: a modern world of tenuous resources, rising temperatures, and growing fears of our global actions as a species, we are greeted by mostly post-apocalyptic science fiction. In today's science fiction, a common theme is a setting that takes place over or within the ashes of our fallen world.
2014's fears gravitate around climate change and the loss of individual privacy. Particular to these fears is the awareness that the furtherance of technology might just act to exacerbate these problems instead of alleviating them. There's a certain bleakness that permeates the modern age when it comes to the future of technology. In today's science fiction, that bleakness takes the form of dystopia and post-apocalypse narratives—of a future where our immediate destruction is a foregone conclusion.
I think it's very difficult to predict where the future of science fiction is headed, but I suspect it might move (paradoxically) away from science and toward the humanities. I think we're living in an age where science is no longer perceived of as a form of salvation, and instead is seen more of an inconvenient truth (at best) or something to be feared (at worst). In that sense, I think we're going to see an evolution of science fiction into narratives that address social issues that have been historically relegated to sociology and anthropology classrooms.
Above a horrified New York City, genetics and ethics collide as the fallen emperor and a banished exile of the same herculean race ignite into battle over the city's rooftops. In the streets below, a brilliant young scientist has discovered a technology that can defeat them both, yet might be more terrible than either.

Set both in modern New York City and in the technologically sophisticated yet politically savage world of Anthem, Anthem's Fall unfurls into a plot where larger than life characters born with the prowess of gods are pitted against the shrewd brilliance of a familiar and unlikely heroine.
Enjoy an excerpt:
"Yes, Lord Vengelis!" the boy called, but suddenly froze with fear. The boy began trembling, his chest convulsing in terror. Vengelis slowly turned and looked in all directions. Hysteria was rampant; men, women, and children were running every direction, many horribly wounded. None of them were soldiers. The fire was blazing out of control, and the entire block was immersed in raging flames.
A woman standing nearby, just below a broad tilted awning, remained unscathed. Her appearance contrasted strangely with the mayhem around them. She was thin and average sized, of Royal appearance, with blonde hair and bright blue eyes. Tattered ribbons of the awning and bits of orange cinders and ash blew all about her. She was smiling at Vengelis, her teeth white and perfect. Vengelis was taken aback.
Her eyes.
Vengelis squinted through the billowing ash and felt an eerie sense of disquiet surface within him. Her eyes were not quite right. There was a glowing property to her stare, as though her eyes were emitting a strange blue radiance. She was beautiful, but the serene way she was smiling in the midst of the madness was peculiarly horrifying.
"State your name and rank!" Vengelis called out.
The boy stifled a small cry as the woman's smile broadened. Vengelis glared and turned his attention from her to the boy. In a corner of his mind he already knew he was speaking to one of the Felixes. She moved her unsettling gaze from Vengelis to the boy. The boy let out a terrible sob and released the soldier he had been dragging. The woman took a step closer to the child.
There was no longer any doubt in Vengelis's mind.
The woman whirled into motion, dashing toward the boy and reaching for his throat. The boy flinched and locked his eyes shut, expecting instant death. But it did not come. He peered through his trembling eyelids after a moment passed. The woman was still reaching for his throat, though now just in front of him. Vengelis had closed the distance and grabbed her wrist with his left hand, stopping the strike in its tracks. Her fingernails were reaching out longingly, inches from the boy's neck. The woman turned to Vengelis, her expression vacant.
"Huge . . . mistake," Vengelis growled through gritted teeth, his knuckles white from the vice grip on her wrist. "Get out of here, kid."
About the Author:S.L. Dunn is the debut author of Anthem's Fall, a novel he wrote amid the wanderings of his mid twenties. He has written while living intermittently in St. John USVI, Boston, Maine and Seattle. Raised on big screen superheroes and pop science fiction, he sought to create a novel that bridged a near-sci-fi thriller with a grand new fantasy. He currently resides in Seattle with his girlfriend Liz and their dog Lucy, and is hard at work completing the next book of the Anthem's Fall series. Get in touch at www.sldunn.com.