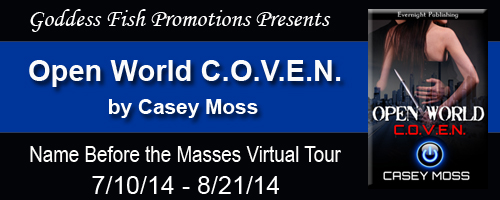 This post is part of a virtual book tour organized by Goddess Fish Promotions. Casey will be awarding a $25.00 Gift Certificate to Amazon or B&N to a randomly drawn winner via rafflecopter during the tour.
Where I Write by Casey Moss
Hi everyone! I'm happy to be here today talking about my favorite writing spot.
I typically write wherever I can. In a vehicle: if someone else is driving, I'm writing in a note book or on my iPhone, or if I'm driving, I'm dictating into a recorder. At the doctor's office: sometimes it takes a while to get in and be seen. Might as well use that time wisely. 😉 So I always have a notebook with me. At home: I'm either in my office, in the living room or outside.
When I had to sit down and think about what I wanted to say in this post, I realized my favorite place to write is outside. There's something to be said about being out in nature—having the sunny, blue sky overhead, a gentle breeze, being away from the distractions of phones and computers…emails, social networks…and not getting sucked into a television show or two. I like being out in nature. I feel that I'm better able to hear my muse to channel the stories he wants me to write down. Being outdoors also helps me to just write and not have my internal editor yapping in my ear about every little thing and nitpicking me to distraction. 🙂
You may be asking, "You write outside? Don't you live in the southwest of the United States?" Yes, I do, and it does get hot here in the summer, which means I can't be out in the middle of the day for very long. So, for a couple of months, I have to make a point of it to get up early—and for those who know me they know how hard that can be—to have cool morning shade to write in. I'll grab a notebook and pen and sit at the table on my patio. When the temps are behaving, I'll lay out some times on the lounge chair or ground and write and get some sun at the same time. I've written many portions of my stories out in my back yard on my patio. Though in the summer when it is hot and I haven't woken up early enough, I've gone down to the pool where I can take dips in the water to cool down in between writing scenes. I've been inspired for some interesting scenes down at the pool, too.
So dear readers, what do you do in the summer to cool down?
Thanks for joining me here today!
The world has broken out in wars. Las Vegas has been ravaged by chemical warfare and is now home to several clans and creatures.

Welcome to I-D-8 Entertainment's newest game: Clans of Vegas—Endless Night.

Friends and family have gathered for a crunch time playtest of C.O.V.E.N.. When a horrible thunderstorm hits, everyone's sucked into the game for real. In the MMORPG, Hope Collins is kidnapped by Buzz and forced to submit to his whims. Her boyfriend, Alden, has to delay his quest of defeating a clan's prince to save her, but time and circumstance don't seem to be on his side. Faith Collins is bombarded by strange dreams brought on by Buzz. Her boyfriend, Tavis, learns to dream walk, but can he help break the spell she's under and save her before she's lost to him?

C.O.V.E.N. is more than just a game. It's a whole other world.
Enjoy an excerpt:
Hope appeared in the middle of what looked to be a homeless shelter. It wasn't what she'd pictured back at…
She shook her head and scratched it. Where'd she come from? Where was it that she wanted to go? Her mind acted like a blank chalkboard being looked at through a fisheye lens. Writing appeared hazy and indecipherable on the outer edges of the sphere, but the blackness in the middle was clean.
Her body tensed, reacted as if she should run. With wide eyes, she surveyed the area. People on chairs and benches were scattered through the large room. Broken windows and shattered glass doors at the entrance looked out upon a gray day. The other way revealed an opening to a courtyard type parking lot with long carports on the perimeter.
A young, Goth-looking cashier with black hair, white makeup and piercings in her lips, eyebrows and ears, gaped at her as if she had grown a pair of horns and sprouted a third eye in the middle of her forehead.
Hope wavered, trying to reconcile what was happening. She knew her name, knew that she had a family and wanted to be a dancer? But anything else? "Where am I? How'd…how'd I get here?" Her voice faltered over the questions. She stared at the teen.
"You in the ol' bus term." The goth snapped the gum in her mouth. "How ya got 'ere is beyon' me. Ya jist kinda appeared outta nothing."
Another teen in his goth phase came up to them. "Yeah. Poof. There you be. Totes mcgotes cray-cray."
"But I don't want to be here." Tears of frustration pooled in Hope's eyes. She swiped at them. She was tired. She was hungry. She was dirty and hot. In the time she'd been in the bus station, dry, oven-like air had sapped all the moisture from her skin. She believed she was a walking piece of water-depleted, brittle clay, which would crumble into dust and blow away with the slightest touch.
"Then flash on outta 'ere like ya did to git 'ere." The goth's voice was monotone with no vestige of sympathy.
Hope closed her eyes, did her best to picture a place to go to, but none came to mind. Try as she might to 'flash on out,' she continued to stand amongst a bunch of uncaring strangers.
The goth shook her head and ran her black-nailed fingers through her hair. "Guess ya usin' the door like the rest o' us." She chomped on her gum a few times, then tilted her head toward the exit.
About the Author: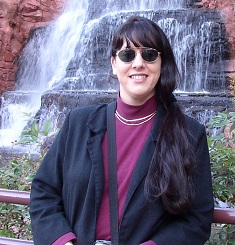 Casey Moss delves into the darker aspects of life in her writing, sometimes basing the stories on reality, sometimes on myth. No matter the path, her stories will take you on a journey from the light-hearted paranormal to dark things unspeakable. What waits around the corner? Come explore…
Website ~ Blog ~ Facebook ~ Twitter
Buy the book at Evernight Publishing, Amazon, All Romance eBooks, or BookStrand.