A very special welcome to long-time friend Allie Boniface as she stops by Long and Short Reviews to talk about her new series.
What's in a Name? The Sexy History of the Cocktail Cruise Series Titles
Mmmmm….frosty glasses. Little pink and orange umbrellas. Pretty colors, a sandy beach, waves rolling in and the sun overhead. Sounds like heaven, doesn't it? There's something about sipping a cocktail in summertime that's oh-so-appealing. That easy, breezy carefree feeling is what I tried to capture in the titles and stories of the Cocktail Cruise Series. To be honest, though, this series didn't begin with the titles. I did know I wanted to write about adventures on a cruise ship, because that kind of vacation tends to be a fun getaway. What better place to find love than on a singles' cruise in the middle of the Caribbean?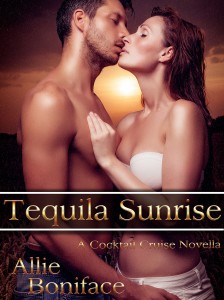 So Tequila Sunrise, the first in the series, begins on a singles' cruise, where our heroine is introduced to a speed dating service that she'll later expose for its questionable business practices. Louise's favorite drink is a tequila sunrise, both for its taste and for its colors. When her first conversation with Toby revolves around the fact that he loves sunrises, because he works construction so he's up early, she thinks it's fate. That title was a no-brainer.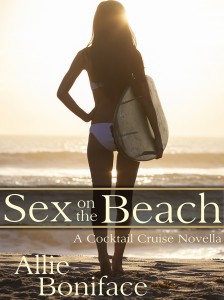 I thought about writing a second book in this series after I finished Lou's story, because her best friend Cass just cried out for a story of her own. Cass is very different from Lou, though, so while I was brainstorming the plot, I was also thinking of a way to tie in another cocktail. Cass is very liberal and very self-assured when it comes to her sexuality – it's committing emotionally to men that she struggles with. So I thought Sex on the Beach would be the perfect title and Cass's favorite drink. Have you ever tasted one of these? They're usually orange-pink, sweet, and taste awfully nice going down. Like juice. Dangerous.
Well, then it came time for the third book in the series. In Between the Sheets, Andrea and Sebastian, two minor characters from the first two books, have their time on the ship to find love. But this title was a lot harder to come up with. I knew I wanted to continue the theme of "cocktails" and I wanted to find one that had a fun, flirty name, but I'm not that much of a drinker, so I went to Google for some suggestions. Have you ever looked up "drinks with sexy names"? Wow. I won't re-post them here, but there are many X-rated ones that I knew I wouldn't be using.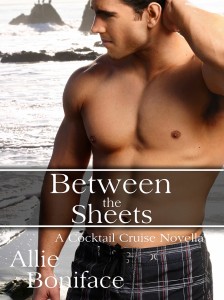 Finally I settled on Between the Sheets, because it seemed to fit a romance novel but wasn't as overtly sexual as some of the others. It became Andrea's favorite drink as well as the theme for the book that brings her, a single mother, together with a sexy South American dance instructor. And though they do end up "between the sheets," their attraction and feelings really grow on the dance floor. Tango, anyone…?
To be honest, when I'm in the mood for a cocktail, I usually fall back on the Cosmopolitan (which has very little sexiness to it other than the fact that we can credit Sex in the City for making it popular). It has a pretty pink color, smooth fruity flavor, and just the right amount of vodka. Oh, but it does come in a martini glass, which I do find somewhat sexy. What's your favorite cocktail, alcoholic or not?
About Allie Boniface: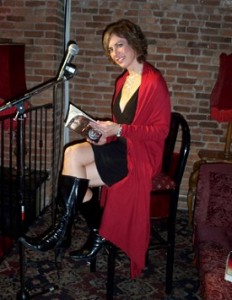 A high school English teacher by day, author Allie Boniface writes small-town sensual romance and is the author of the fast-paced One Night novels and the Hometown Heroes series. In addition, her indie published Cocktail Cruise Line trilogy will be available in Summer 2014. Allie is an RWA member and EPPIE award finalist who regularly attends writers' workshops and conferences. She loves chatting with readers and writers about all matters of the heart. Allie lives in the Hudson Valley, New York, with her husband and their two furry felines. You can keep up with all of Allie's news and new releases on Facebook, Twitter, or at www.allieboniface.com.
Buy the first book of the trilogy for only $0.99 at Amazon.