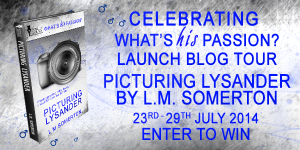 To celebrate the launch of What's his Passion? Totally Bound Publishing are giving away a bundle of great prizes. Click on the banner to enter the giveaway.
A bit about L.M. Somerton:
I've answered a lot of blog interview questions in the past, here are a few of my favorites on a whole range of random subjects!
Do you believe in love at first sight?
I do – what a lovely fantasy – but it's never happened to me sadly, I'm more of a slow burn girl!
If you could live anywhere in the world where would it be?
Wasdale in the English Lake District or maybe the North Cornwall coast. Can I have cottages in both places please?
If you were to do a reality show, which one would it be?
Strictly Come Dancing – love the sparkly dresses and the fit male dancers!
What is the craziest, most exciting, or most dangerous thing you've ever done?
I've white water rafted the Zambezi – definitely the scariest thing I've ever done.
Name a celebrity, athlete, musician, etc. you'd most like to get naughty with.
Just one? That's too difficult…. Okay, Tyler Hoechlin who plays Derek in Teen Wolf. Scrummy.
Favourite movie?
The Sting
Dream Car?
Aston Martin DB9
Favourite Ice Cream Flavour?
Vanilla (yes, really!)
Photography, like love, should have no limits.

Lysander Brock is a talented photographer and capturing the perfect picture is his passion. His work takes him all over the world and he is famous for his willingness to take risks for the perfect image.

Kyle Dawson is tasked by his mysterious employer to obtain Brock's services for a dangerous job and he's prepared to use any method to ensure that the young photographer does as he's told. Breaking and entering and blackmail are just tools of his trade.

Despite the circumstances, the spark of attraction between Brock and Kyle is strong. Brock's addiction to adrenaline-fuelled adventure holds him captive, just as much as Kyle's brooding dominant appeal. As a fragile trust builds between them, Kyle takes a gamble and tells Brock the truth about his mission. Can Brock accept the challenges ahead—as a photographer and as a man?
Buy Picturing Lysander here.
About the Author: Lucinda lives in a small village in the English countryside, surrounded by rolling hills, cows and sheep. She started writing to fill time between jobs and is now firmly and unashamedly addicted.
She loves the English weather, especially the rain, and adores a thunderstorm. She loves good food, warm company and a crackling fire. She's fascinated by the psychology of relationships, especially between men, and her stories contain some subtle (and not so subtle) leanings towards BDSM.
Author link:
Totally Bound.