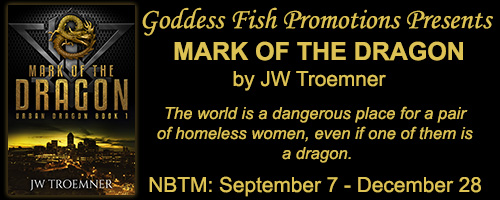 This post is part of a virtual book tour organized by
Goddess Fish Promotions
. JW Troemner will be awarding $25 Amazon or Barnes and Noble GC to a randomly drawn winner via rafflecopter during the tour. Click on the tour banner to see the other stops on the tour.
Happy Wednesday, everyone!
When I was invited here, I was asked about what scares me most as an author. And honestly? I think one of the biggest things that's scared me about being an author has already happened.
I've always dreaded having people dislike my books. After all, the act of writing is pretty personal. No matter how professional you try to be, there's always a naïve hope that you'll be met with nothing but rave reviews, and consequently there's a nasty sting that comes with your first negative review. Since publishing my series, I've gotten a mixed bag. Some people absolutely love it, but some people completely hate it.
Part of that is just the facts of being a writer. Storytelling is fairly subjective, and the same things that draw some readers will repel others. Sometimes the criticism I get leaves me deeply confused about what the reader thinking , and sometimes it makes me sit back and go "yeah, actually, you've got a point. I could have done that a lot better."
On the whole, though, it's been really enlightening. For all its sting, receiving criticism is a really positive experience if you let it be. It leaves you open to learn and grow and find the things that work better, rather than getting comfortable where you are.
If anything, I'm grateful that I've got a clear list of things I can work on doing better in the future, rather than being a one-hit wonder and never being able to live up to my first work.
On that note, I look forward to seeing what the folks at Long and Short Reviews make of my stories. Enjoy!
Rosario Hernandez doesn't ask for much. She'd like to sleep on a bed instead of a sidewalk, to know where her next meal is coming from, and maybe, if she's really feeling optimistic, to get a girlfriend. More than anything, though, she wants her best friend Arkay to not murder anyone— because Arkay is a dragon, claws and all, and she has a penchant for vigilante justice. When Arkay's latest escapade goes sour, Rosario gets stuck with a stolen van and a cooler full of human organs. Now they're on the run, and it's not just the cops who want answers. The owner of the cooler is still out there, and they want to replace what they've lost— by any means necessary.
Enjoy an Excerpt:
The Cooler:
"What have ya got there?" Raimo asked when his inspection reached the back of the van.
"No clue," I said, coming around front. "The guy we got this from said he was delivering something."
"Like what, a case of beer?" He tipped the box back a few inches, and it made a wet gravelly sound. "It looks like a cooler."
"Must have been some excellent beer," I said, tapping the padlock that sealed the lid. "You don't get ice boxes like this at Walmart."
An excited grin crossed Raimo's face. "Let's find out, shall we? Give me a second." He vanished into the garage and came out with what I could only describe as a murder weapon. "Watch your fingers, Hiccup."
This wasn't a friendly little set of bolt cutters. It had wicked blades nearly as long as "Isn't that a bit excessive?" I asked.
"I know, right?" he squealed. "I just got her in. Isn't she gorgeous? I'm going to call her Matilda."
"Ooh, did Raimo get a new toy?" Arkay called from inside. "I wanna see!" She bounded out to join us, bits of moisture still dripping down from her damp hair.
The padlock could probably have been pulled off with a solid pull, but Raimo caught the remaining sliver of metal between Matilda's jaws with an almost dainty twist. Another roar, and the pieces fell away.
"All right," Arkay said, taking the lid with both hands. "Let's see what we've got here."
Matilda hit the floor with a solid thunk as Raimo stumbled back. "Jesus Christ!"
It took me a moment longer to make sense of the metallic, meaty smell and the sudden flash of red.
About the Author: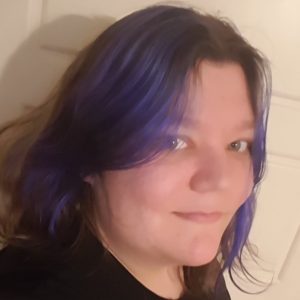 JW Troemner was born in Germany and immigrated to the United States, where she lives with her partner in a house full of pets. Most days she can be found gazing longingly at sinkholes and abandoned buildings.
Goodreads | Facebook | Twitter | Website | Mailing List
Buy the book at Amazon.