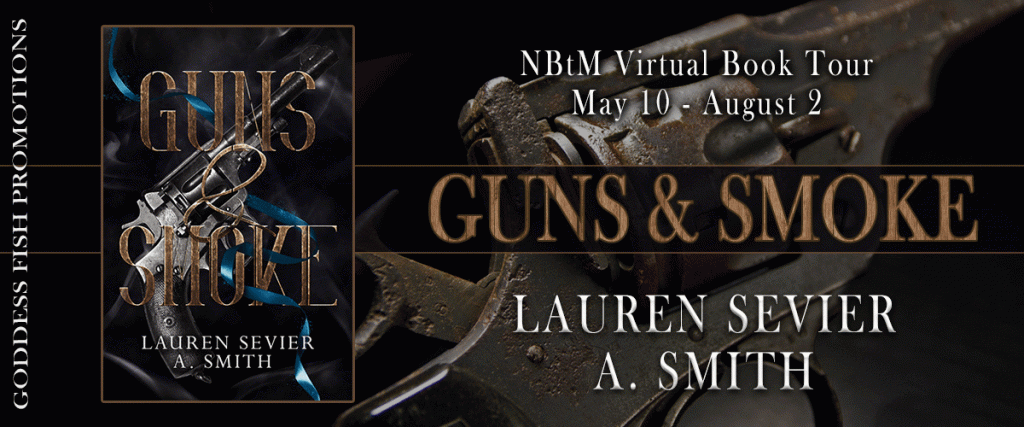 This post is part of a virtual book tour organized by Goddess Fish Promotions. Lauren Sevier and A. Smith will be awarding a $20 Amazon/BN GC to a randomly drawn winner via rafflecopter during the tour. Click on the tour banner to see the other stops on the tour.
What Lessons I Learned from My Heroine
I absolutely love this question! Bonnie is a really complex character, but most importantly she's a strong, independent, sexually empowered woman in a world that keeps trying to make her less than that. Bonnie is a product of her environment, having seen the worst of humanity consistently from a young age. She's a sexual abuse victim, witnessed a horrible tragedy at a young age, and when we first meet her in the novel her heart is really closed off.
She does that to protect herself. Because caring about people is more dangerous to her than half of the adventures she finds herself embroiled in. But over the course of the novel we see her opening up and softening towards the other characters in the books. She learns to forgive, to embrace her past as the past, and to love.
Bonnie is strong in so many ways and writing her character taught me a lot about the different kinds of strength someone can possess. She's confident and sure of herself, which is something I personally struggle with. She's taught herself how to survive in a world ravaged by nuclear war that has reverted back to a very Darwinistic 'kill or be killed' 'only the strong survive' type mentality. She's also really strong in the way that she learns to love and forgive. It's the hardest thing in the world for her to do, but she does it anyway.
There's actually a point in the novel where she's faced with the choice to either do the clearly smart thing and survive, or risk her own personal safety for the people she's come to care about. For me, that was a pretty powerful moment. Being scared and closed off was the easy choice. Looking out for herself first was sort of her status quo, at least until then. It was this moment that acted as a catalyst for change and growth in her character and made me see her strength in a whole new light.
Bonnie's also not a very likeable character. She's brash, too honest most of the time, and doesn't pull punches. She'll be the first one to tell you if you're doing something stupid and she won't be nice about it. Especially if whatever stupid thing you're doing puts her or her friends in danger. But, what I've learned is that she doesn't have to be likeable to be deserving of redemption or love. There was someone who was going to love her because of who she was and not in spite of it. And that's true of all of us.
I love that Bonnie's no-nonsense, straight talkin', comfortable walkin' on the dark side personality shines so fully in this novel. I also really love all the vulnerability that we see from her as she grows throughout the book. I hope anyone who reads it learns to love her as much as I do. Because I think even though she isn't very likeable, she's very relatable and realistic.
In a world where safety is a luxury and honor is found only among outlaws, two people attempt to outrun danger lurking around each corner and the tragedies that define them.

Bonnie is an outlaw on the run. Beautiful but dangerous; her dark past stalks her like the crater beasts that roam the desert. As the notoriously cruel outlaw Jones sends his henchmen to track her down and retrieve the gun she stole from him, Bonnie hopes she can stay one step ahead. Because if he catches her, a fate worse than death awaits.

Jesse always dreamed of leaving the farm to explore the ruins of the big cities. He just never imagined he'd be forced to flee after strange men burned down his rural mountain town and murdered everyone he loved. Responsible for his kid brother and searching for an uncle he's never met before, he isn't sure he can navigate the perils of life among con artists and thieves long enough to find him.

Their two paths collide as they find themselves thrown together on the adventure of a lifetime.

Together, they may just discover that life is about more than just surviving.
Enjoy an Excerpt
One small change in position and now each of my soft curves was pressed intimately against the tall, hard length of his unyielding body. His blue eyes blazed in the dim light of the alley, reading something on my face that urged him on. This was supposed to be my trap.
His hands were buried in my hair now, a thumb tracing over my cheek to land on my bottom lip. I knew what he wanted. Parting my mouth, I wrapped my lips around the pad of his thumb, my tongue flicking against it before sucking softly. A deep thunderous sound rumbled through his chest to shake me down to my bones. His hand in my hair slid to the back of my head, pulling my mouth closer to his. He wanted me to kiss him. He wanted this to be more than a transaction. He wanted me to want him back.
I brushed my nose against his, and he stilled. All other motion and sensation forgotten as his eyes landed on my mouth, inching closer to his. I drank in the taste of his breath, a faint echo of the taste of his lips from before. My head tilted to the side, and he brushed the hair away from my face to see me more clearly as I angled toward him. He swallowed down whatever desperate words were on the tip of his tongue, and I took his chin in my hand, mouths open and millimeters apart.
Click.
About the Authors: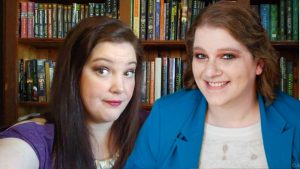 Lauren Sevier & A. Smith are long time friends and co-authors from southern Louisiana. Guns & Smoke, their first joint publication, began as a "short" story after having too much wine on girl's night. Nine years later it is now the first novel in a Dystopian/Western Romance series. The duo has plans to publish several series together in the future. A. Smith spends her time with her two rescue dogs and rescue cat surrounding herself with books and Labyrinth paraphernalia. Lauren Sevier collects antique tea cups and tries to stay sane, though as the mother of a toddler she fails brilliantly most days. She also has a growing collection of crowns and tiaras and likes to act silly on TikTok. Look for more thrilling novels from The Fools Adventure series in the future!
Website | YouTube | Twitter | Instagram | Facebook | Goodreads
Goodreads | Website | Twitter | Instagram | TikTok | Newsletter