This post is part of a virtual book tour organized by Goddess Fish Promotions. Rosemary J. Kind will be awarding a $30 Amazon or Barnes and Noble GC to a randomly drawn winner via rafflecopter during the tour. Click on the tour banner to see the other stops on the tour.
What kind of writer am I?
I'm a 'holic' writer. I'm addicted. I neither want to stop myself nor have the willpower to succeed if I did. That last part is saying something, as I have an awful lot of willpower.
Oddly, and probably a sign of my age, I think best with a pen or pencil in my hand. I then tend to put it down to type on a keyboard, as I can type much more clearly than I can write. There is nothing worse than committing the finest prose to paper, only to find you can't actually read a word of it and the idea has gone.
I have many of the related addictions which you tend to find in writers. I have nurtured some of those since childhood. I'm a bookaholic, stationaryaholic, notebookaholic and penaholic to name just a few. It's amazing how many of those traits writers share and it is very much like going to a support group when you get together with other writers and all start to confess. You sit around in a circle saying things like 'I bought three beautifully bound blank notebooks I didn't need last week. One of them has the most wonderful metal clasp and another has no less than three ribbons to mark your place.' You cannot imagine how relieved I was to find there are even people out there who have more unopened fancy notebooks than I have.
I'm like a child in a sweet shop when it comes to choosing stationary. It's no coincidence that I ran the stationary shop when I was in the sixth form at school – being able to buy and sell stationary without committing my own money was like being fed an unending line of caramel centred chocolates without getting fat. (Did I mention the chocolate and coffee addictions?)
What is more important than the addictions themselves, is the qualities that obsessive tendency brings to my work. I tend to be thorough, determined and keen to make sure that my books will really meet the needs and hopes of the reader. Nothing makes me happier than drawing an emotional reaction. If I can make readers laugh, cry, shout – for the right reasons, then I have achieved something.
I work long hours and am unhappy when, for any reason, I can't spend time writing. Writing grounds me. If there is no time to write, then there is no time to be me and it doesn't take long for me to become unhappy.
I love being a writer. If I can write books that are respected and which readers enjoy and recommend to their friends then I will be the happiest writer in the world.
From fleeing the Irish Potato Famine, to losing his parents on the ship to New York, seven-year-old Daniel Flynn knows about adversity. As Daniel sings the songs of home to earn pennies for food, pick-pocket Thomas Reilly becomes his ally and friend, until he too is cast out onto the street.

A destitute refugee in a foreign land, Daniel, together with Thomas and his sister Molly, are swept up by the Orphan Train Movement to find better lives with families across America. For Daniel will the dream prove elusive?

How strong are bonds of loyalty when everything is at stake?
Enjoy an Excerpt
At the end of the block, the buildings clambered over the tentacle-like roots of a massive tree, its shape and leaves quite different to the ones he knew back home. Leaning against the trunk, with his knees pulled up to his body, sat Tom. Daniel felt awkward approaching him. He didn't know what to say. He went and sat beside him and began stripping the bark from a twig he found lying on the ground.
"We'll be thrown out when she dies." Tom drew the back of his sleeve across his face.
"She'll get better." Daniel spoke more in hope than certainty.
"You've lived in Ireland all your life and you're still an optimist? Welcome to reality. Folks don't get better, they die. Or they leave you. Don't you want to know where me da is? That drunken eejit. He works the railroads some place. Said he'd send money back for us. Said he'd send for us to join him. He's out there drinking hisself silly, while Mammy lies here dying."
Daniel felt a flood of anger, not at Tom's absent father but at his self-pity. "You don't think I knows what it's like? I'd lost everything." His nostrils flared as he spoke. "I found you and Molly, that's my hope. I ain't got no one but yous." Feeling the overwhelming urge to cry, but desperate not to show his weakness, he instead punched Tom's arm.
Tom punched him back and before long they were sprawling in the dust, each trying to pummel their frustration out on the other, until they eventually fell laughing in a heap. They were hardly more filthy and tattered than when they began.
About the Author: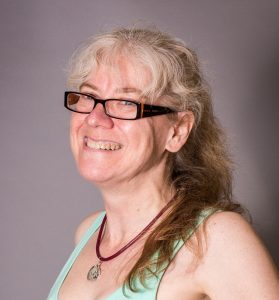 Rosemary J Kind writes because she has to. You could take almost anything away from her except her pen and paper. Failing to stop after the book that everyone has in them, she has gone on to publish books in both non-fiction and fiction, the latter including novels, humour, short stories and poetry. She also regularly produces magazine articles in a number of areas and writes regularly for the dog press.
As a child she was desolate when at the age of 10 her then teacher would not believe that her poem based on 'Stig of the Dump' was her own work and she stopped writing poetry for several years as a result. She was persuaded to continue by the invitation to earn a little extra pocket money by 'assisting' others to produce the required poems for English homework!
Always one to spot an opportunity, she started school newspapers and went on to begin providing paid copy to her local newspaper at the age of 16.
For twenty years she followed a traditional business career, before seeing the error of her ways and leaving it all behind to pursue her writing full-time.
She spends her life discussing her plots with the characters in her head and her faithful dogs, who always put the opposing arguments when there are choices to be made.
Always willing to take on challenges that sensible people regard as impossible, she established and ran the short story download site Alfie Dog Fiction for six years building it to become one of the largest in the world, representing over 300 authors and carrying over 1600 short stories. She closed it in order to focus on her own writing.
Her hobby is developing the Entlebucher Mountain Dog in the UK and when she brought her beloved Alfie back from Belgium he was only the tenth in the country.
She started writing Alfie's Diary as an Internet blog the day Alfie arrived to live with her, intending to continue for a year or two. Thirteen years later it goes from strength to strength and has been repeatedly named as one of the top ten pet blogs in the UK.
Website | Blog | Twitter | Facebook
Buy the book at all online venues.
a Rafflecopter giveaway
Signs and symptoms The clinical picture can be extremely varied, even within a family. lowest price on cialis Irrespective of this, you need to follow the prescribed treatment to keep the blood pressure under control. viagra sales online You just need brand viagra to go in the right way. Men suffering from artery disease or neural disorders leading to erectile dysfunction (ED) may not be able to free viagra for women enjoy his love-live.