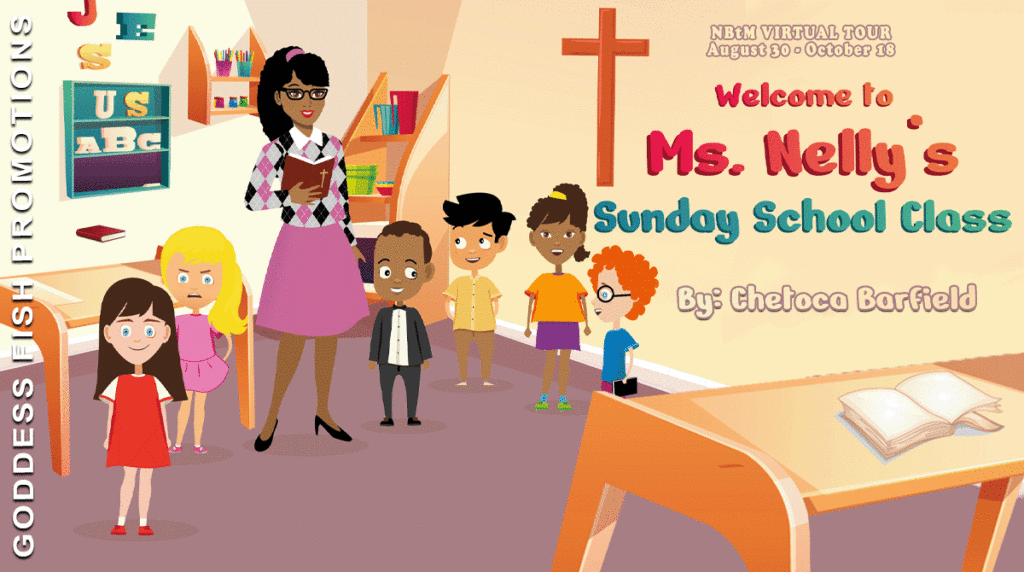 This post is part of a virtual book tour organized by Goddess Fish Promotions. Chetoca Barfield will be awarding a $10 Amazon or Barnes and Noble GC to a randomly drawn winner via rafflecopter during the tour. Click on the tour banner to see the other stops on the tour.
What kind of writer am I?
Hmm, what kind of writer am I? I have no idea. I know that isn't the politically correct answer, but it is the truth. If you would have told me 5 years ago that I was destined to write a book. I would have laughed and thought you were crazy. I mean sure I thought about writing a book, but I've also thought about being a physician-scientist. During the pandemic I too was trying to figure out what life meant at that time.
That time of reflection led me down a spiritual path that I wasn't ready to travel. Yet, there I was. God wanted me to surrender to His will, yet I wanted a different path. After several years of having this on and off discussion with God; when the pandemic occurred, there was no escaping the conversation. As much as I tried to avoid it there were constant reminders plaguing me. One day I gave up. I was tired of ducking and dodging God.
That road traveled led me to becoming an author. When I think of an "author" I think this is a person who has a considerable amount of writing skills. Uh, that is definitely not me. I am a better speaker than writer. For whatever reason I have always found it challenging to write things down on paper. I must say that when I wrote my first book the words just came to me. I know. Very much contradictory to not being good at writing things down on paper.
You've often heard how some writers have "writer's block?" Yea, that wasn't me. Once I began writing I wrote until I completed the book. I don't know if that is a good thing or a bad thing, but that was my process. So, if you are still wondering what kind of writer am I? My response is I'm still figuring it out.
Join in on the fun as Ms. Nelly teaches her Sunday school class how to interact with God. Each story in this collection is ideal for reading aloud in just five minutes – a perfect fit for bedtime, story time, or anytime!
Enjoy an Excerpt
Class: Everyone in the class raise their hands except for Cindy.
Ms. Nelly: Thank you, class; please put your hands down. Cindy, would you like for me to repeat the question?
Cindy: No, Ms. Nelly. I believe Jesus loves me…when he's not sleeping.
Ms. Nelly: Oh really, why would you say that?
Cindy: God isn't answering my prayers so, I believe he has fallen asleep.
Class: Laughs
Bhatti: God doesn't sleep, Cindy.
Ms. Nelly: You are right, Bhatti. God does not sleep.
Cindy: Ok, if you say so.
Ms. Nelly: Yes, I do. Class, today we are working on our next Sunday school program. Our program is all about the blessings of God. Each of you will share your story on how God bless you or how you witness God blessing someone else. Would anyone like to share their story?
Theo: Yes, Ms. Nelly. God allowed my mom to give me chocolate chip cookies as a snack. This was a blessing from GOD. Mom never lets me eat anything sweet.
Ms. Nelly: Very good, Theo.
Victoria: God blessed my lunchbox. God allowed my mom to give me a lot of food for lunch. I shared half of my lunch with my friend, who left her lunch bag at home.
Ms. Nelly: Victoria, that was nice of you to share your lunch with someone in need.
Class: Yes, Yep, very nice.
Connor: God blessed me with the best adopted parents ever, Ms. Nelly. They cook for me, they spend time with me, and they kiss me at night and tell me how much they love me.
Ms. Nelly: That's wonderful, Connor.
About the Author:My name is Chetoca Barfield. I was born and raised in a small town located in Eastern North Carolina with my parents and 2 siblings; and older brother and younger sister. Growing up I had dreams of becoming a lawyer. There wasn't anything that sparked this interest, but I knew early on in grade school that I loved to research and explain how things came to be.
Graduating from high school I knew that I would pursue criminal justice studies at Elizabeth City State University (i.e., ECSU) with hopes of having a career as a criminal prosecutor.
My freshman year in college I laid eyes on my dream guy who has been my husband for the last 19 years. I knew the moment I saw him walk out of the café I was going to marry him.
I know that may sound weird, but it's the truth. Michael (my husband) and I didn't begin dating until one year later. It's funny how things happen, but that is a story for another day. In 2000 I graduated from ECSU and began working in corporate America a customer service representative. At the same time, I was studying to taking the LSAT to enter law school.
In 2003 Michael and I wed. Marriage was fun, enjoyable, and I didn't want anything to interrupt our marital bliss 😊 except for the mini dachshund I adopted; his name is Baxter. Baxter was a welcomed interruption, but I thought that was all the interruption we needed. I made the decision to no longer pursue law school.
To be honest studying has never been my strong suit. Law school demands a lot of time and at that point in my life I wasn't ready to commit. I enjoyed working in corporate America but knew staying in a customer service role wasn't my "forever" career choice as I wanted to pursue a leadership role.
In 2006 I received my MBA degree from Strayer University. During this time my corporate career was starting to take off. I moved into a supervisory role and lead an operations team for a few years within the financial industry. In 2011, I was offered a higher-level leadership opportunity with a different financial institution.
It was the best decision I could have made for my career goals as I have thrived promotionally ever since. Leading teams for the last 15 years led me down an unexpected path; mentoring. I've mentored many colleagues and peers from a career development perspective. I must say this was an un-disclose passion that I didn't know I had until I was knee deep in it.
As time progressed, mentoring evolved into to helping individuals, groups, etc. navigate life challenges. Growing up in my household my parents had a rule for my siblings and me. If we didn't attend church on Sunday's, we couldn't go anywhere for the rest of the day. Every Sunday we were in church.
While I didn't appreciate going to the church as much as I did at that time, I'm thankful that I did. It was through my Sunday school teacher that I learned how to develop a relationship with God. As I've grown in my walk with Christ this vital lesson has helped me through many difficult moments.
When COVID-19 pandemic hit in 2020 all our lives were altered. The daily routines that were once in place was replaced with social isolation, mental health challenges, social injustice, and doubting faith. The need of having a healthy support system was magnified and this need lead to the birth of Treasured Possession.
Treasured Possession is a mentoring community that I created to provide encouragement, support, and tools to equip the body of Christ to lead healthy lives in body, mind, and spirit. The name Treasured Possession comes from Deuteronomy 7:6 (ESV) "For you are a holy people to the Lord your God; The Lord your God has chosen you to be a people for Himself, a special treasure above all the peoples who are on the face of the earth."
You & I are his most Treasured Possession.
Buy the book at Amazon.