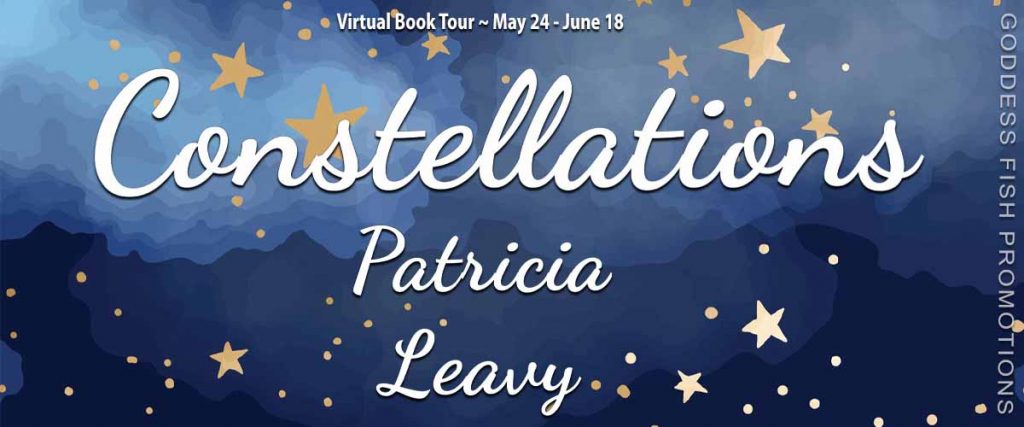 This post is part of a virtual book tour organized by Goddess Fish Promotions. Patricia Leavy will be awarding a signed set of 3 novels: Shooting Stars, Twinkle, and Constellations to two (US only) randomly drawn winners via rafflecopter during the tour. Click on the tour banner to see the other stops on the tour.
What I've Learned from my Favorite Protagonist, Tess Lee
Writing fiction is a process of discovery. You learn so much—about your characters, the world, and yourself. My novels center on female protagonists, each with their own strengths and weaknesses. In some ways they have become my guides. As I've watched their struggles and triumphs, felt their pain and joy, I've learned about others and myself. It would be fair to say that over the years my characters have been among my greatest teachers.
Out of all my characters, I've learned the most from Tess Lee, her beloved Jack Miller, and their incredible friends. Tess is my masterpiece, not because of what anyone else may or may not think of her, but because of the once-in-a-lifetime joy I've had writing her story over a series of novels, and all she's given me. Tess is a wildly successful, world-famous novelist and philanthropist. Despite her extraordinary success, she struggles to overcome the pain of childhood abuse and the loss of her family. Tess sees and cares about everyone, perhaps except herself. While she's had a beautiful friendship with Omar, for over twenty years, since they met orientation day of college, she's been unable to find lasting romantic love and truly give herself to someone until she meets Jack. A federal agent who has worked undercover in counterterrorism and suffered the death of his four-year old daughter, Jack has also experienced enormous darkness in his life, and until Tess, he's been unable to love. These are two people that have suffered great loss, grief, and loneliness. They've lived in the dark. Yet, they never hurt each other. Rather, Tess and Jack are able to love each other in extraordinary ways, modeling what love looks like in action. They show us how to "do" love—how to treat those near to us with gentle grace. They show us how to move through trauma, without widening the circle of pain.
Tess believes that there is only darkness and light and love is the bridge between them, and she enacts this love in innumerable ways. Most notably, she uses her writing to address human suffering, offer a sense of hope, and ultimately transform darkness into light. She also helps her loved ones reconnect with one another. In Constellations, it's her love that helps mend the relationship between Jack and his father.
From Tess I've learned so much: compassion and empathy; the importance of being someone who gives without expecting anything in return; and, how to deal with toxic males that lurk in the shadows. I've also learned what love in action looks like and feels like—how we should treat those we hold dear, what grace looks like. Perhaps the most important thing I've learned is simply this: Breathe. Just breathe.
Constellations follows Tess Lee and Jack Miller after three years of marriage as they navigate the meaning of love and family over a series of holidays. Tess is a wildly successful and world-famous novelist. Her inspirational books explore our innermost struggles and the human need to believe that there is light at the end of the tunnel. Jack is a former federal agent. After spending decades immersed in a violent world, a residue remains. Both healing from past trauma, together they have finally built the life they wish to live. What will happen to their blissful union when Jack's childhood family resurfaces? When Tess and Jack visit the Millers for Christmas, how will insecurity, a sense of missed opportunities, and the need for redemption test their relationship? When a terrible accident threatens everything in an instant, will they learn the true meaning of unconditional love? Their loved ones are along for the ride: Omar, Tess's sarcastic best friend who calls her Butterfly; the female president of the United States, with whom Tess talks politics and bakes cookies; Joe, Jack's friend from the Bureau who understands the sacrifices he's made; Bobby and Gina, their younger friends who never fail to lighten the mood; and the Miller family. Constellations is a novel about family – those into which we're born and those we create – the human desire to belong and feel connected, the true nature of intimacy, and the power of love to heal and redeem. Written as unfolding action, Constellations is a poignant novel that moves fluidly between melancholy, humor, and joy.
Enjoy an Excerpt
Tess clung to Jack as they sped along the cliffside road on their Harley, winding around the last curve as they approached their house. When they arrived home, Jack carefully took off Tess's helmet, kissed her, and grabbed the bag of fruit they'd bought at the farmers market. She pulled the scrunchie out of her hair, releasing dirty blonde locks down to her waist. They headed inside. "You thirsty, baby?" he asked.
She nodded.
He quickly tapped a coconut, stuck a paper straw in, and handed it to her.
"You've gotten so good at that," she said, taking a sip.
"Yeah, just in time to go back to DC. I can't believe we have to leave our Hawaiian paradise tomorrow morning. We're crazy to leave Maui this time of year."
"I know, baby. But we'll be back in less than three months to throw Omar and Clay the tropical Valentine's Day wedding of their dreams. Besides, it'll be fun to see our friends."
He smiled and kissed her forehead.
"Here, have some," she said, handing him the coconut. "Let's leave the pineapple out. We can grill it tonight for our Thanksgiving feast while we sit on the lanai and watch the sunset." She kicked her shoes off, slipped her T-shirt over her head, and shimmied out of her shorts, revealing a hot pink string bikini. "Bet I can beat you to the ocean," she teased, darting off.
Soon, they were splashing around in the warm water, the sun beating down on them. Jack wrapped his tanned arms around Tess and kissed her. They stared at each other, the energy between them electric.
"I could get lost in your big, brown eyes," he said.
She smiled and said, "Come on, let's dry off." They walked to their pool and lay together on a chaise lounge.
"Jack?" Tess whispered.
"Yeah, baby."
"I know you hold back sometimes, but you don't need to."
"Tess…"
"Baby, I know you do. There's nothing that could ever happen between us that I wouldn't want."
He caressed the side of her face. "You're so beautiful and delicate. I just want you to feel safe and loved."
"I do and I always will."
"You've been through so much. It wasn't that long ago that Ray was stalking you; I know that brought up memories of your childhood abuse. I don't ever want to be the cause of your pain or remind you of the ways you have suffered."
"You couldn't. You only push those thoughts further away. I trust you, Jack. Nothing could ever change that. I want to share everything with you. I've never felt as close to another human being as I do to you." She ran her fingers through his wet, salty hair and said, "I still remember the first time we came here, before we owned this place. You took me in the shower and we were so free."
He grazed his fingers along her cheek.
"I'm gonna rinse off," she said. She untied her bikini top, let it fall to the floor, and headed for the outdoor shower.
Jack hustled out of his swim trunks and followed her. She flipped the water on, turned toward him, and smiled. He cupped her face in his hands, kissed her softly, and with one swift movement, swung her around and pulled her bathing suit bottom down. "Don't let me hurt you," he whispered. He pushed her against the wall and they made love passionately.
With his quivering body pressed tightly against hers, Jack kissed Tess's neck and nibbled on her ear. Finally satiated, he turned the shower off and wrapped towels around each of them. He picked her up and cradled her in his arms as he carried her to a lounge chair. They resumed their tender kisses, Jack caressing the side of her face. He looked at her with unadulterated adoration.
"I love you so much," he said.
"I love you too. More than anything."
About the Author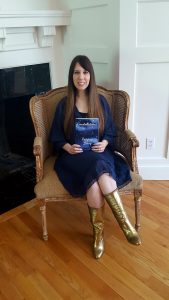 Patricia Leavy, Ph.D., is a bestselling author. She was formerly Associate Professor of Sociology, Chair of Sociology and Criminology, and Founding Director of Gender Studies at Stonehill College in Massachusetts. She has published over thirty books, earning commercial and critical success in both fiction and nonfiction, and her work has been translated into many languages. She is also series creator and editor for ten book series with Oxford University Press, Guilford Press, and Brill/Sense, including the ground-breaking Social Fictions series. Patricia has received dozens of accolades for her books. Recently, her novel Film won the 2020 American Fiction Award for Inspirational Fiction, her 3-novel set Candy Floss Collection won the 2020 American Fiction Award for Anthologies, and her novel Spark won the 2019 American Fiction Award for Inspirational Fiction and the 2019 Living Now Book Award for Adventure Fiction. She has also received career awards from the New England Sociological Association, the American Creativity Association, the American Educational Research Association, the International Congress of Qualitative Inquiry, and the National Art Education Association. In 2016 Mogul, a global women's empowerment network, named her an "Influencer." In 2018, she was honored by the National Women's Hall of Fame and SUNY-New Paltz established the "Patricia Leavy Award for Art and Social Justice." She has residences in Maine and Massachusetts where she lives with her husband, daughter (when she's not away at college), and her dog. Patricia loves writing, reading, watching films, and traveling.
Website | Facebook | Instagram
Buy the book at Amazon.