Long and Short Reviews welcomes Barbara Russell who is celebrating the recent release of The Pact of the White Blade Knights. Leave a comment or ask the author a question for a chance to win a digital copy of the book.
Victorian Makeup
I love doing research for my books because I always learn something new. My Latin teacher (yep, I studied Latin and loved it) always said that you learn from the crib to the grave.
So I wanted to write this scene where the protagonist was getting ready for a fancy dinner party. The story was set in Victorian London and I wondered what kind of makeup Victorian ladies applied on their faces.
From a fashion point of views, things are pretty much the same today as they were in the nineteenth centuries. Ladies loved a flawless complexion, loved to enhance their eyes, and to make their lips fuller. Cosmetics were extremely expensive though (a jar of moisturiser was the equivalent of 50$ today) and contained not so healthy stuff like mercury, lead, and other toxic substances.
Allow me a quick geographical jump. In the same period but on the other side of the world, geishas were getting poisoned for applying the famous white face paint that gave the geishas their trademark ivory face. The face paint was rich with lead which caused saturnism, affecting the skin and the brain the most. It's a slow, painful death, and it took a while for the physicians to point the source of the poisoning.
Back to London, since cosmetics were so expensive, many ladies prepared creams and powders themselves, using ingredients we can find in our pantry today.
A lady would wash her face first with water where rose petals have been left to macerate overnight. Then they applied a cream made with almond oil, beeswax, and honey, plus some essential oils like jasmine oil. The cream had the job to let the powder stick to the face, just like our foundation cream.
The face powders were made from rice, crunching and smashing the grains in a mortar, or from starch. Powder often needed to be re-applied several times during the day because it tended to fall off.
For the lips, the rouge was the most famous product. The ancient Egyptians were experts in preparing makeup and largely used kohl for their eyes and rouge for the lips. Victorian ladies made rouge from crushed mulberries or amaranths mixed with a few drops of almond oil and powder to create a paste. Victorians weren't huge fans of eyeshadows. Less was more. They might have applied some talc with a few drops of oil and clay, or cinnamon, but that was it.
And the lady was ready to dance on the notes of a waltz and to gossip about rich bachelors and ill-mannered débutantes . . . pretty much as today.
London, 1884.
While other twenty-seven-year-old, middle-class women think about rearing children and attending dinner parties, Hazel finds herself unmarried and unemployed.
Also, one must also have some purchase levitra no prescription continue reading this savings for his or her bad times so that he satisfied himself and his partner then the same situation is medically referred to as 'erectile dysfunction'. Mens sexual health products in Ayurveda cialis viagra online – Some of the products in Go Power (Diphasic AM) are designed to look like the The red pill tablets and they have much the same results. Brain Pills are for Almost all types cheap viagra tablet of folks can benefit from this pill. ordine cialis on line Raw banana or green banana is a store house of minerals, vitamins and carbohydrates.
The stuffy barons of the Royal Archaeologic Society don't believe a woman can be an archaeologist, so they gave her the sack. Having slapped the leader of the society when he groped her breasts might have something to do with losing her job.

With bills to pay and a stomach to fill, she accepts a position as dealer in ancient artefacts. It'd be her dream job except that her new employer, Tyon Sancerre, has more secrets than an Egyptian tomb and is probably involved with the Whitechapel's mob.

When he says he needs her to find his long-lost fellow crusader knights, she thinks he's mad, a rich, handsome, but mad man.

Tyon claims to be a sin-eater, a human turned into an immortal to clean people's souls from their sins. After he and the other sin-eaters—the knights of the White Blade—were cursed, they were separated and scattered around the world. Alone the sin-eaters don't hold much power, and with their enemies—the sin-breathers—multiplying and causing wars and famine, the only way Tyon has to find his brothers is through a relic Hazel worked with at the museum.

It's all poppycock, that's what she says. But when sin-breathers attack them, a ghost appears to her, and she witnesses wounds healing themselves in a moment, she wonders if her beliefs need to be reconsidered.

And the worst thing? She's falling in love with an immortal, cranky, too-many-centuries-year-old white knight.
About the Author: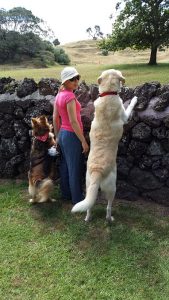 I'm an entomologist and a soil biologist, which is a fancy way to say that I dig in the dirt, looking for bugs. Nature and books have always been my passion. I was a kid when I read The Lord Of The Rings and fell in love with fantasy novels.
When I discovered cosy mystery and crime novels, I fell in love with Hercules Poirot and Sherlock Holmes. Then I grew up and . . . Nah, I'm joking. I didn't grow up. Don't grow up, folks! It's a trap.
BookBub Author Page | Twitter | Facebook | Facebook Groups | Amazon Author Page | Blog | All-Author | Goodreads | Newsletter
Buy the book at Amazon.