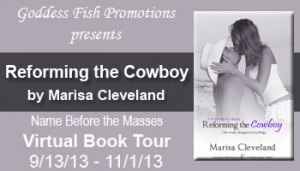 This post is part of a virtual book tour organized by
Goddess Fish Promotions
. Marisa will be awarding a $25 Amazon GC to a randomly drawn commenter during the tour–the form to enter is at the end of the post. Click on the tour banner to see the other stops on the tour.
5 Things Most People Don't Know About Me
Thanks so much for hosting me! It's so fun to hang around the blogs and read past posts. 🙂 Today is super special for me, because I'm an intensely private person, so when my friend suggested doing a post about myself, I almost changed the subject… until she threatened to do a post about me instead. And since I couldn't guarantee her post about my secrets would be true, I figured if anyone is going to expose my private crazy, it's me, so here they are. My five things most people don't know about me.
5. I love to cook, bake, experiment in the kitchen. When I do, I sometimes wear a shower cap or hair net.
4. I'm always spouting about my love of champagne, but I recently threw out close to 2,000 wine corks, so I guess that means I love wine too, even though I don't talk about it as much.
3. I've always wanted to participate in a karaoke contest, but since I can't carry a tune, I don't sing in public. And I never will. Ever.
2. I love trampolines and tumble tracks. That's probably not a huge secret, but it's something people might not know.
1. In college I had manicures almost every week, and for a year or so, I pierced one of my fingernails and wore either a diamond stud or a small, gold hoop.
And there you have it. So, share with me! What's something most people don't know about you?
Country singer Billy Hardy needs to get back on the charts. His manager assures him headlining the opening of a cafe in South Beach is his best chance at getting back to the big time. If he fails, his career is over for good this time.

Lacey Durant can't believe opening night includes the country singer she crushed on through college. And her customers agree he's dreamy. But his playboy reputation threatens her cafe's image and she can't afford that. She insists Billy stay with her so she can keep an eye on him, and thwart overenthusiastic fans.

Billy's charms and Lacey's sexy curves prove more than either can resist, but she refuses to be just another lyric in his well-known songs of heartbreak.
Enjoy the following excerpt:
Lacey stared at the stage with the single spotlight on the lone man. He hitched the guitar strap over his broad shoulder and slunk down onto the bar stool. One hand glided over the strings, the length of his fingers catching her attention, and a tingling hit her in the stomach. He cleared his throat.
And then her knees went weak as his deep baritone danced through the speakers.
"Good evening." Applause followed by cat-whistles. "It's great to be in South Beach with you tonight."
About the Author:Marisa Cleveland loves to laugh, hates to cry, and does both often. As a writer, she writes. Every day. Perhaps because she married her best friend, her adult romance novels focus on relationships developed through friendship and family-oriented values. She loves to connect with other writers and readers.
Twitter ~~ Facebook ~~ Google+ ~~ Pinterest ~~ Tumblr ~~ Goodreads