Vampires Never Grow Old
For me, Vampires never grow old, and despite many traditional vampires being immortal, in this post I don't mean it literally.
Seventeen years ago my first story was accepted for publication. It was a short erotic vampire tale. All these years later, I'm still writing erotic vampire fiction and love it as much today as I did back then. All my life I've been a fan of vampires.
When I was a kid my mother was into vampire movies and books, so for as long as I can remember I've enjoyed vampire fiction. I remember watching Christopher Lee's Dracula movies with my mother. She introduced me to vampires in literature, starting with Bram Stoker's Dracula and Chelsea Quinn Yarbro's Hotel Transylvania.
Vampires are a fascinating combination of power, romance, animal magnetism and strangely enough, vulnerability. They can be terrifying or sexy and while I enjoy vampires in horror, I've always preferred vampires with a tender side.
In my Weapons of Redemption series, both the good side and the evil side of vampires are explored. The main villain inspires fear in his vampiric sons, but by the end of the series his vulnerable side is finally exposed, taking them by surprise.
Weapons of Redemption 5: Fangs and Floggers is my latest vampire story, but I don't plan for it to be my last. As I'll keep reading vampire fiction and watching vampire movies, I hope to keep writing about my favorite supernatural beings for a long time to come.
Are you a vampire fan? How long have you enjoyed them? What are some of your favorite vampire books and movies?
Fangs and Floggers
by Saloni Quinby
Available from Changeling Press
Also at All Romance Ebooks

To lure his rebellious blood children back into the fold, ancient vampire Tarun abducted the hunter Adrian. He hadn't bargained on his human prisoner being a match for him in every way–including his darkest desires.

Now Tarun is the captive and a player in Adrian's carnal game–an orgasm for an answer. Though Tarun warns Adrian that he won't like what he hears, the hunter is determined to uncover the secrets of the vampire's twisted past.
The following excerpt from Weapons of Redemption 5: Fangs and Floggers is for readers 18 and over.
The door opened and Adrian stepped inside, wearing only black leather pants slung low on his narrow hips. Somewhere beyond his rage, grief and self-loathing, Tarun found himself appreciating the sight of Adrian's broad shoulders and powerful chest covered in dark, curling hair. It tapered to a fine line down his flat abs.
"Feeling better?" Adrian asked, closing the door and strolling toward Tarun, his bare feet silent against the stone floor.
"So it turns out you're just a hunter after all. I won't mind dying by your hand, Adrian. Just answer one question, though."
"Anything." Adrian bent and brushed a kiss across Tarun's forehead.
Funny how the bastard's touch still made him tingle all over. His cock wakened and he hated being naked because it gave Adrian such a clear view of how he affected him.
"Why didn't you just let me die at the house?"
Adrian's cool blue gaze met Tarun's. "You know I have no intention of killing you, any more than you'd planned to kill me when our roles were reversed."
"Oh, I had every intention of killing you at first."
"But not at the end."
They fell silent for a moment, their gazes locked.
About the Author: The child of a painter and a psychic dreamer, Saloni Quinby feels spirituality and storytelling go hand-in-hand. She loves the scent of gardenia, the sound of wind chimes and the taste of honey. By listening to what isn't said, she creates works based on unspoken desires. Saloni prefers blurred gender lines and many varieties of romance. In a world where passion must at times be restrained, she believes erotica is a pleasure to be shared. With her stories she would like to make her fantasies yours and hopes you enjoy the ride. She also writes under the name Kate Hill. Please visit her online at http://www.kate-hill.com, http://www.twitter.com/katehillromance and https://www.facebook.com/kate.hill.92505.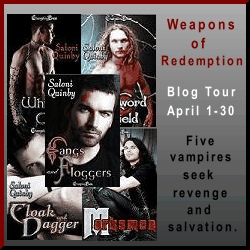 To enter the following contest, you must be 18 or over.
To enter for the chance to win a pdf download of Weapons of Redemption 5: Fangs and Floggers, please leave a comment. A winner will be drawn three days from the day of this original post. Thank you!