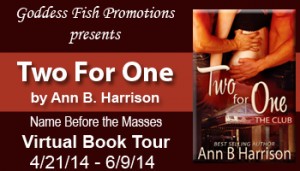 This post is part of a virtual book tour organized by
Goddess Fish Promotions
. Ann will be awarding a $25 Amazon gift card to a randomly drawn commenter during the tour. Click on the tour banners to see the other stops on the tour.
BALANCING LIFE AND WRITING
When I first started writing I had two jobs. During the day I looked after children from home and three evenings a week and one day on the weekend I worked in a supermarket.
Now I write full time and I often ponder the idea of going back to work. I got more done when I was busy, no joke. It annoys the heck out of me too. So much for writing full time, I struggle to keep my butt in the chair most days.
My first year writing, (and being crazy busy) I put out six books. That was pretty epic considering what else I was doing with my life. Being at the beck and call of lots of little wildlings was hard work in itself. Add writing to the mix and it was hectic. But I enjoyed it immensely.
One of my most memorable sex scenes was written with a toddler clinging to my leg as she learned to walk. Chaos and I went together so well. So not how I planned it to happen but for me it worked. My laptop lived on my kitchen counter top and whenever I had a chance, I would tap out a few sentences.
Now I write full time, I struggle and I shouldn't. Peace and quiet messes with my head. Sure I have earphones and can crank out the tunes but it's not so hard now to find the time to hit the keys like it was before. Now I can do it all day every day.
So what is my issue? Seems if I haven't got the house tidy, everything in its place, I cannot concentrate. Stupid but there it is. Easily distracted by shiny things 🙂
Speaking of which, I know there is a load of washing to go out on the line.
Nothing is going Lizzie's way. Her sex life is unsatisfying, her job sucks and she has more debt than she needs thanks to her loser brother. Against her better judgment, she lets her best friend sign her up to be auctioned off at a high-rolling venue called the Club. Agreeing to a weekend of adventurous sex with a stranger is one thing, but being bought by the brothers who own the Club means Lizzie is up for a weekend beyond her wildest fantasies.

Ryan and Lizzie hit it off, in bed and out, but it's his quiet brother, Trace, that has her heart pounding and her panties in a twist. But is Lizzie what Trace needs? Having been burned before, will he take a chance on what his heart is telling him or trust his instincts and send her home after their weekend is over?
Enjoy an excerpt:
His words had her blood pounding in her ears and she looked down at her fingers wound in between his. He had the ability to bring out the feelings in her that she never knew existed.
"What is that frown for? What are you thinking?" He leaned closer, resting his elbow on the table and watching her. His eyes were bright and brooked no argument.
"Just thinking of what you do to me with merely a word or touch," she whispered loud enough for only him to hear.
"And that caused a frown? Tell me the rest, Lizzie."
"Fine. I was thinking of how easy it is for you, but Eric never even bothered to see what I wanted." She looked down and wished she wasn't so damned readable.
"Your ex-boyfriend?"
"Yes."
He squeezed her hand, the pressure making her meet his gaze. "Does he know he's the ex yet?"
"No. I'll tell him tomorrow when I get home."
"Promise me, Lizzie, you will do that. You deserve more, so much more than that."
"I promise. If nothing else, this weekend has made me realize what I'm missing out on. I don't want to go back to that again, ever."
"Good. I'm pleased to hear it." He sat back as Miguel brought a bottle of wine for his inspection. Trace nodded and waited for the waiter to pour their drinks before picking up his glass and holding it toward Lizzie. "A toast. To you, and what your future holds."
About the Author: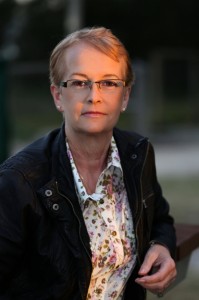 Ann swears she was born with a book in her hands and has never put it down. A lifelong love of reader has finally culminated in achieving her dream of writing…and publication.
She lives in the beautiful Hunter Valley with her own handsome hero of many years. Ann has always loved the ups and downs of life in small communities and she shares this with readers in her rural romances.
Strong sexy heroines with a good dash of sass thrown in feature in her stories. Of course these women need an equally strong hero. Bring on the outback hero and watch the passion ignite.
When not writing Ann enjoys reading, gardening, walking her very large dog Hugo and fighting with her computer.
Facebook ~ Twitter ~ Goodreads ~ Website ~ Blog