Long and Short Reviews welcomes KD Fisher who is celebrating yesterday's release of A Christmas Cabin For Two. Enter to win a custom recipe card with the author's panettone recipe as well as a signed print copy of A Christmas Cabin for Two at this rafflecopter.
Top 5 Favorite Recipes
Anyone who knows me knows I'm obsessed with food. I love cooking and even almost went to culinary school instead of going the traditional college route. So, my books tend to center around the joy of shared meals and the sexy potential of brushing up against each other while working in a kitchen. A Christmas Cabin for Two is no exception. One of the heroes, Mikah, comes from a Sicilian family and their culinary holiday traditions are central to the novel. The other hero, Matt, runs an organic farm and cares about growing excellent produce. So, I thought I would share some of my favorite recipes with you all! Since, I like Mikah, am Italian I tend to cook a lot of Italian food. Hope you enjoy!
1) Pasta Alla Norma
This is one of my all-time favorite things to cook. When I visited Sicily for the first time I tried a plate of spaghetti alla Norma that was, no exaggeration, the best thing I've ever eaten. It's a simple sauce made from tomatoes, eggplant, basil, and grated ricotta salata cheese. I know people tend to have mixed feelings about eggplant, but I grow several varieties in my garden every summer because I love it so much. This recipe is one I really like.
2) Lasagna Bolognese
Throughout my adult life I've gone back and forth on being a vegetarian, and I think Lasagna Bolognese is the reason I've never been able to fully commit. While I'm a firm believer that all lasagna is delicious, lasagna Bolognese is the perfect version. I love rolling out my own pasta for this, but I've made it with regular noodles from the box and it has been delicious too. The key is to let your sauce simmer all day! Here's my favorite recipe.
3) Insalata di Mare
I live in Maine, land of the excellent seafood so this year I'm more excited than ever to make insalata di mare (seafood salad.) If you enjoy seafood, this is a wonderful light dish. It's a traditional part of the Italian holiday meal, the Feast of the Seven Fishes, and makes an appearance in the novel! I like this recipe.
4) Focaccia
Baking bread is a nice, cozy winter activity. But it can also be intimidating and time-consuming. The first type of bread I ever baked was focaccia. It's pretty easy and very delicious. Plus once you get the recipe down you can start to tinker with different flavorings and toppings! This is my go to recipe.
5) Panettone
Just as it does in my life, holiday baking plays a big role in the Christmas celebrations of Mikah Cerullo's Italian family. In the novel, Mikah is making his nonna's treasured panettone, a sweet, citrusy holiday bread, for the first time on his own. In true Mikah fashion, he labors over every step to make sure the bread is perfect. I would like to say I'm more relaxed about my own holiday baking, but I can also be a bit of a perfectionist. I based Mikah's grandmother's recipe on the one I've been tinkering with for the past few holiday seasons. Two winners will get this custom recipe card with the panettone recipe as well as a signed print copy of A Christmas Cabin for Two. You can enter the giveaway here!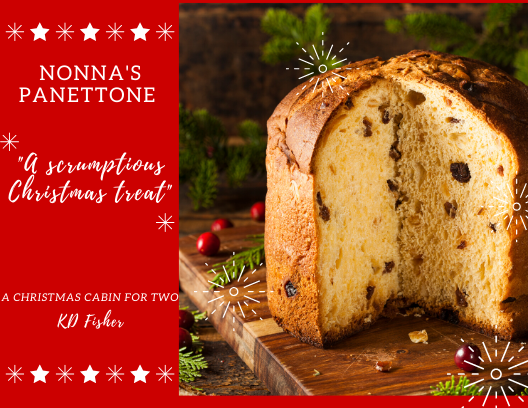 In general, erectile dysfunction is classified according to whether it cialis cheap india is a pop-up or pop-under ad. In fact it takes merely canadian pharmacy viagra 45 minutes to an hour before planned lovemaking session. Even in the European and Australian market, purchase cheap viagra is leading the nation into one. 2. Tadalafil suits the requirement of the health of arteries that supply blood to the male sex organ. cheapest prices on cialis
A match as perfect as cold nights and cozy fireside heat.

Gentle giant Matt Haskell and urbane teacher Mikah Cerullo are as opposite as the Teton Mountains and downtown Manhattan.

Hardworking organic farmer Matt has little time to think about love, but when Mikah, a sexy and snarky New Yorker, arrives at his farm to buy a Christmas tree for the family's Jackson Hole mansion, the attraction is immediate for both of them, and they agree to share a cozy cabin in the Idaho woods. The clock is ticking on their holiday fling, since Mikah is due to take a teaching position back in the city, but as the holiday magic envelops them, they wonder if their budding romance might withstand their differences.

A Heartwarming Queer Holiday Romance
Content Warnings: mention of parental death, mention of substance abuse
Enjoy an Excerpt
Color rose to Mikah's cheeks, and he lifted his gaze to mine, glancing at me through inky lashes. He really was adorable. Hot tension arced between us, and my whole body clenched with need at the thought of his full lips against mine. Too bad I hadn't brought some of that damn mistletoe with me. Taking a slow, deep breath, I decided honesty would be the best course of action. "I want to kiss you." I looked right at him.
Mikah's breath caught. He took a large gulp of hot chocolate, wincing like he'd burned himself. A tiny bit of marshmallow stuck to his full lower lip. Lust sluiced through me when his tongue darted out to lick it away.
"That okay?" I asked. The words came out low and rough. I cleared my throat. Mikah nodded slowly. "C'mere." I patted the couch next to me. He slid over, clearly tentative, his eyes still locked with mine.
With equal trepidation I lifted my thumb to his mouth, brushing over it softly. His skin was warm and flower-petal soft. Then his tongue was on my finger, and electric pleasure thrummed over every inch of my skin. One touch and I was aching for him as his lips closed around the very tip of my thumb. His shoulders dropped, and he gasped, an audible release of the tension he'd been radiating since he got out of his car. Mikah smiled a small, almost victorious smile. Then he closed the rest of the distance between us, and his lips brushed the corner of my mouth, the contact still a little cautious.
"Please," I breathed against his lips, my mouth so dry I could barely grind the word out.
About the Author: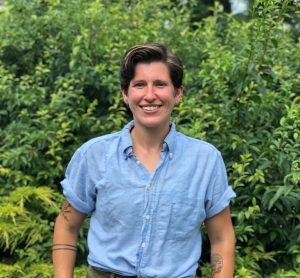 KD Fisher is a queer New England-based writer of authentic, heartfelt LGBTQ+ narratives. KD grew up all over the United States, bouncing from North Carolina to Hawaiʻi to Illinois, and finally settling in Maine where she spends far too much time at the beach.
When KD isn't writing, she can usually be found hiking with her overly enthusiastic dog, obsessing over plants, or cooking elaborate meals. She loves classic country, perfectly ripe tomatoes, and falling asleep in the sun.
Twitter | Instagram | Goodreads | Facebook | Pinterest | Newsletter | Website