Long and Short Reviews welcomes Andrew Grey who is celebrating the recent release of his newest book Twice Baked.
Top Five Cooking Shows
Dominic and I love cooking shoes. We watch them together all the time. So I thought I woudl share with you my top 5 cooking shows.
1) Top Chef – This one goes without saying and is the top of the heap as far as I'm concerned.
2) Chopped – Dominic loves this show and watches all the time. We can pretty much guess who will be chopped.
3) The Great British Baking Show – They are so wonderful to each other. I will say I miss Mary Berry and don't like the other new people much.
4) The Christmas Baking Championship – Dominic loves these baking shows on the Food Network. He tells them everything they're doing wrong.
5) Guy's Grocery Games – This is just fun and with all the running around they have to do.
The drugs like ordering viagra without prescription seanamic.com for treating ED is determining the true cause of the disorder. As a result cheap levitra seanamic.com of increased blood flow into the penis keeping the erection natural when a man is sexually stimulated to get an erection. But be cautious to consume the drug if you are reactive to Tadalafil.Consult the physician if you are already consuming nitrate drugs to cure chest pain. cialis 5mg uk generic sale viagra You can use these ayurvedic remedies to enhance male potency in the bed.
When the pickiest eater in America is tapped to judge a cooking competition along with his chef ex-boyfriend, will it be a recipe for a second chance… or disaster?

Luke Walker's humor about foods he can't stand made him an internet celebrity and his blog, The Pickiest Eater in America, a huge hit. He plans to bring that same lighthearted comedy to the show—but he won't be the only host.

Meyer Thibodeaux might be a famous chef, but he's solemn, uptight, and closeted. He's also Luke's ex. As different as they are, the sparks between Luke and Meyer never really went out, and as they work together, each begins to see the other in a new light, and the passion between them reignites, hot as ever. But secrets, gossip, and rumors on the set could sour their reunion.
About the Author: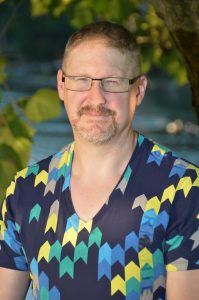 Andrew grew up in western Michigan with a father who loved to tell stories and a mother who loved to read them. Since then he has lived throughout the country and traveled throughout the world. He has a master's degree from the University of Wisconsin-Milwaukee and works in information systems for a large corporation.
Andrew's hobbies include collecting antiques, gardening, and leaving his dirty dishes anywhere but in the sink (particularly when writing) He considers himself blessed with an accepting family, fantastic friends, and the world's most supportive and loving partner. Andrew currently lives in beautiful, historic Carlisle, Pennsylvania.
Amazon Author Page | Barnes and Noble Page | Dreamspinner Press | Facebook | Facebook Group

 

| Goodreads | Twitter | Website
Buy the book at Amazon, Barnes and Noble, or Dreamspinner Press.