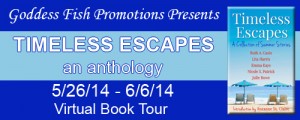 This post is part of a virtual book tour organized by
Goddess Fish Promotions
. The authors will be awarding the following prizes during the tour:
First prize – $50 gift certificate plus ebook Timeless Keepsakes by Ruth A. Casie, Lita Harris, Emma Kaye, Nicole S. Patrick, Julie Rowe
Second prize – $25 gift certificate plus 3 ebooks 1) Molly Gets Her Man by Julie Rowe 2) Knight of Runes by Ruth A. Casie 3) Timeless Keepsakes by Ruth A. Casie, Lita Harris, Emma Kaye, Nicole S. Patrick, Julie Rowe
Third prize – 3 ebooks 1) Love at Christmas by Lita Harris 2) Time for Love by Emma Kaye 3) Timeless Keepsakes by Ruth A. Casie, Lita Harris, Emma Kaye, Nicole S. Patrick, Julie Rowe
Click on the tour banner to see the other stops on the tour. Remember, the more you comment the better your chances.
Ten Things You Might Not Know About Emma Kaye
1. My first job was mucking out stalls. Not much fun. My second was at a retail store where I ended up with more spandex/lycra than any teenager should be allowed to own. (And really, one spandex outfit would have been too many.)
2. I have a motorcycle license but haven't had much chance to ride since my kids were born. I'm looking forward to getting back to it this summer.
3. I'm taking the Max Challenge (a workout and nutrition program) and I'm slowly, but surely, losing weight. More importantly, I feel stronger and have had a more positive outlook on just about everything since I began.
4. I've participated in two 5k runs. The second one only a month ago. I finished both, but wasn't able to run the entire course. I really want to do a mud run and plan to find one to do this summer.
5. I obsess over finding mistakes in my books before they're ready to print, so I have a hard time looking through them after they're published. I'm afraid of finding typos.
6. I'm a big fan of the TV show, Supernatural. The actor Misha Collins, who plays an angel in the show, inspired my hero from In Her Dreams. Jensen Ackles, who plays one of the main characters, inspired my hero from Granting Her Wish, my short story from the first Timeless Tales anthology. 🙂 (No I'm not obsessed, why do you ask?)
7. When I was a kid, I had a tendency to get sick whenever we went on vacation. I have been sick in Hawaii, the Swiss Alps and camping in New York State, among other places.
8. I took my scuba diving test in the Virgin Islands while on vacation with my family. Thankfully, I did not get sick while there.
9. My family wasn't big on passing down cultural traditions. I feel like a failure whenever my kids have to complete their heritage projects for school.
10. I can't stand not having a pet because the house feels too quiet without them. I currently have a dog and a cat who keep the house lively when the kids are in school.
Escape to the Virgin Islands where the bonds of marriage are renewed, friends become lovers, and new love is given a chance to thrive.

Ruth A. Casie ~ Second Chance by the Sea Married for ten years, she and her husband have grown apart. When they go back to the Virgin Islands for a family funeral, they find their marriage was never registered. Will an impending disaster be the final straw that breaks them up or will it rekindle their love and send them back to the altar for a second chance?

Lita Harris ~ Chasing Fireflies Soured on love by a recent breakup, a travel agent with a fear of flying and open water takes a trip to the U.S Virgin Islands. She meets a boat captain who challenges her fears. Will she survive her breakup and find happiness in the arms of another man?

Emma Kaye ~ In Her Dreams When an author escapes to the Virgin Islands to work on her latest book, she's swept back in time to Regency England and must decide whether the love she finds with an English lord is real or only in her dreams.

Nicole S. Patrick ~ Poseidon's Strength A beloved hero's death leads his sister and his best friend, who have never seen eye-to-eye, to discover that helping family can be their happy medium, and possibly lead them to uncover a love that's meant to be.

Julie Rowe ~ A Pirate's Vacation A doctor grieving the death of her husband, buys a B&B in the Virgin Islands in need of a lot of fixing. Her old flame arrives to help with repairs, but will she let him heal her shattered heart?
About the Author: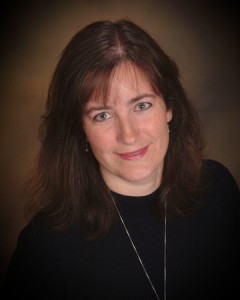 Emma Kaye is married to her high school sweetheart and has two beautiful kids that she spends an insane amount of time driving around central New Jersey. Before ballet classes and tennis entered her life, she decided to try writing one of those romances she loved to read and discovered a new passion. She has been writing ever since. Add in a playful puppy and an extremely patient cat and she's living her own happily ever after while making her characters work hard to reach theirs.
For more information on Emma, please visit her online at www.emma-kaye.com, on Facebook at www.facebook.com/emmakayewrites, or on Twitter at www.twitter.com/emmakayewrites.